Walgreens Employee Wearing "Black Lives Matter" Mask Responds to Customer's Social Media Post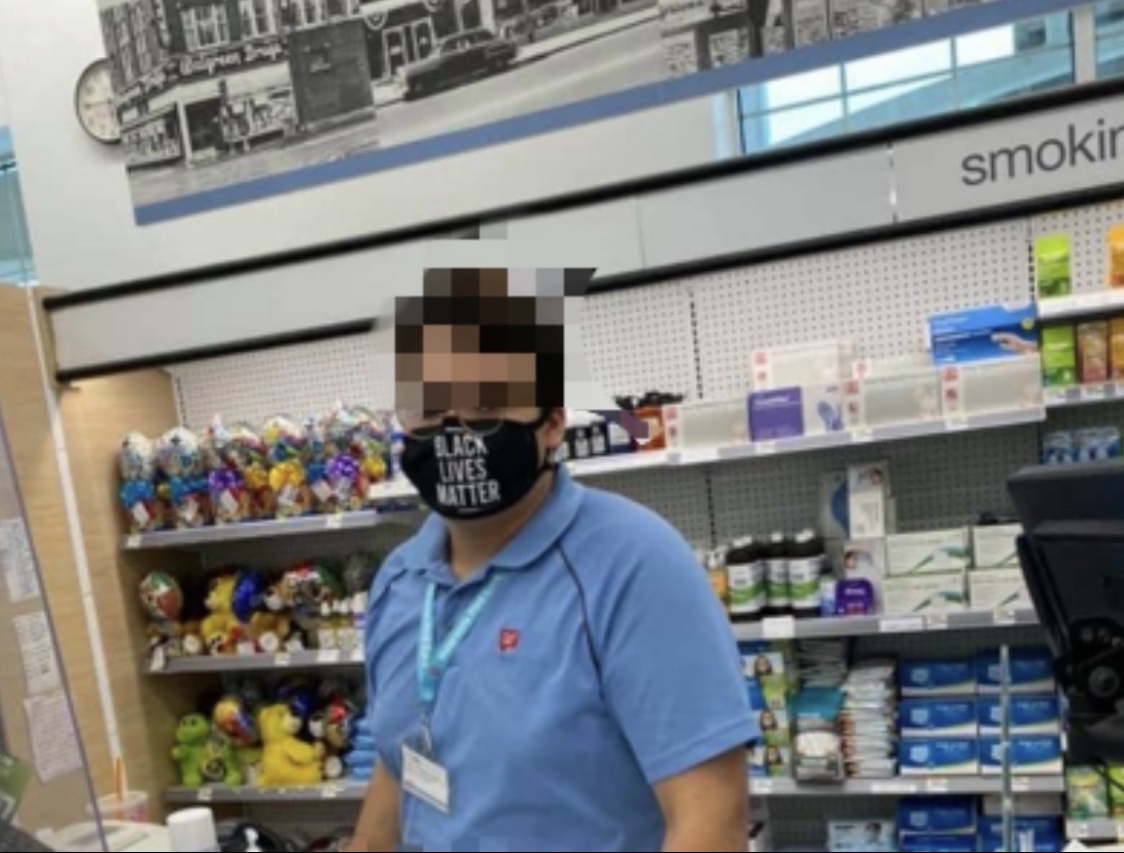 Article by Jennifer Korn
NEW CITY, NY – After a New City Walgreens customer took to Facebook to share her encounter with an employee last week, the employee shared a written statement with the Rockland Report detailing his account of the incident and his response to the customer's post going viral. 
The employee and customer's identities will not be released due to alleged threats from members of the community. 
According to the employee, he greeted the customer and asked her how she was doing when she "proceeded to take her phone, photograph me, and then asked me 'Are you allowed to wear that here?'" 
He explained to the customer that Walgreens does not have any policies against face masks and what the masks can say. The customer "then got very upset by my response and requested that I call a manager immediately," said the employee.
According to the employee, he called a manager to come to the front and the customer "began to raise her voice at me and tell me that it was ridiculous I would wear something like that at work and that she doesn't come into Walgreens to see 'messaging'," said the employee. "She then very aggressively began to put her items on the counter, some she even tossed from her cart and in a hostile tone said, 'Well, are you going to ring me up?!'"
The employee said that as part of Walgreens' deescalation training, he is allowed to remove himself from a situation if he feels it is best, as long as he does so respectfully. He told the customer that he did not feel comfortable ringing her up because of how she treated him. 
"This caused her to get even more angry and she began to shout that it's ridiculous for me to feel uncomfortable when I am wearing something that offends her," said the employee. "She continued to scream at my manager for allowing me to wear such a mask in our store and he repeated that our company does not have any policy against what a face mask can say."
According to the customer's facebook post (view below), the customer left her cart and walked out of the store. "She did not walk out of the store and leave her cart where it was. She got into an argument with my manager that then prompted her to leave," said the employee in response.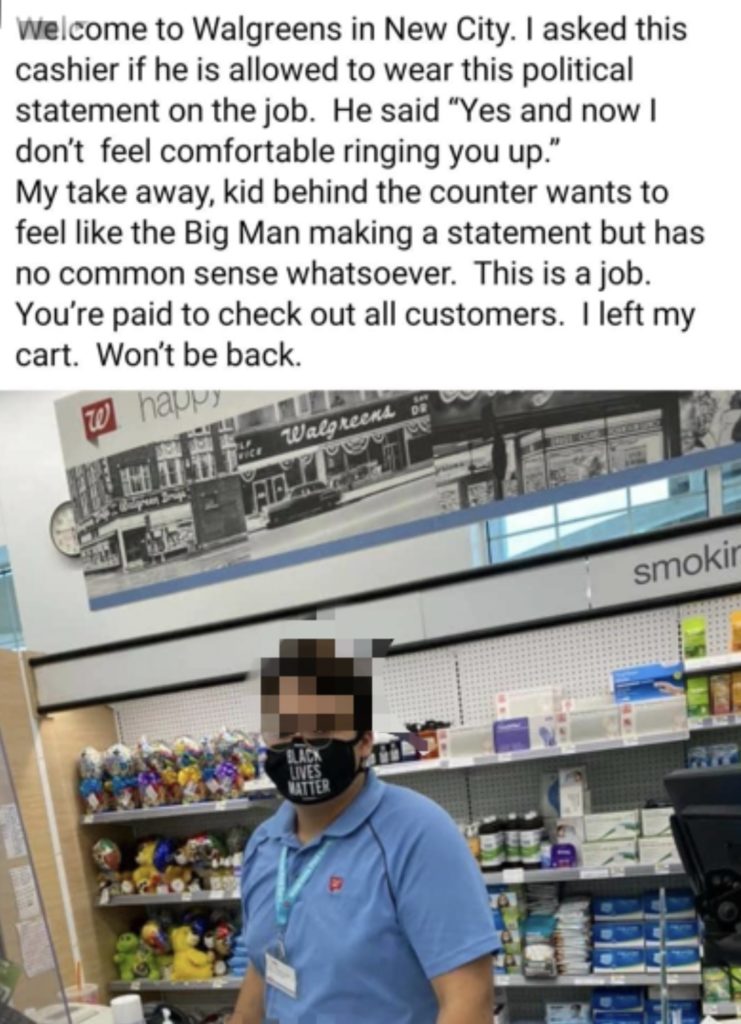 The employee said his manager contacted him shortly after he left to let him know that people were contacting the store about the incident. Soon after, "I searched on facebook and found the post," he said. 
The employee also shared how the community's response to the facebook post has affected him. 
"Being told that my mother should've aborted me, that my family raised an awful child, that someone was going to 'ring my neck' because I didn't want to ring up this customer, that a woman threatened to pepper spray me, and that people were going to show up to my workplace and teach me a lesson, it hits hard," said the employee. 
The employee said he did not leave his house because he feared for his life. 
The employee said, "I learned that this is what these vile people want, they want to suppress my views and my truths and make me live in fear."
"My family has raised me to always stand up for my views and what I believe in," said the employee. 
"I stood up for a Human Rights Movement, not a political view."
The employee's full statement can be found here.
Back to School Ice Cream Parade Hosted by Bardonia PTA a Huge Success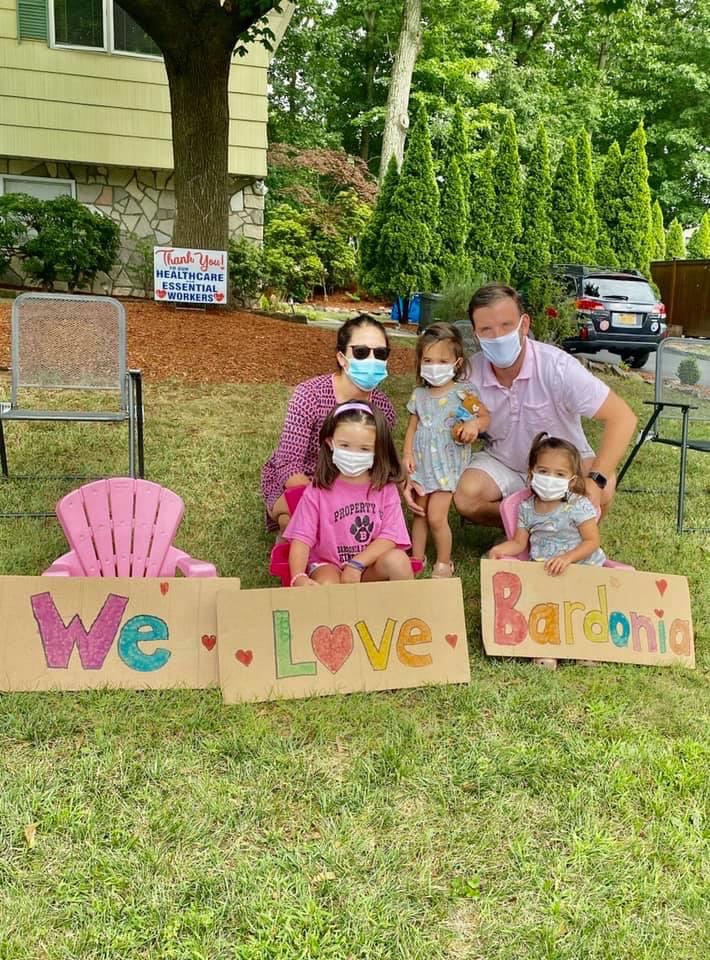 BARDONIA, NY – There was a great showing by local families in support of the "Back to School Ice Cream Parade" hosted by the Bardonia PTA.  Everyone who attended (including a special guest appearance on Renee by Moose the dog) did so in a safe manner and enjoyed some great ice cream from Polar Pops.
Clarkstown Councilman Patrick Caroll was at the event this his family and thanked the PTA for organizing.
View pictures below: 
Rockland Resident and World War II Veteran Bernard Bernstein Celebrates 100th Birthday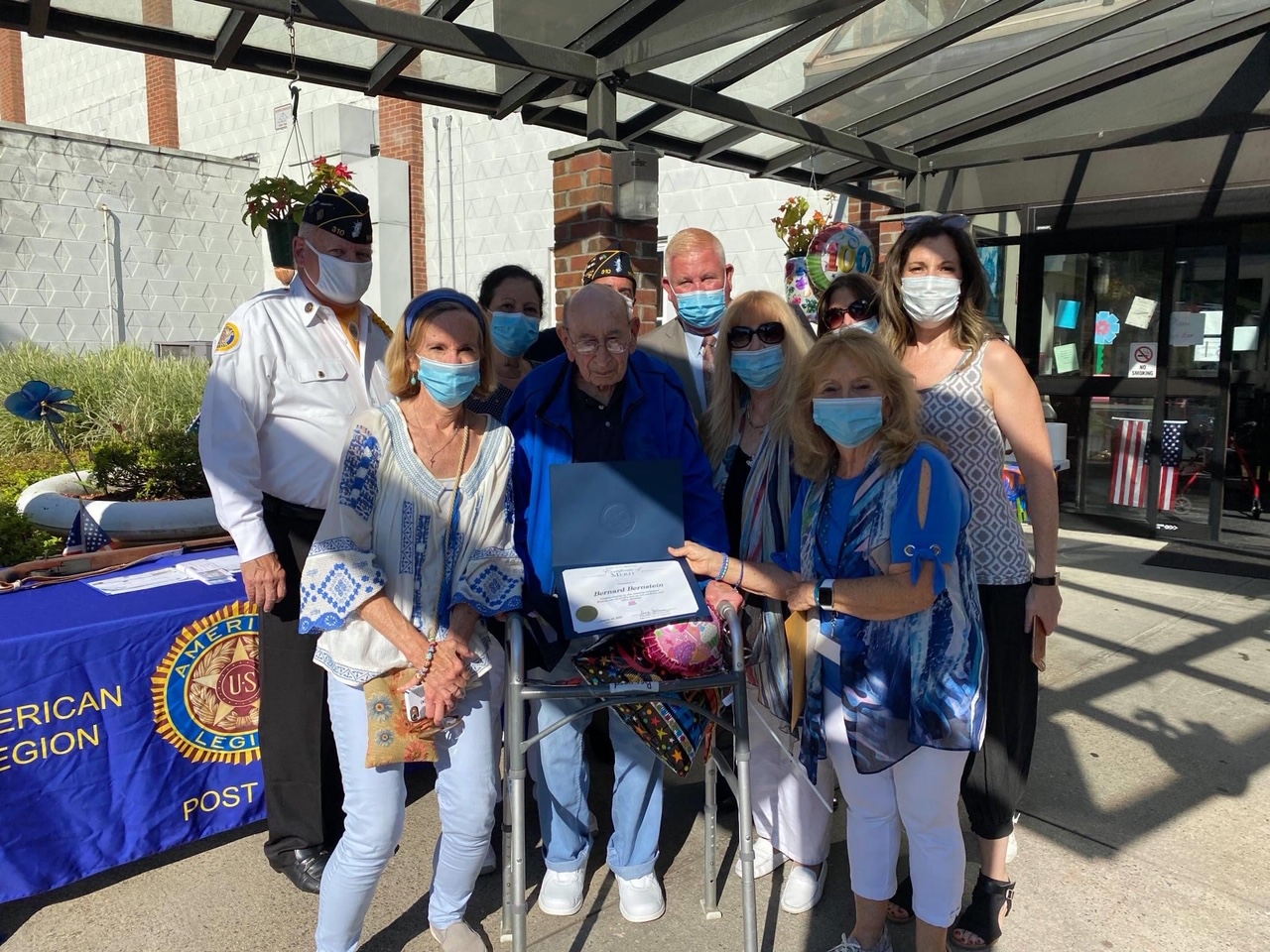 NYACK, NY – Rockland Resident and World War II Army Veteran Bernard Bernstein celebrates his 100th Birthday!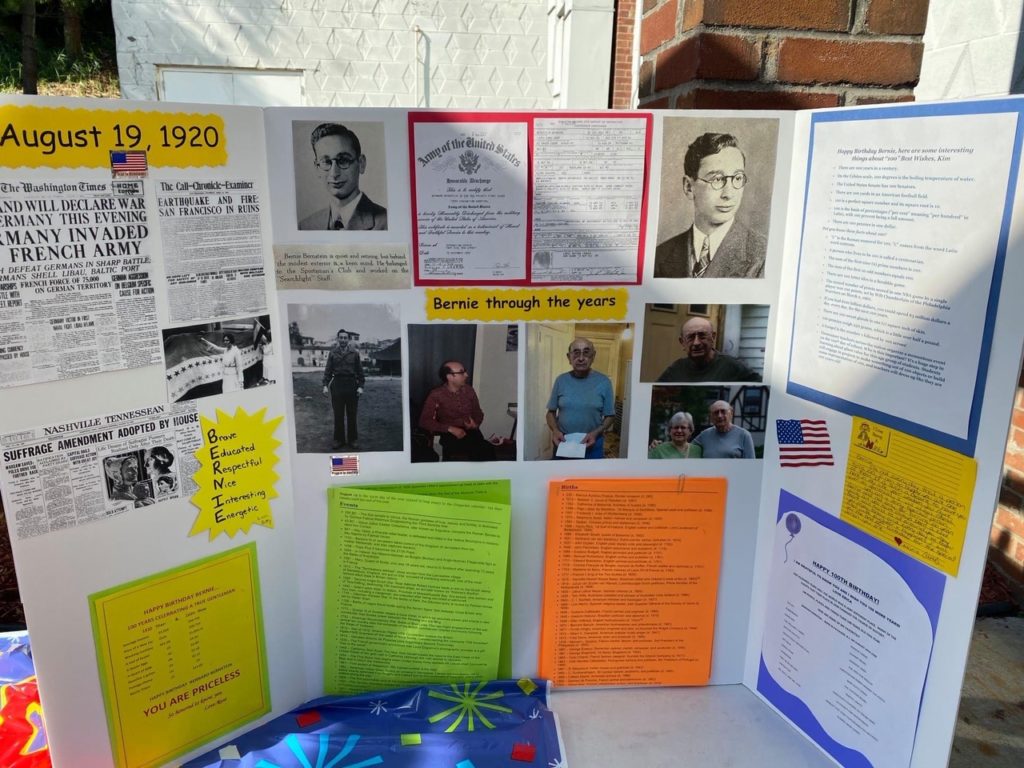 The American Legion helped family and staff of the Tappan Zee Manor coordinate the birthday drive-by.
Supervisor George Hoehmann said, "I was delighted to send a certificate celebrating a momentous milestone for Bernard Bernstein. He is a true American hero having served our country in WWII in the United States Army. We thank Bernie for his service and wish him the happiest 100th Birthday."
Thank you for your service and Happy Birthday Bernie!