Former New York Yankee Johnny Damon mentioned his support for former President Donald Trump and the "Blue Lives Matter movement" during a traffic stop and subsequent DWI arrest on February 19.
From the report of Windermere Police Officer Griffin Hebel, edited for clarity and brevity:
On February 19, 2021 at approximately 0123 hours, I was monitoring traffic near Conroy Windermere Road and Horizon Circle in the Town of Windermere, Florida and sitting facing westbound on the westbound shoulder of Conroy Windermere Road in a fully marked Windermere Police Department patrol vehicle. I observed a dark in color SUV traveling westbound past me with its left two tires on the double-yellow line on the left side of the westbound lane of Conroy Windermere Road. I observed the vehicle's left tires then drift back toward the right side of the of lane, continuing westbound on Conroy Windermere Road.
As we approached the intersection of Chase Road and Bridgehouse Road, I called out traffic stop on the vehicle via the radio to Dispatch, then activated my emergency lights and siren to initiate a traffic stop on the black Lincoln SUV and the vehicle yielded, entering the right turn lane then turning onto Bridgehouse Road and stopping just prior to the resident entry gate for Lake Butler Sound. As I approached the vehicle on the driver's side, I observed the driver's door swing open and I began giving verbal commands to the driver close his door. As I was giving commands to the driver, I observed a white female standing at the right rear of the vehicle in a short skirt and white top and I ordered her to get back in the vehicle. At this time, I asked Officer Tuck to respond to assist. The female then walked back to the front passenger door and got back in the vehicle. I then gave the driver commands to turn the vehicle off and hen step to the back of his vehicle.
I asked the male what was going on out with both of them stepping out of the vehicle, and the male, later identified by his Florida driver's license as Johnny Damon, advised "Um, because we saw you following us…" I advised Damon that I was there because the interaction was a traffic stop and he then asked "What traffic stop?" I asked if he could see the police lights, which he confirmed he could, stating that they "…started back there…" while pointing toward the entrance to the turn lane where I had initially turned my lights and sirens on.
As observed Damon, he was extremely unsteady on his feet and his speech was extremely slurred. detected the odor of alcoholic impurities coming from his person as we stood the rear of his vehicle. I explained to Damon that would continue speaking with him about the reasons for the stop after backup officer arrived on scene. At this time, I asked Damon how much he had to drink during the evening. and he stated "…just little bit." White motioning with his left hand and fingers in a small pinching motion.
I began explaining to Damon that while I had been traveling behind him, his vehicle had left its lane multiple times and struck the curb while traveling on Main on Street. While explaining this to Damon, the passenger door of the vehicle begin to open. I began giving the white female passenger verbal commands to stay the vehicle and shut the door. The female disobeyed my commands to stay in the vehicle, stepping out and stating that she didn't need to listen to me.
Former Sloatsburg EMS President Pleads Guilty to Multiple Charges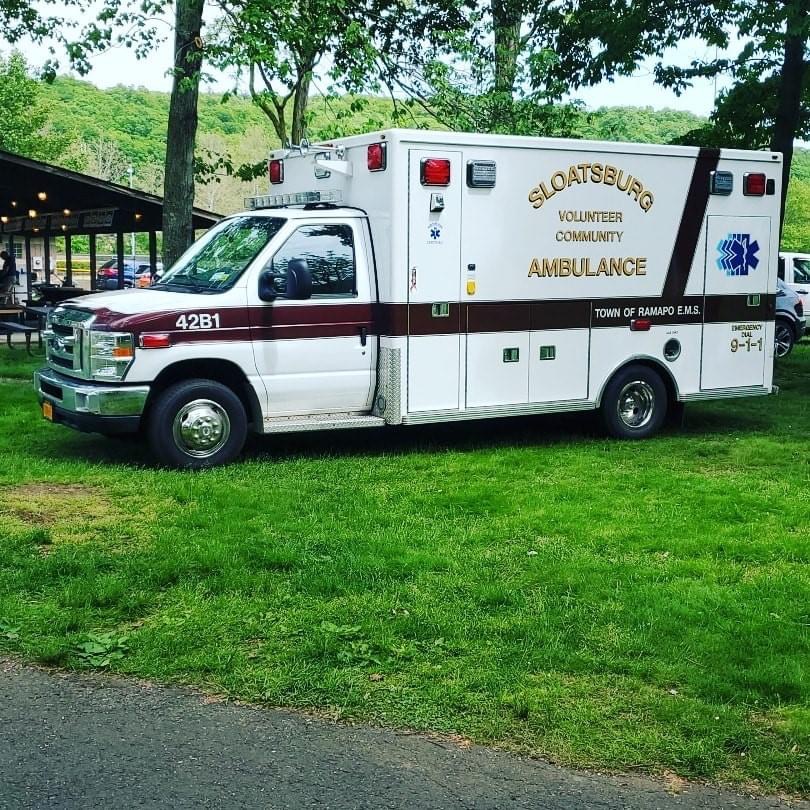 SLOASTBURG, NY – Rockland County District Attorney Tom Walsh announced the plea of guilty on a grand larceny charge of the former president of the Sloatsburg Volunteer Ambulance Corps. The plea brings to a close a months-long, multi- agency investigation into the stealing of funds from the ambulance corps.
Matthew Gannon, 54, of Sloatsburg, NY, appeared before Hon. Larry J Schwartz today, pleaded guilty to grand larceny 2nd (felony). In doing so, Gannon admitted to stealing in excess of $70,000 from the Sloatsburg Volunteer Ambulance Corps. during his tenure as President. Specifically, Gannon admitted to transferring moneys to two of his personal checking accounts in excess of $24,000, and admitted making payments directly from the Sloatsburg Volunteer Ambulance Corps. bank accounts for unauthorized personal expenditures to the following: All-State Insurance in excess of $18,000, Optimum in excess of $13,000, Salve Regina University / First Mark Loan in excess of $10,000, New York Jets in excess of $9,000, State Farm Insurance in excess of $5,000, Lucking Field Hockey in excess of $2,250, ACE Hardware in excess of $1,000, and the University of Albany in excess of $1,000. In exchange for Gannon's plea of guilty, Judge Schwartz promised to sentence Gannon based on one of the following three scenarios: (1) If Gannon fails to pay back restitution by his sentence date, he will be sentenced to 1-3 years in state prison, (2) if Gannon pays back at least half the restitution by his sentence date, he will be sentenced to one year intermittent in the Rockland County Jail, or (3) if Gannon pays back the entire restitution amount before his sentence date, he will be sentenced to a split sentence of six months intermittent in the Rockland County Jail and five-years probation which will include an undetermined amount of community service. The restitution amount may be up to $79,092.28, and will be paid back to the Town of Ramapo.
At Gannon's plea, the Rockland County District Attorney's Office recommended that Judge Schwartz sentence Gannon to an indeterminate term of two to six years in state prison with full restitution. The District Attorney's Office's position is based on defendant's prior conviction for falsifying business records for the Suffern school district, and the fact that the Sloatsburg Volunteer Ambulance Corps. has been shut down due to Gannon's theft. Judge Schwartz will sentence Gannon on 10/26/2021.
District Attorney Tom Walsh said, "Today's guilty plea is a direct result of a well-coordinated investigation, by a multitude of law enforcement agencies, from local, county and state levels. We cannot allow persons who oversee the funds of such a vital community program, such as a volunteer ambulance corps, to feel they can steal without consequence."
The investigation was conducted by Town of Ramapo Police Department, Rockland County District Attorney's Special Investigation Unit and the NYS attorney General's Office. The case was prosecuted by Executive Assistant District Attorney Michael Dugandzic and Assistant District Attorney Nicole Garcia
Driver Charged with DWI after Rollover Crash in Hillcrest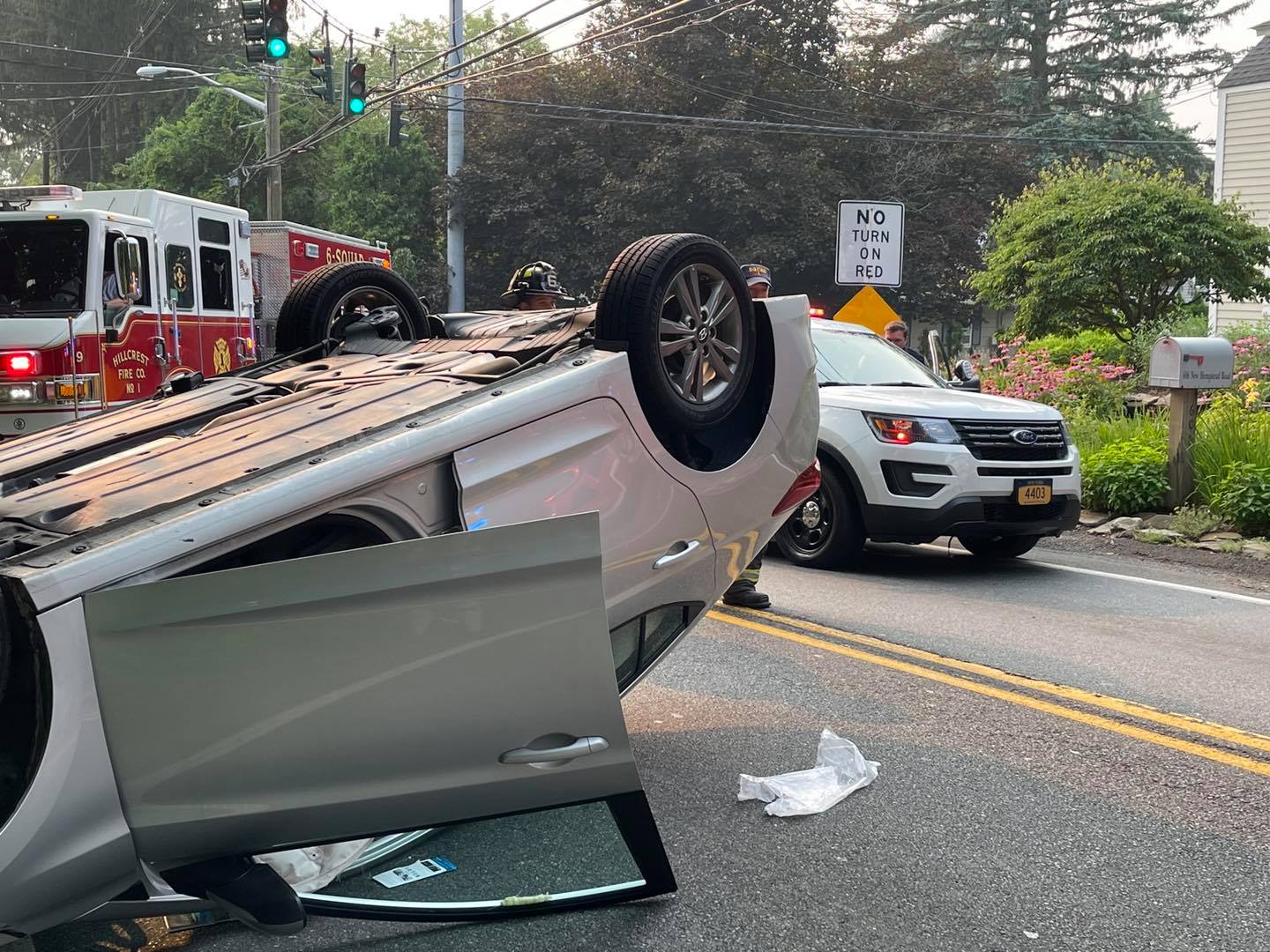 HILLCREST, NY – Ramapo Police announced that driver of the vehicle in a rollover accident on New Hempstead Road on Tuesday (July 22, 2021) has been charged with DWI.
Hillcrest FD, Spring Hill Community Ambulance Corps and Rockland Paramedic Services were on the scene.