VIDEO: Educational Materials and Masks being Distributed in New Square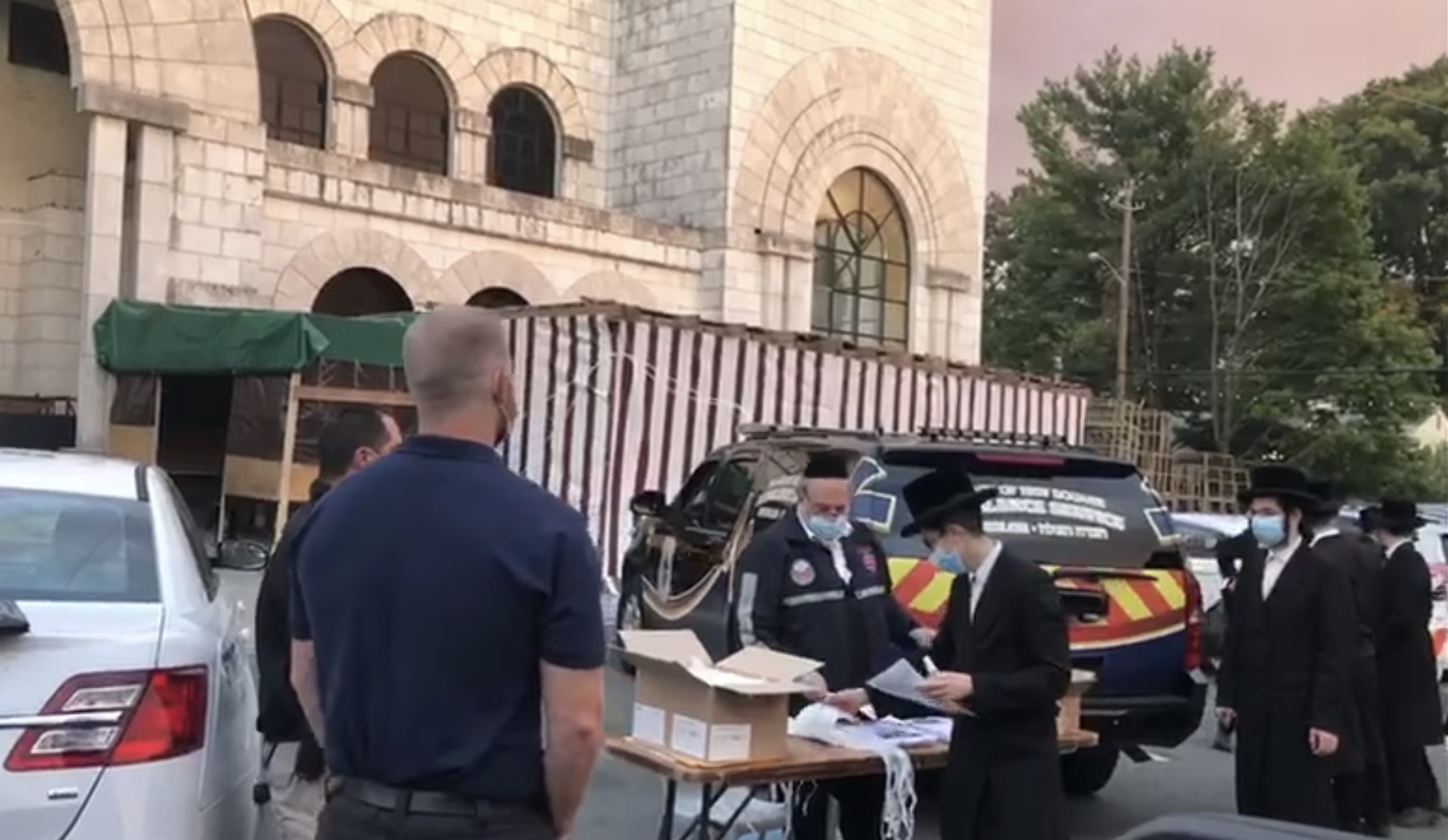 NEW SQUARE, NY – The Town of Ramapo Police Department and State EMS are currently giving out masks and educational materials to all residents of the Village of New Square.
We can confirm that the Ramapo PD are making un-announced checks at local stores and supermarkets. (Photos to be posted shortly)
Video is from Friday, October 2, 2020
Supervisor Hoehmann Receives 2020 New York State Recreation and Parks Society Elected Official of the Year Award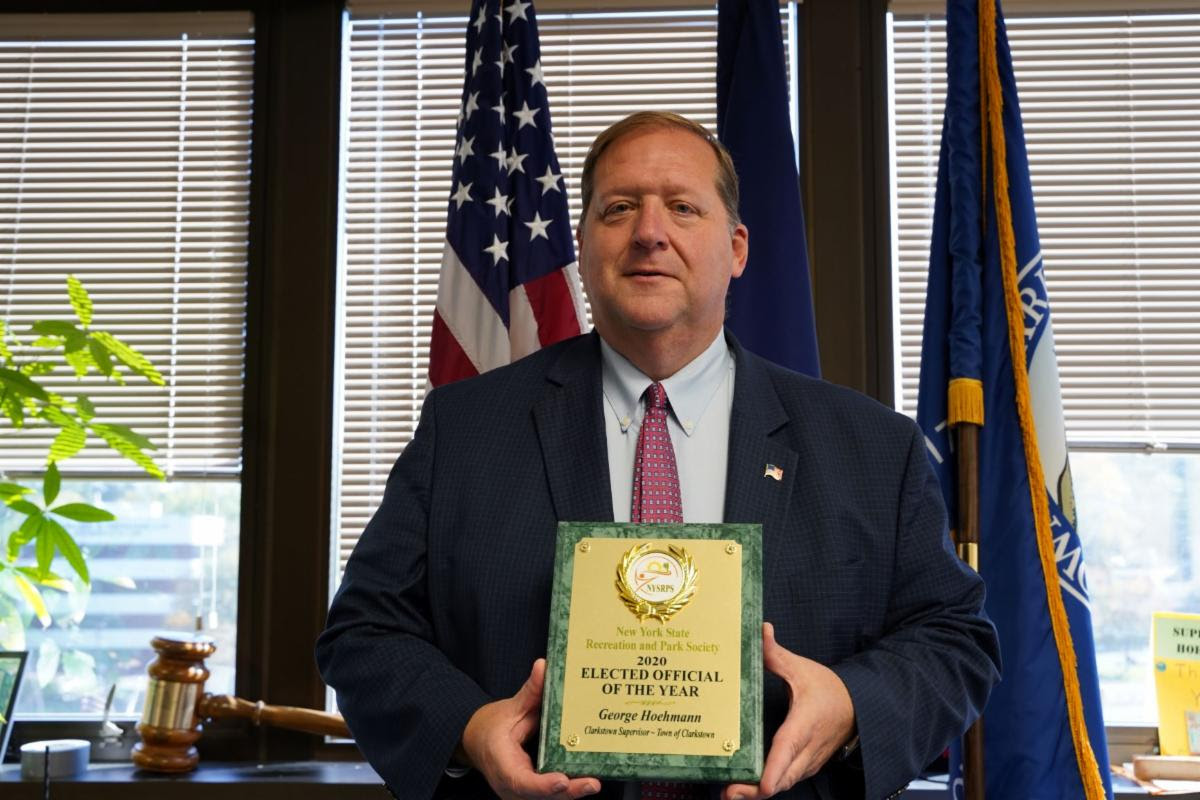 NEW CITY, NY – Town of Clarkstown Supervisor George Hoehmann is the recipient of the New York State Recreation and Parks Society 2020 Elected Official of the Year Award. The Supervisor accepted the award at the Town Board meeting this week. The award was presented by Jessica Dickinson, Regional Representative of NYS Recreation and Parks Society.
"I am delighted to accept this award and proud to be recognized for our efforts to make the Town's Recreation programs and parks the best in the state," said Supervisor Hoehmann.
Supervisor Hoehmann has dedicated the necessary resources and funding to the Town's Recreation and Parks Department to advance its goals of better serving its residents' changing recreational needs. He is always supportive of exploring and instituting new programs, ideas and events.
Under Supervisor Hoehmann's leadership, renovations and upgrades have been completed at Germonds Pool, Lake Nanuet, Street Community Center, and several playgrounds throughout the Town. The historic Tallman Budke House was restored for future generations. Clarkstown also acquired several properties for open space and recreational use. Supervisor Hoehmann also created the Town's first dog park at Congers Lake and constructed and opened its first Winter Wonderland LED light display around Congers Lake.
"Supervisor Hoehmann and I have collaborated on and instituted many new programs and events for the benefit of Clarkstown's 85,000 residents over the past five years," said Clarkstown Superintendent of Recreation and Parks Elaine Apfelbaum. "Thanks to Supervisor Hoehmann the residents of Clarkstown enjoy state of the art facilities, beautiful parks, and a variety of activities and events for all ages."
"We are indebted to leaders like Supervisor Hoehmann who truly understand the significant need for recreational outlets and appreciate the resources it takes to serve the community's needs. With many deserving candidates across New York State to select from this is quite an honor, residents of Clarkstown are lucky to have such an advocate for parks and recreation," said Lisa Morahan, Executive Director of the New York State Recreation and Park Society.
Rockland County District Attorney's Office Awarded Federal Grant For Victim Specialist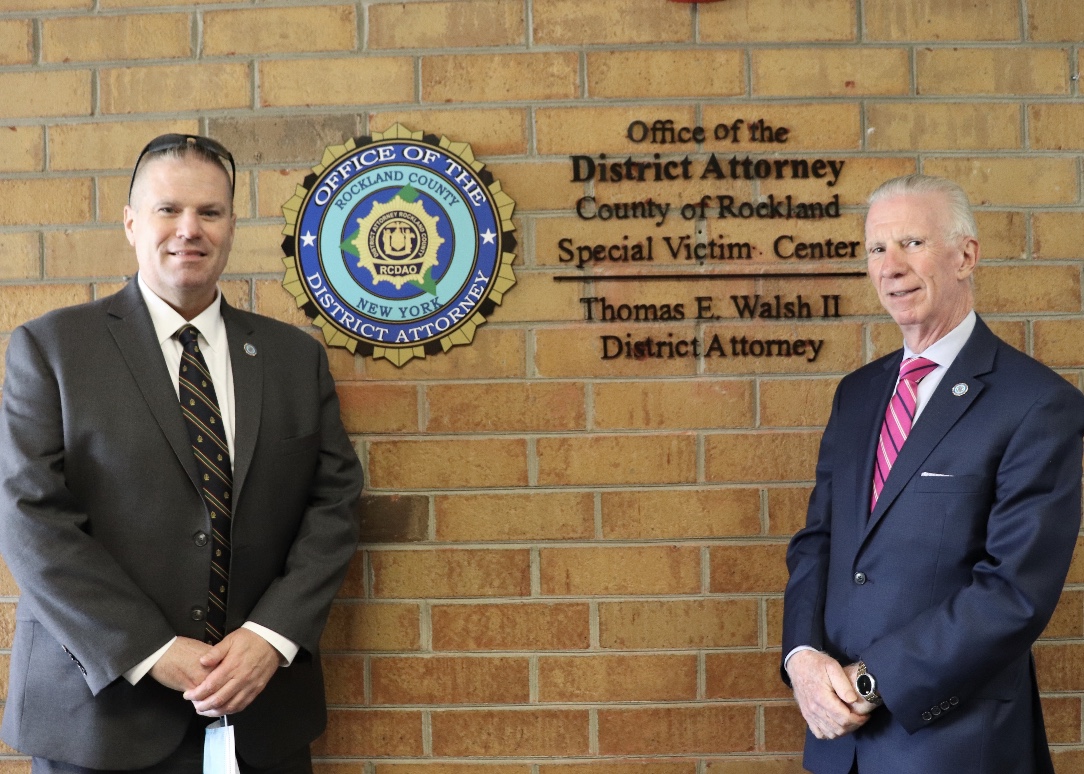 NEW CITY, NY – Rockland County District Attorney Tom Walsh announced that The Office for Victims of Crime has awarded the Rockland County District Attorney's Special Victims Unit a grant under the FY20 Law Enforcement-Based Victim Specialist Grant Program. The grant award is for 270,000 to be distributed over a 3-year period and will fund a full-time Victim Specialist for the DA's Special Victims Center (SVC). 25 grants total were given out nationwide. 8 were given to small agencies (those with less than 100 full-time sworn officers)
Executive Assistant District Attorney Kathleen Devlin, head of the Special Victims Unit said," With this grant, our team will be able to provide additional services to those who are victims of horrible crimes. We will never allow those most vulnerable to fall through the cracks."
View the Rockland County Special Victims Center below 
The RCDAO intends to utilize the grant funding to develop a victim specialist program, so a member of the RCDAO is solely dedicated to assisting victims. The program will also seek to provide victims with a person who can help them navigate the justice system and its processes. The program will be centralized within our Special Victim's Unit, which prosecutes crimes involving domestic violence, sexual assault, physical and sexual abuse of child, as well as those crimes committed against other vulnerable members of our population.
Rockland County District Attorney Tom Walsh said," The news of receiving this grant will be a monumental advantage for our Special Victims Unit to have a full-time victim specialist on staff. Rockland residents who are victims of sex abuse or domestic violence will be benefactors of this grant. As we all know, we can never do enough for crime victims."