Two Rockland County Sheriff's Office Corrections Officers Accused of Mistreating Female Inmates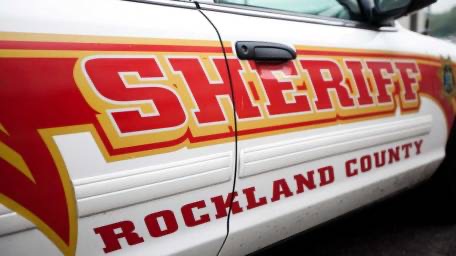 NEW CITY, NY – Two Rockland County Sheriff's Office Corrections Officers have been indicted on multiple criminal charges regarding the mistreatment of female inmates.
District Attorney Tom Walsh announced multiple indictments, that were handed down by a grand jury, of two Rockland County Sheriff's Office Corrections Officers. The officers were indicted on multiple misdemeanors and felonies. The indictments were a result of an ongoing investigation into sexual mistreatment of female minority inmates.
John Kezek, 35, of Stony Point, NY, was indicted on 5 counts of Official Misconduct (misdemeanor). Kezek engaged in a course of sexual harassment of more than one female minority inmate.
Christopher Taggart, 39, of New City, NY, was indicted on 21 counts of Official Misconduct (misdemeanor) and 2 counts of Promoting Prison Contraband (felony). Taggart unlawfully introduced dangerous contraband into the Rockland County Jail and he engaged in an inappropriate relationship with female minority inmates.
Rockland County District Attorney Tom Walsh said "The indictments today bring to light an ongoing issue that arises from time to time of the mishandling of females incarcerated in the corrections systems. A defense attorney notified my office that her client was a victim of intimidation, misconduct, and sexual harassment which prompted this investigation. Far too often, female inmates are not considered to have the same rights as those of us who are walking the streets. We can't allow a systemic issue of female minorities being mistreated in our jails. My office has worked diligently to ensure that ALL of our residents, whether incarcerated or not, are treated fairly and have their rights protected. The courage of these females who came forward to report this sexual harassment cannot be understated. They took a stand against individuals who were in a position of authority and have opened themselves up to further harassment and intimidation. The Rockland County District Attorney's Office will insure that this will not happen and vigorously prosecute anyone who dares to cross that line."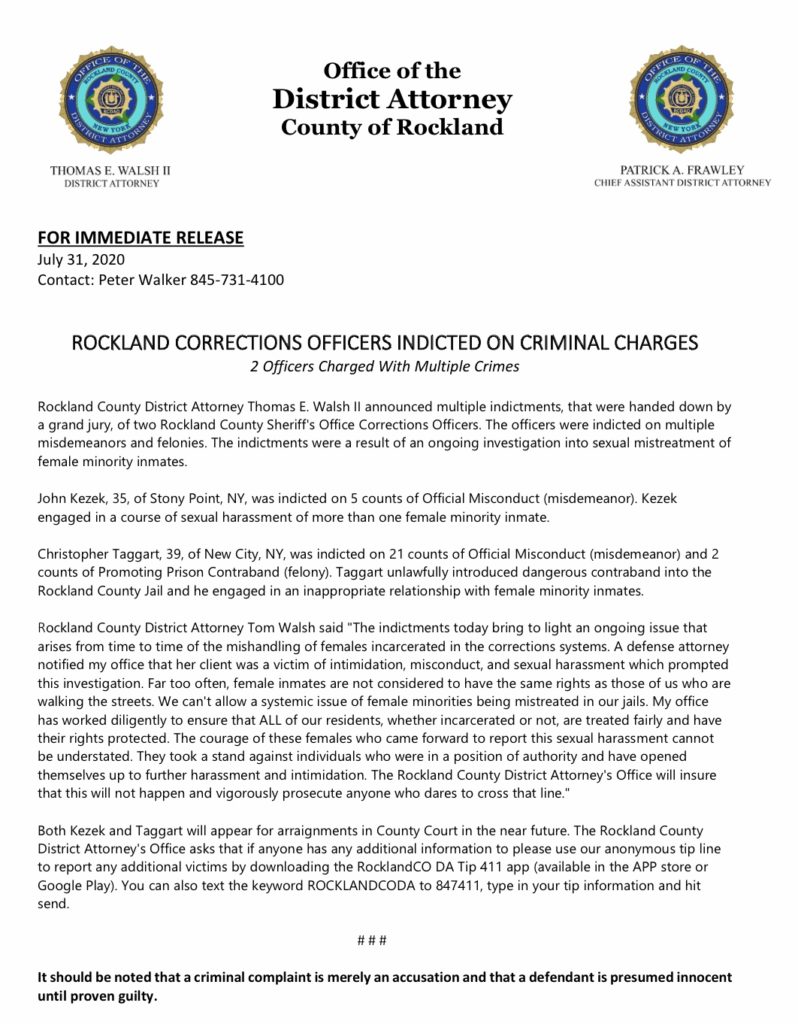 Both Kezek and Taggart will appear for arraignments in County Court in the near future. At this time, Rockland County Sheriff Lou Falco or County Executive Ed Day have not commented on the story (we will update the article when they do.)
Sheriff Falco has been under fire for sharing multiple alleged racist posts on his personal Facebook page. Yesterday marked the second week protesters have gathered in New City calling on Sheriff Falco to resign. Calls for his resignation have come from both Rockland United and Clarkstown WTDWYTK, along with local pastors. On Monday, the Rockland County Democratic Executive Committee will be voting on whether the committee should call for his resignation.
Spring Valley Man Indicted on Kidnapping and Strangulation Charges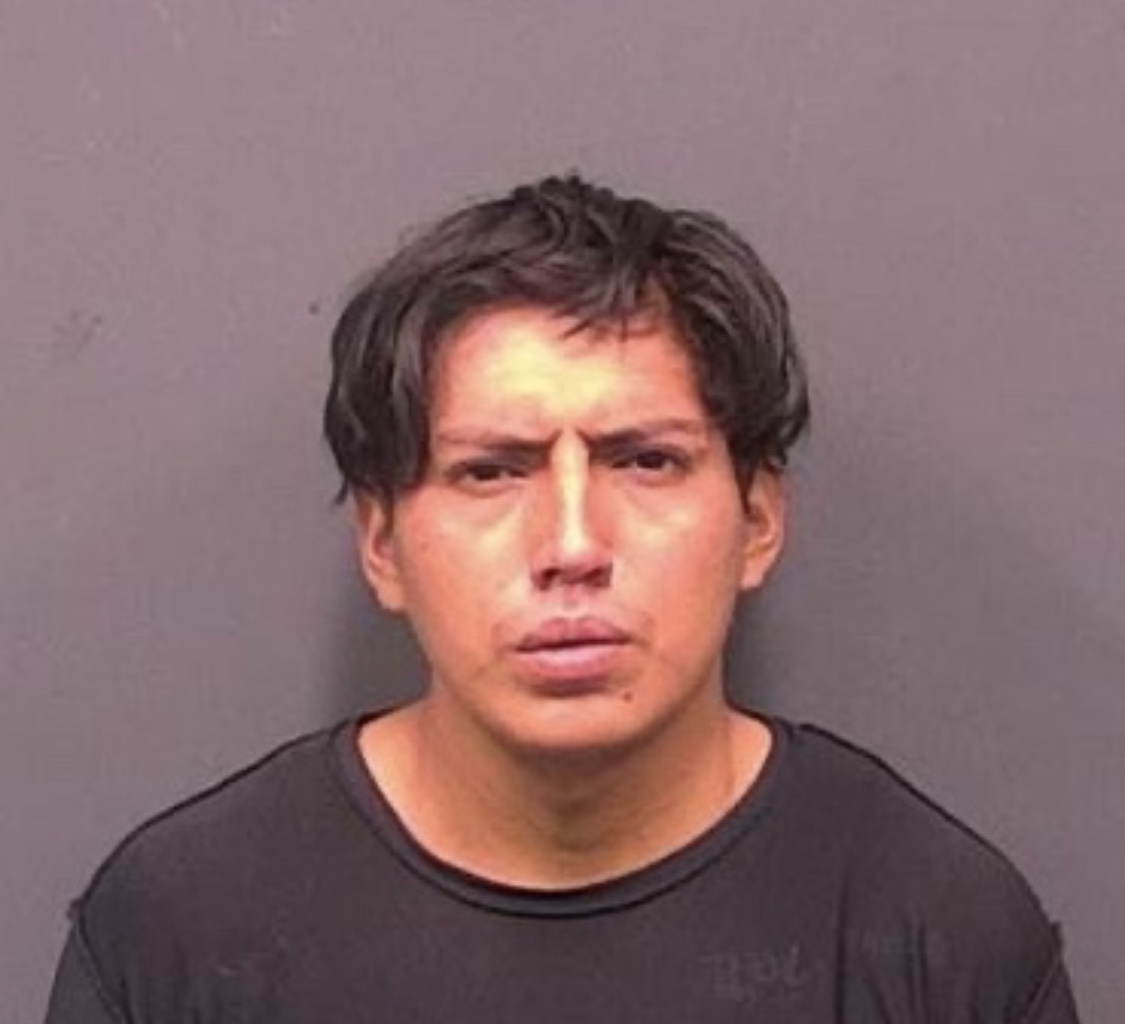 SPRING VALLEY, NY – Rockland County District Attorney Thomas Walsh announced the Defendant, Daniel Pulla-Pilco (10/30/1996), of Spring Valley, has been indicted by a Rockland County Grand Jury. Pulla-Pilco was indicted on one count of Attempted Kidnapping in the Second Degree (PL Sec. 110.00/135.20) and one count of Strangulation in the Second Degree (PL Sec. 121.12).
On or about September 9, 2020, in the Village of Spring Valley, the defendant followed the complainant, a stranger, home from her place of employment. He then proceeded to drag her into a poorly lit area and began to choke her, eventually causing the complainant to lose consciousness. The Defendant fled the area and was ultimately identified and located by the Village of Spring Valley Police Department.
District Attorney Thomas E. Walsh, II. said, "The defendant has been charged with a violent and egregious crime. The attack and attempted kidnapping of a stranger is an extremely sinister offense. The Rockland County District Attorney's Office will be pursuing swift justice for the victim."
Caught on Camera: Suspect Breaks Into Verizon Store in Monsey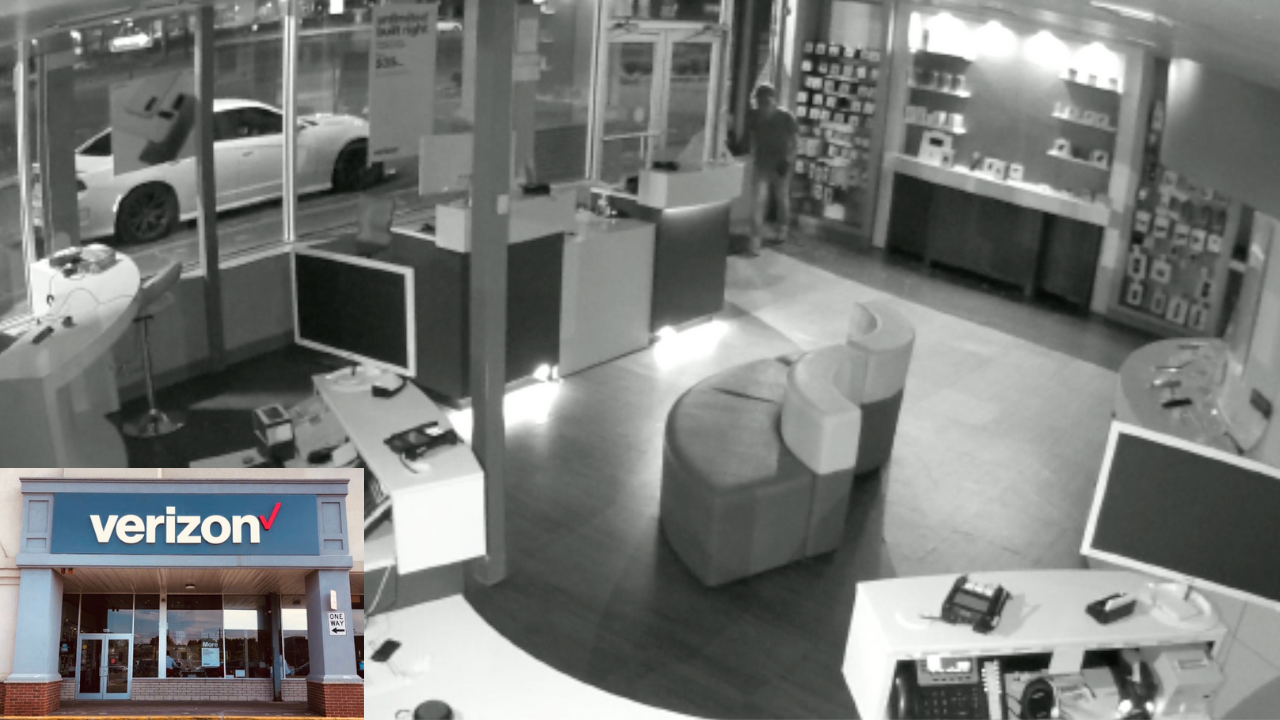 MONSEY, NY – Surveillance footage captures the moment when a thief broke the entrance window and jumped in to the Verizon store around 5 am on September 12, 2020 and can be seen stealing two boxes before leaving in a white Dodge Charger.
If you have any information, please call the Ramapo Police Department at (845) 357-2400 – rocklandreport.com