Tristate UV Sanitizing Providing a Safe Solution to Kill Covid-19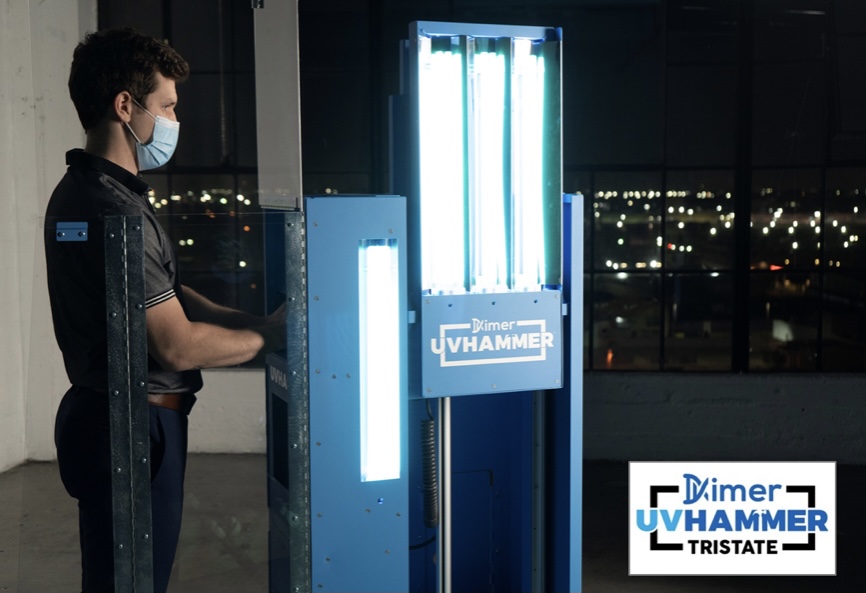 NANUET, NY – Tristate UV Sanitizing is a leading SaaS Sanitizing service company that kills the COVID Family of viruses at the speed of light. Its powerful UV HAMMER® makes businesses, schools and restaurants safe again.
Tristate UV Sanitizing mission is to improve guest safety and health at retail and corporate businesses that have been severely impacted by the COVID-19 pandemic. The company uses UVC Ultraviolet Light to sanitize and kill 99.99% of germs and viruses, including COVID-19 in the air and on high-touch surfaces.
Justin Candullo, President of Tristate UV Sanitizing and Paul Joselow, VP Co-Owner, are bringing safety, health and customers back to local businesses. Armed with their state-of-the-art UV Hammer®, they can sanitize a 1500 sqft business in 7 minutes, and a 3000 sq ft space in just 15 minutes. The safe, powerful virus busting machine use Dimer's UVC Technology [15 Global Patents] licensed by Honeywell for sanitizing Jet Blue and Quatarairlines.
The new norm for business safety in pandemic and post-pandemic times will be to control and eliminate the return of dangerous viruses and germs. Tristate UV Sanitizing kills these dangerous viruses and makes customers feel safe again to return to and support local retail businesses.Watch how Tristate's virus killing technology works.
Despite the emergence of COVID-19 vaccines, there's still widespread fear and reluctance by consumers to return to restaurants, bars, salons, health clubs, healthcare and hotels. Retail businesses, including essential services like child care, emergency medical care centers and supermarkets are scrambling to sanitize and implement PPE requirements per CDC guidelines. But these are protective defensive measures, not proactive killing of germs and viruses.
Tristate's UV Hammer® uses powerful UV-C bulbs and a patented variable angle wing to get up close to viruses and kill them in seconds. A mobile cart unit is maneuvered by an operator throughout the business interior, sanitizing the air and an array of high-touch horizontal and vertical surfaces. For a limited time, Tristate UV Sanitizing is offering a free 3000 square ft demo sanitizing service for businesses, which includes a visual confirmation system that proves that the cleaned areas have been sanitized, providing the safest and healthiest environments for employees and guests. The company also offers the UV Hammer units for sale to corporations and professional cleaning and maintenance companies seeking to offer state-of-the-art virus killing services.
Norcina in New City Recipient of NYS Empire Award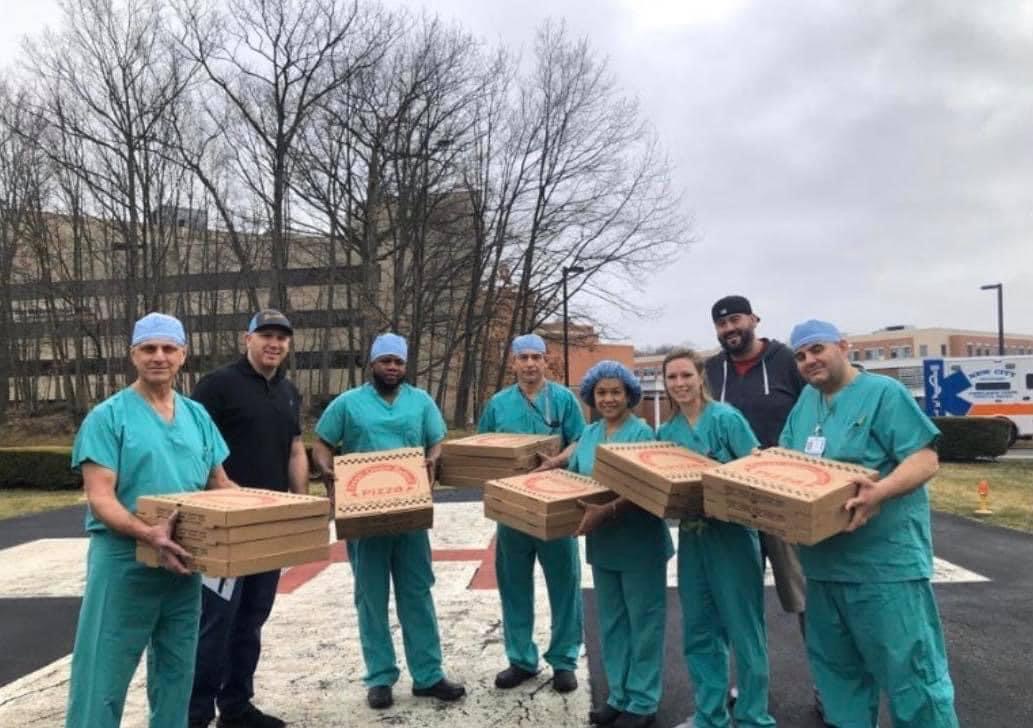 NEW CITY, NY – As Covid-19 hit Rockland County, many people wanted to help but didn't know how. Rockland native Eddie Stapleton, who now resides in North Carolina contacted Norcina's on how to help small business and people assisting the community he grew up in. He purchased and donated 10 large pies, to a place of their choice, which Norcina in turn matched w/ 10 more pies. 20 fresh pies were just delivered to Good Sam Hospital in Suffern. (Pictured below are the Cardiovascular Operating Room crew at Good Samaritan Hospital Suffern, NY with Norcina Owners Milan Dobrilovic and Nick Nuccio – top photo)
In just 26 days the Norcina Pizza Match would donate over 1,000 pizza pies to Rockland County medical professionals and first responders battling the COVID-19 epidemic.
How it worked: Norcina would match any donation an individual or organization makes to any hospital, first responders, or medical professionals who are actively fighting the COVID-19 pandemic.
Norcina would end up starting a trend locally that inspired other businesses to honor the same deal. Not only did it support small businesses but it provided residents with the ability to show their support to our first responders and medical professionals.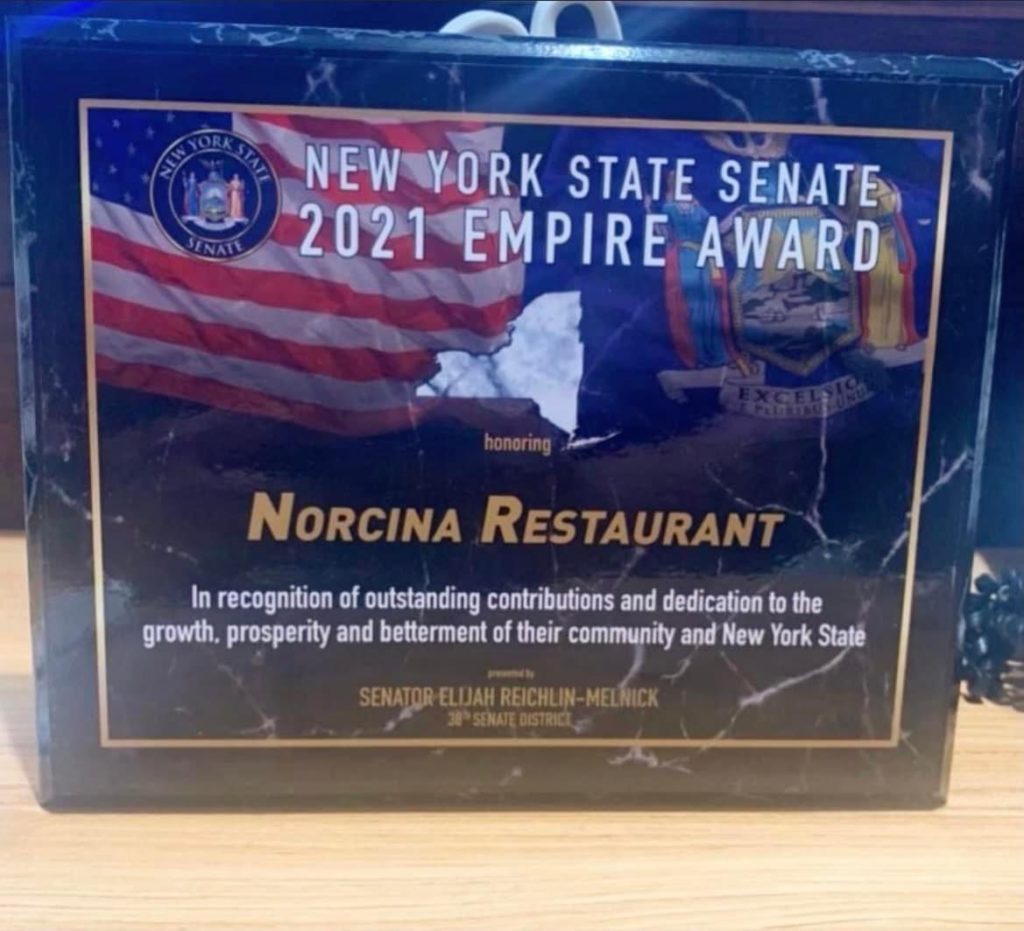 The New York State Empire Award was presented by Senator Elijah Reichlin-Melnick. It honors businesses that make major contributions to public service, and enhancing the quality of life for New Yorkers.
Slime World Announces Newest Location at Palisades Center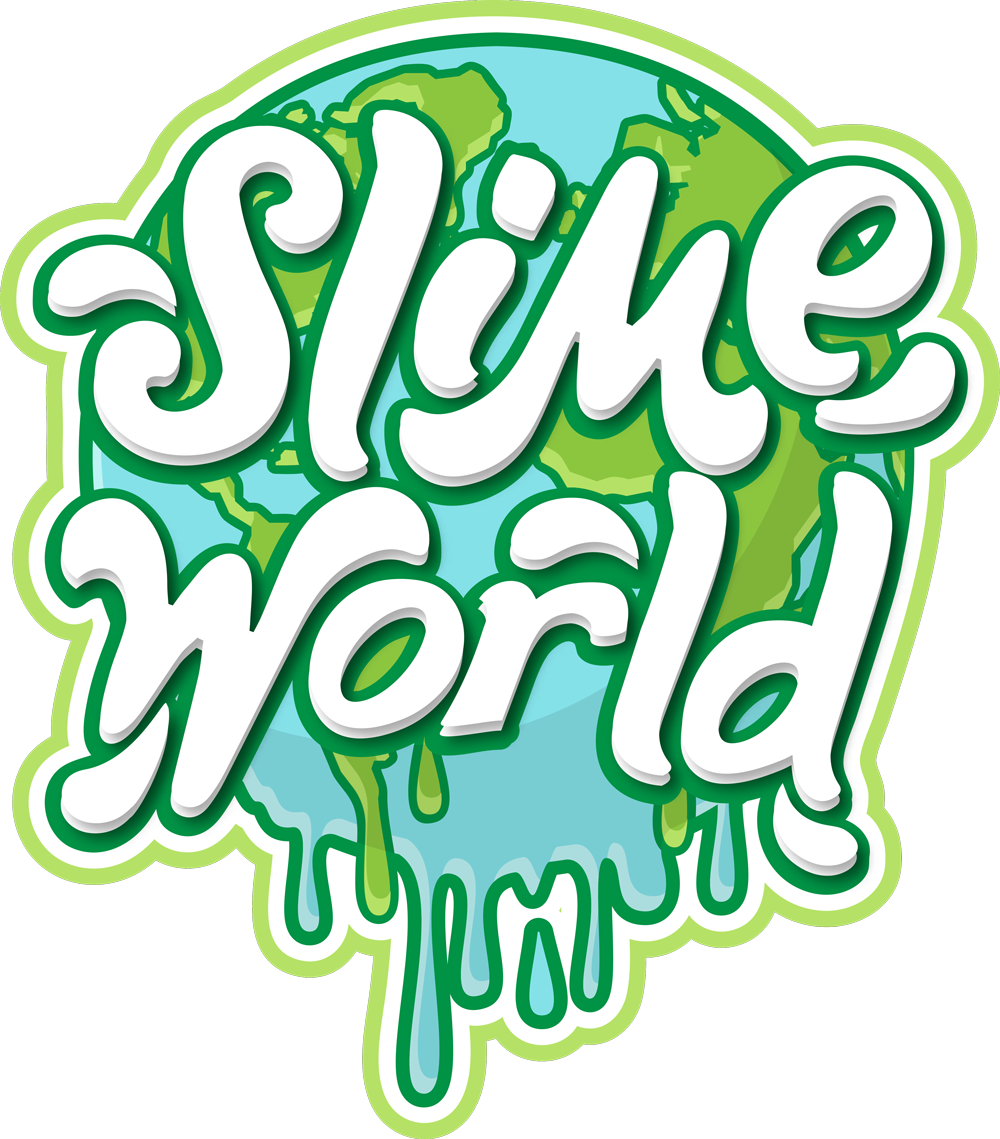 WEST NYACK, NY – Slime World, the premier craft studio where kids can make their own slime, will open its newest location at Palisades Center this November. Palisades Center's 2,300 sq. ft. Slime World studio will be located on Level Three next to the Build-A-Bear Workshop.
The sticky and gooey feel of slime has appealed to kids since the late 1970s. The popularity grew with the rise of YouTube, Instagram, and TikTok where millions of do-it-yourself slime videos highlight recipes with a wide array of captivating colors and satisfying textures.
Slime World takes the messy out of slime making. The studio space is designed for sticky fingers and messy projects where children can unleash their creativity, play, and express themselves in a stimulating environment.
"At Slime World, we know there is nothing that children love more than some messy fun, and we happen to be the pros," said Sandeep Shah, Owner of Slime World. "Our mission is to bring smiles to kids while engaging their creative minds! We invite our little guests to come for a one-on-one experience and parents to host the next party with us to create unforgettable memories for their children and all their friends!"
"The Slime World studio is a perfect destination for Palisades Center's youngest guests," said Darrin Houseman, General Manager of Palisades Center. "We can't wait to see them having a blast while they customize their own slime creations."
The only other Slime World studio is in Freehold, New Jersey.