Suffern native and Vietnam veteran, Jeremy Honey inducted into the NYS Senate Veterans' Hall of Fame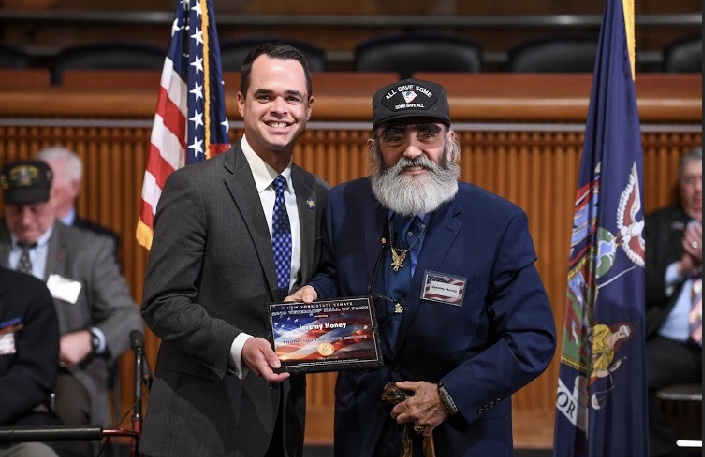 Suffern native and Vietnam veteran, Army Staff Sergeant Jeremy Honey inducted into the New York State Senate Veterans' Hall of Fame on Tuesday.
The New York State Senate Veterans' Hall of Fame was created to honor and recognize outstanding veterans from the Empire State who have distinguished themselves both in military and civilian life.
Honey was inducted by State Senator David Carlucci.
Senator Carlucci said, "Our service members deserve our gratitude as they have selflessly served our country to protect the freedoms we hold dear. Many Vietnam veterans like Jeremy Honey did not come home to events honoring their service, and now we have an opportunity to right that wrong. Honey served in the Army for 12 years, went on to train other elite soldiers, and now helps veterans suffering from mental illness. He's extremely deserving of this honor, and we thank him for his service and dedication to his country."
Honey served bravely in Vietnam from 1969 to 1970, and was then reassigned to Cambodia. Later, Honey served more than three years in the Federal Republic of Germany where he worked to protect West Germany.
When Honey returned to the United States, he trained officers and other senior sergeants in places such as the United States Military Academy at West Point and at Fort George G. Meade in Maryland.
Following his honorable discharge in 1980, Honey continued to serve his nation by working for the federal government. In 1984, President Ronald Reagan named him "Federal Employee of the Year," for his exemplary work with the Department of Veterans Affairs.
Now Honey is widely respected for the work he does for veterans. He has been the Director of the "Missing in America" House, a home for mentally ill veterans, and is the founder and past Commander of the Disabled American Veterans in Rockland County. Never backing away from assisting veterans in need, Honey has spoken at length about Post Traumatic Stress Disorder, and has personally driven veterans with alcohol or emotional issues to the VA Hospital in Montrose, New York for treatment.
Town of Orangetown Collecting Valentine's Day Cards for OPERATION LOVE OUR SENIOR CITIZENS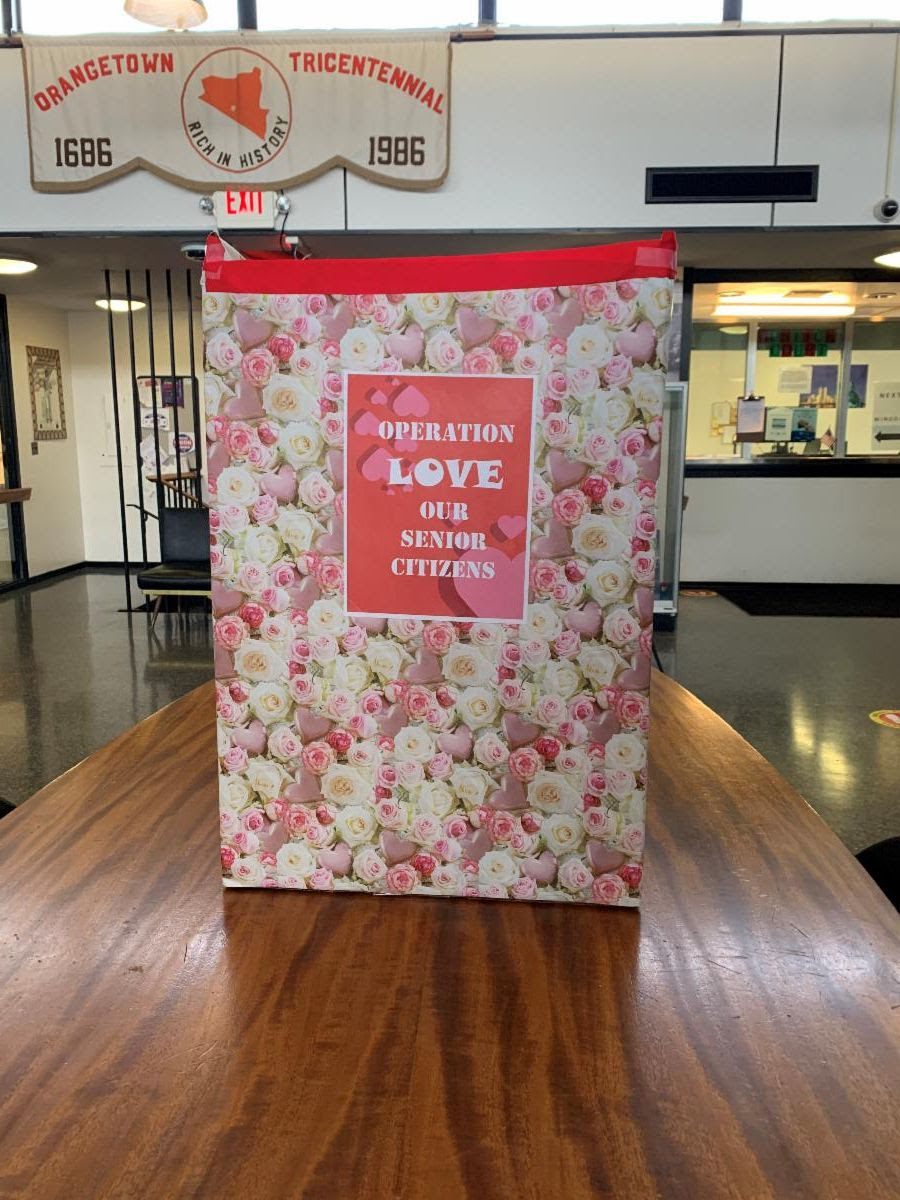 ORANGEBURG, NY – Valentine's Day is a day when we show love to those who mean the most to us. From our significant others to our best friends, school friends to colleague's, family members near and far, this day has turned into a yearly reminder to let the people we love hear it.
This year, nearly a full year of "pausing in place," the Town of Orangetown is asking you to join us in sending cards to those who could use an extra smile. We're talking about our elders, a group of well-seasoned, incredible humans who are sometimes forgotten.
Welcome to OPERATION LOVE OUR SENIOR CITIZENS.
The Town will be collecting Valentine's Day cards through Tuesday, February 9, 2021 for our local senior citizens and we will distribute later that week.
Buy a card or better yet, make a card for a senior citizen, bring it to Town Hall and drop it in the box marked "Operation Love Our Senior Citizens."
You'll be very happy you did.
Legislator Wieder Travels to Washington, D.C. for Inauguration Day, Distributes Care Packages to Troops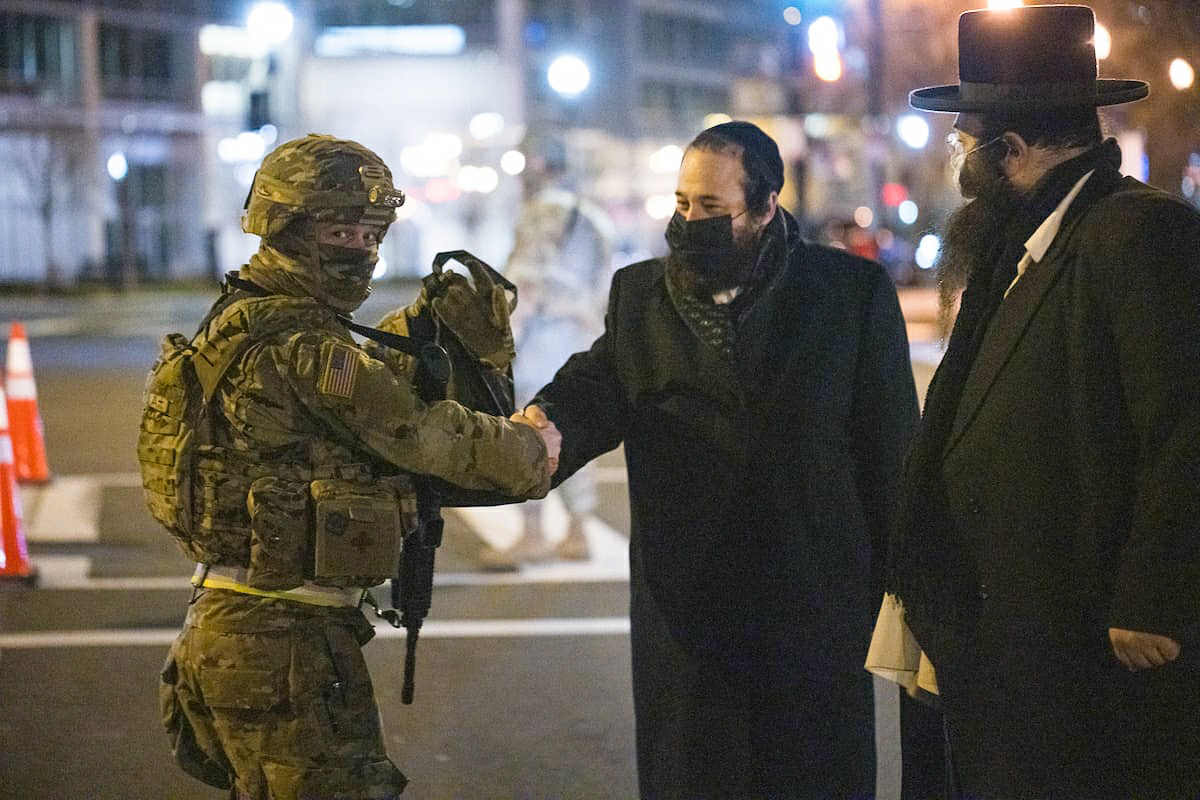 Rockland County Legislator Aron Wieder travelled to Washington, D.C. last Wednesday to distribute care packages to troops providing security for Inauguration Day.
"They were so appreciative of the show of support when really we were the ones so grateful to them for making sure America's long tradition of a peaceful transition in power was continued," Legislator Wieder said.
Legislator Wieder and Alex Rapaport, executive director of New York City-based Masbia, a soup kitchen and food care package program, collected items, transported the care packages and distributed them to troops at about 25 different posts that had been set up at street corner barricades.
The packages contained snack foods, drinks, sanitary products, and personal protective equipment.
At one point during his interactions with the troops, Legislator Wieder explained that he was forever grateful to the Army for liberating two of his grandparents from concentration camps in Austria.
"We're all hopeful and praying for the success of our wonderful nation in these trying times," Legislator Wider said.