Stony Point Police Officers Pictured Rescuing Children from Home Engulfed in Flames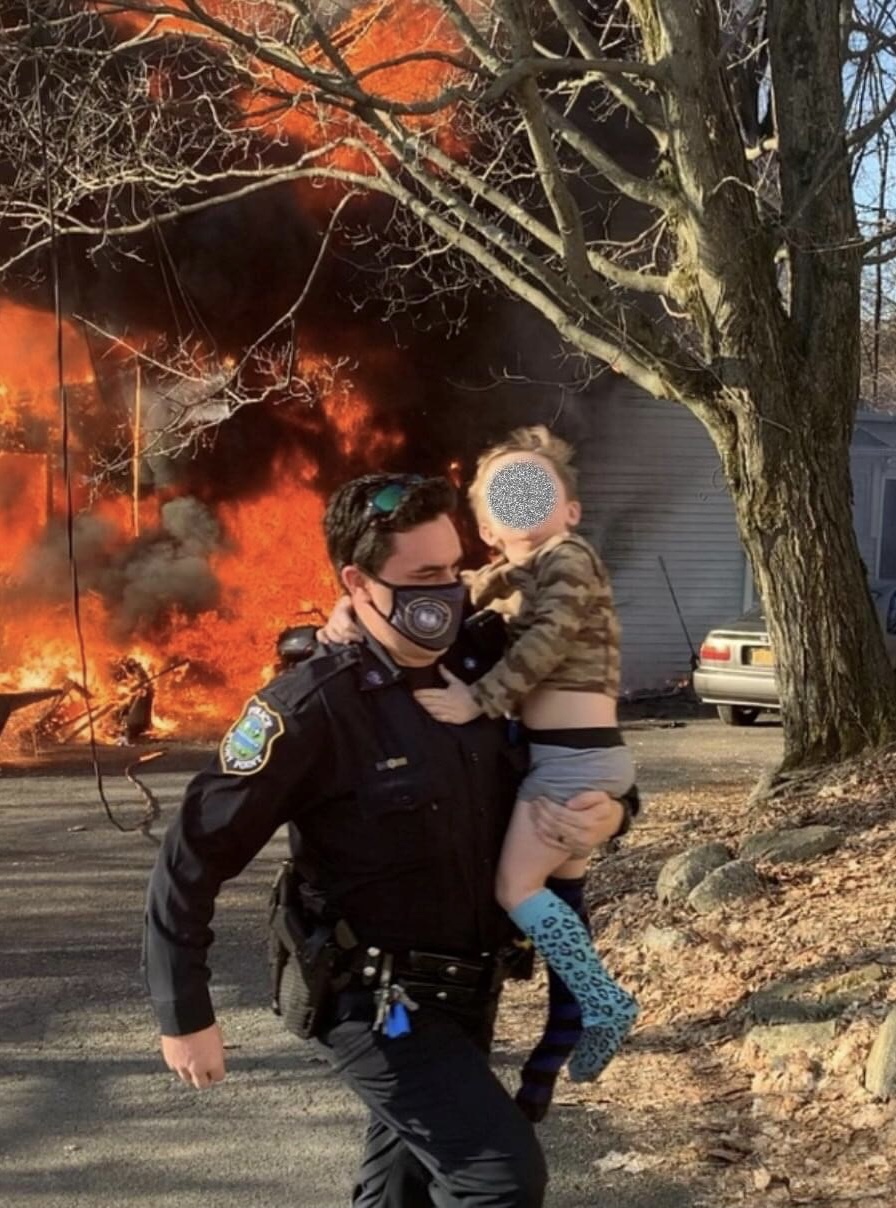 HEROES: Stony Point PO's Agovino, Ferrara and Mari (Not pictured) evacuating two young children from a quick moving house fire this morning.
(VIA STONY POINT PD) – Great work by PO's Agovino, Ferrara and Mari (Not pictured) at an early morning house fire today. Thankfully everyone evacuated safely. Tremendous work by our VOLUNTEER Fire Departments and EMS – Wayne Hose Company #1 Stony Point Fire Dept, Stony Point Ambulance Corps, Thiells Fire Department, West Haverstraw FD, Hillcrest Fire Company No. 1, Fort Montgomery FD. Special thank you to the unknown photographer who shared these photos with our officers. Reminder: Clocks forward tonight – CHANGE YOUR SMOKE DETECTOR BATTERIES.
You can view Veteran Rockland Fire Photographer Kenny Flynn's full gallery of photos HERE
Rockland's Amiel D'Auria Celebrates 100th Birthday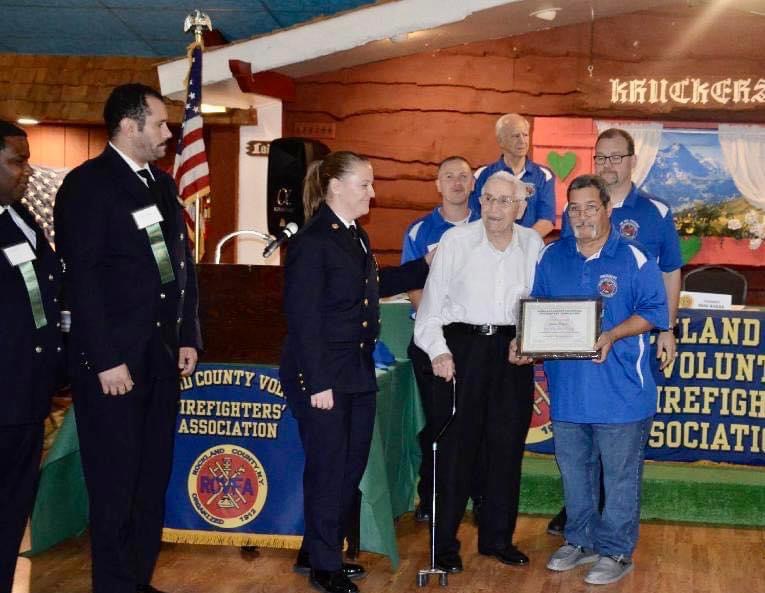 NYACK, NY –  Nyack Fire Department Honorary Battalion Chief Amiel D'Auria celebrates his Happy 100th Birthday!
Amiel is an 80 year Life Member of Chelsea Hook & Ladder Company # 2, joining in July of 1942. Amiel was recently honored by the Rockland County Volunteer Firefighters Association for his 80 years of service. Happy 100th Birthday Amiel!
Photo credit – Rockland Fires
Rockland County Sheriff's Office Captain Tony DeColyse Retires After 34 Years of Service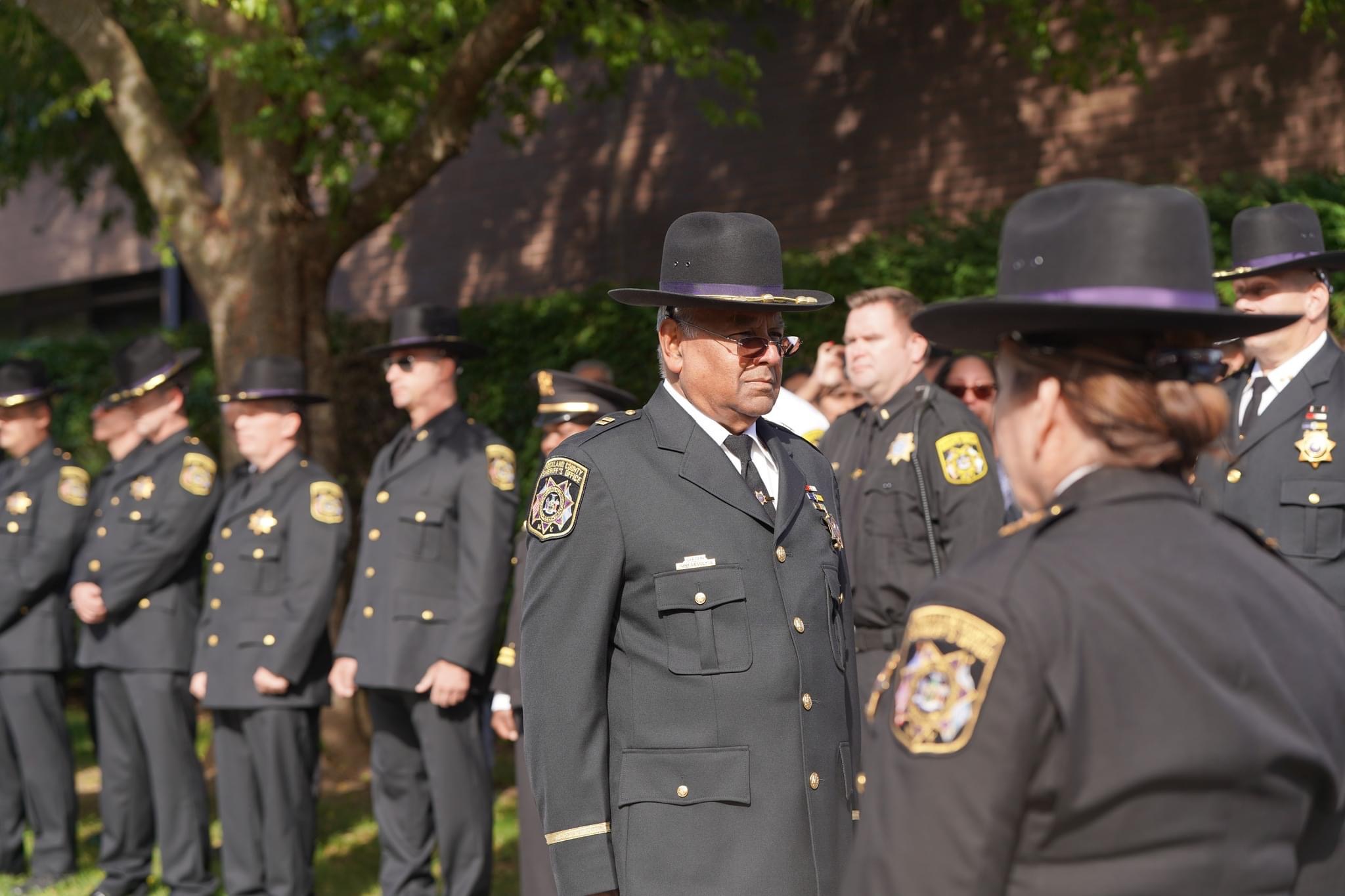 NEW CITY, NY – Captain Tony DeColyse walked out to celebrate his last day of service after 34 years in the Rockland County Sheriff's Office.
VIDEO BELOW
On a bright sunny day, friends and colleagues wished him well on his well deserved retirement. Captain DeColyse will be missed, but we wish him the best of health, happiness and a long enjoyable retirement with his wife, sons and grandson.