"Shots in Arms" By Rockland County Executive Ed Day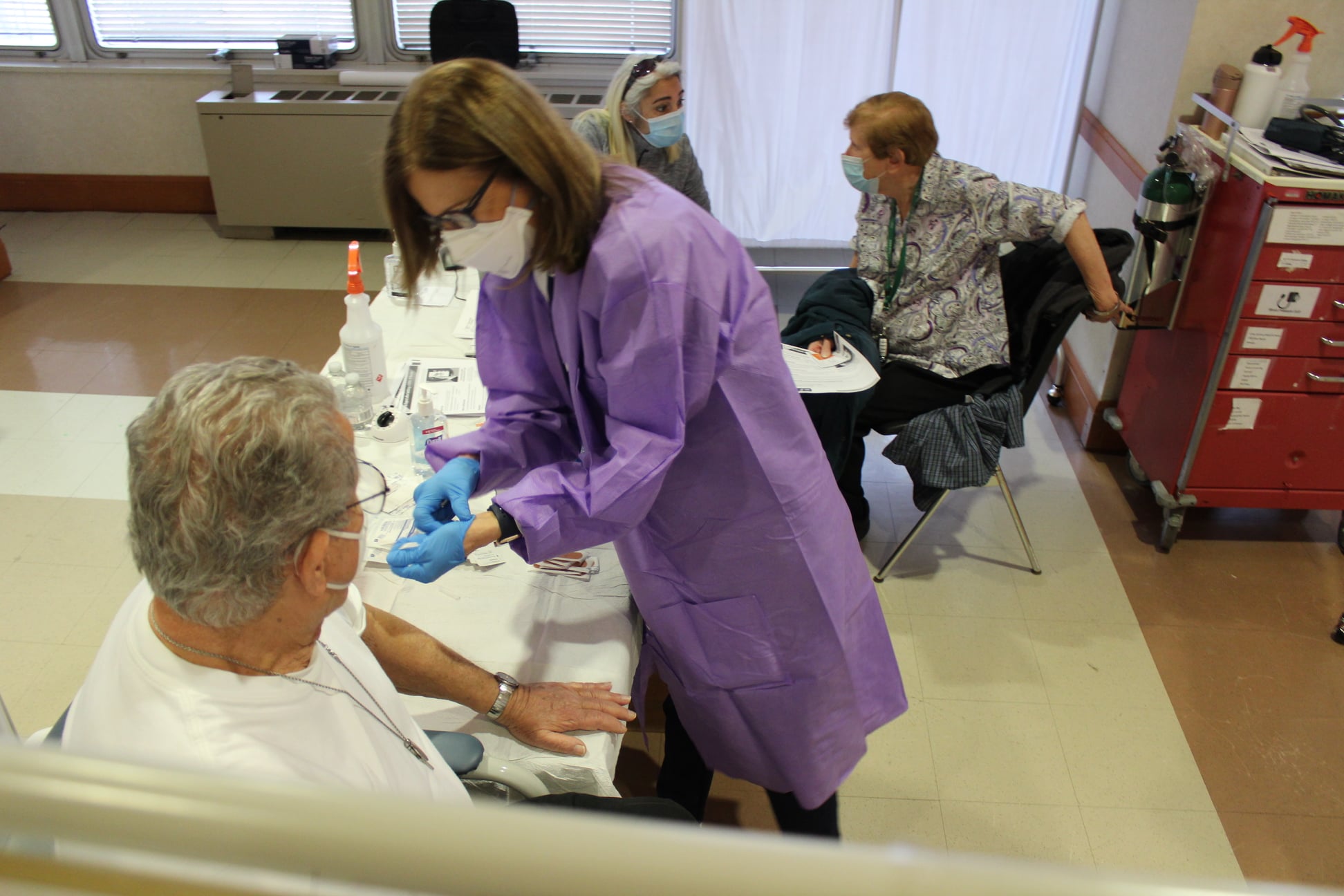 Staff from our County Department of Health began administering the COVID-19 vaccine on January 5, 2021. Since then, over 37,258 first and second doses have been given at our Vaccine Clinic in Pomona and at several pop-up locations in high-need communities in Rockland.
To run these clinics has taken the support of nearly all Health Department employees who assist with registration, temperature checks, flow control, giving the shots, providing COVID-19 education, watching patients for any adverse reactions, and ensuring a safe and healthy clinic environment.
In addition to the outstanding team in our Health Department staff from other county departments have stepped up to assist us with the process including the Department of Social Services (DSS), Law Department, Sheriff's Office, and Office for the Aging (OFA) along with the contracted nurses and doctors who have the training and credentials to administer the vaccine.
The County's Facilities and Information Technology Services (ITS) have also supported our ongoing efforts and have helped make significant improvements to the county's COVID-19 clinic. We also activated our Emergency Operations Center for the first time since 2017 to assist over 13,000 seniors with securing vaccinations.
All throughout this process we have asked those receiving vaccinations to complete short surveys while in the post-vaccine observation area about their experience at the clinic. Over 1,200 surveys were completed. Everyone who came to our clinics rated their overall experience highly, and nearly everyone would recommend this clinic to their friends, colleagues or family members.
Here is some of the feedback we received from people getting a COVID-19 vaccine in Pomona:
It was very smooth and professional, but it was obvious that everyone cared deeply about what they were doing.
Parking lot was packed, and the line was long, but I was amazed at how efficiently I moved through it. Well done and my compliments to everyone involved.
The experience was extremely organized. I saw many workers walking around cleaning the vaccine observation area. They maintained social distancing and you always had someone directing you where to go.
It was like something out of a movie. 5 stars. Would do again!
I have been running COVID vaccination clinics myself, and we implemented the system used by the health department here in Rockland. Fast, efficient, and quality. Great job!!! Thank you!
Great experience. Grateful to have gotten the vaccine in Rockland County by experienced and professional workers.
Absolutely wonderful! All the staff were so happy. I had one of the last appointments of their extremely long day, and they were all so kind and patient.
These comments are a source of great pride and truly speak to the caring and careful work being done in Pomona. I personally cannot thank our Department of Health staff enough as well as the numerous other County Departments which have supported these incredible efforts.
This hard work has clearly paid off for our residents who struggled through the early stages of the New York State vaccination process. And despite these obstacles they have helped so many get vaccinated. I urge all of you who are not yet vaccinated to check regularly for open appointments and to get vaccinated like I did.
For more information about scheduling an appointment visit http://rcklnd.us/covid19. If you represent a non-profit agency, municipality or faith-based organization and would like more information on scheduling a presentation or a pop-up vaccination site, please email the Rockland County COVID Call Center at [email protected] or call 845-238-1956 from 8:00 am – 5:00 pm Monday – Friday (except holidays).
Let's continue to work together to get shots in arms, so we can get our community back on track!
*This is a weekly column by Rockland County Executive Ed Day.
"Restaurant Week" By Rockland County Executive Ed Day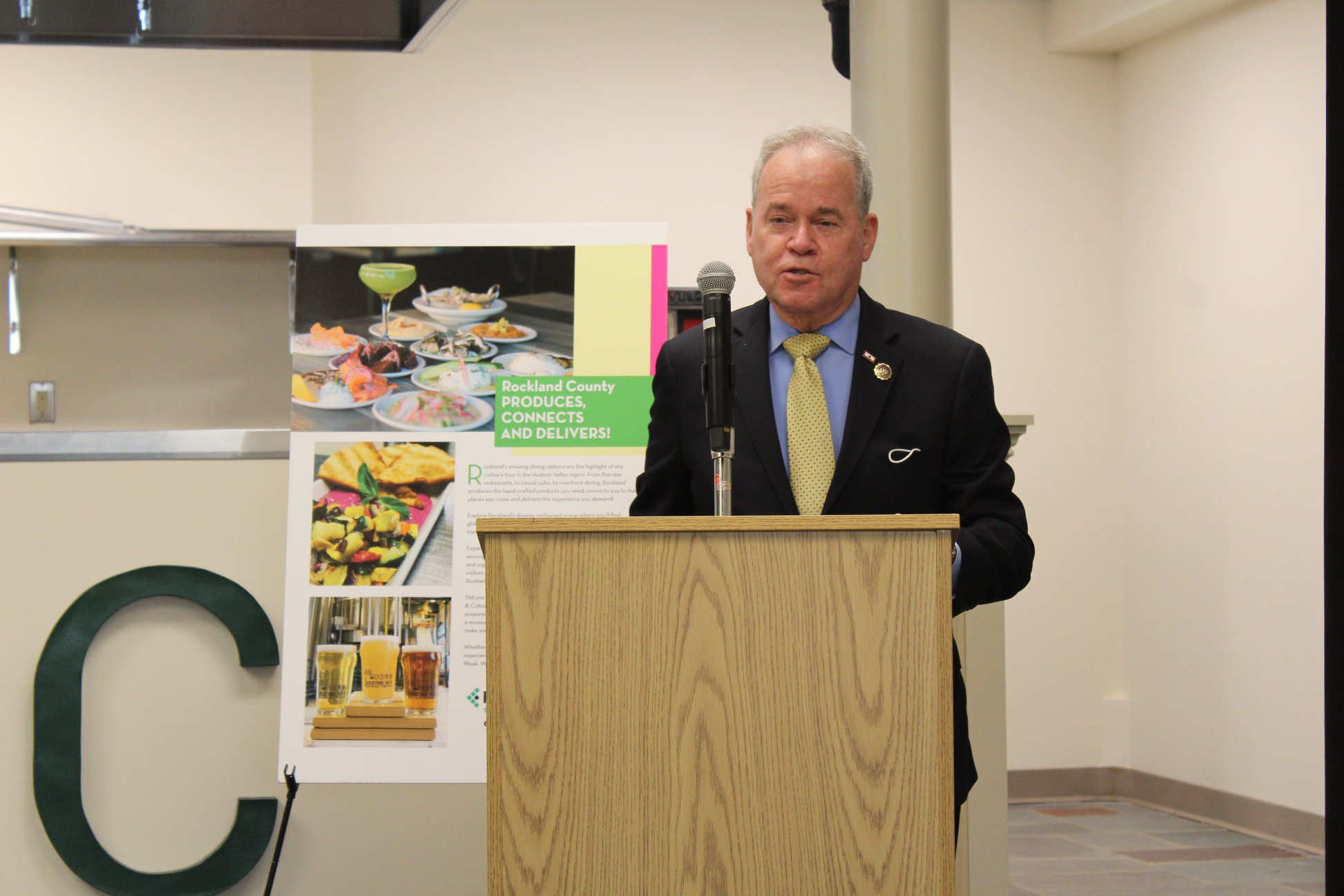 This week we welcome back "Restaurant Week" to Rockland County and the Hudson Valley. I am thrilled to see this event returning as we continue on the road to recovery as it spells very good things for our future.
Running until May 23rd it is a great opportunity to try the food at some of our great local restaurants at a price that won't break the bank. Participating restaurants are offering three-course dinner menus for $35.95 and lunches for $25.95.
And now that restaurants in New York are able to operate at 75% dining capacity and with all capacity restrictions being lifted on May 19th, we are making real progress at getting back to a new normal. I encourage residents to support our local businesses, especially our restaurants, who were all affected by the pandemic.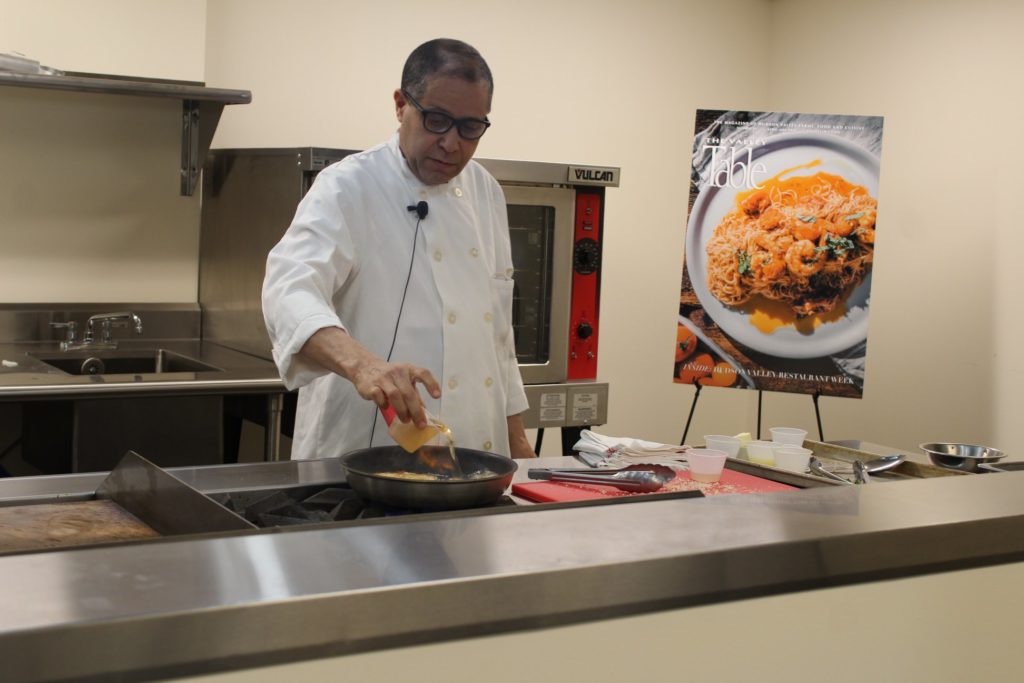 With people now feeling more comfortable getting out and about, Restaurant Week is the perfect time to show our support for the restaurants that have been there for us when we needed them. Dining out will also give our local economy an extra boost as we in government aim to get more folks back to work.
All this should lead to further improvements in the local unemployment rate which stood at 5.6% in March. Down from 6.4% in February and down from a high of 13.4% during the worst of the pandemic last April. Rockland is heading in the right direction and anything we can do to support restaurants will help.
Dining establishments are a key part of our local economy. 763 of these businesses employed more the 7,400 people prior to the pandemic. The number of employees dropped to just over 6,200 in the Fall of 2020, but the number of businesses remained relatively stable.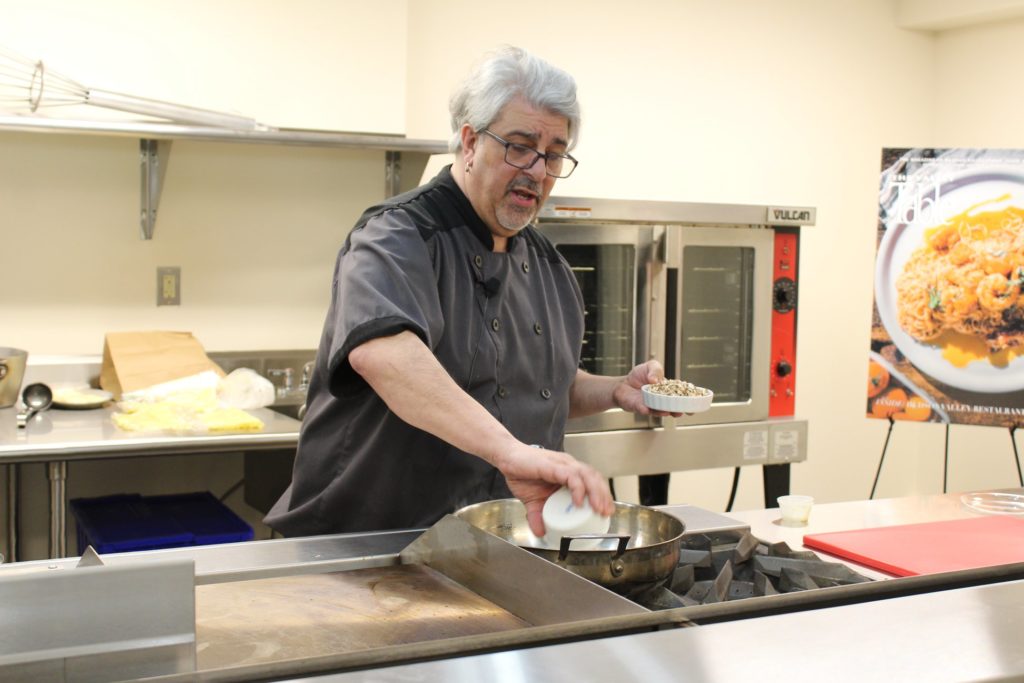 These numbers make it clear to me that this is an area that is primed for a full recovery and I look forward to doing my part to help it along by dining out and enjoying some great local food. And if you are not comfortable dining out just yet, that's okay too, this year many restaurants are also offering takeout options.
You can view participating Rockland restaurants and make your reservation here: https://bit.ly/3sB332Q
I hope to see you there!
*This is a weekly column by Rockland County Executive Ed Day.
Assemblyman Schmitt Presents State Assembly Proclamation to Heroic Stony Point Police Officers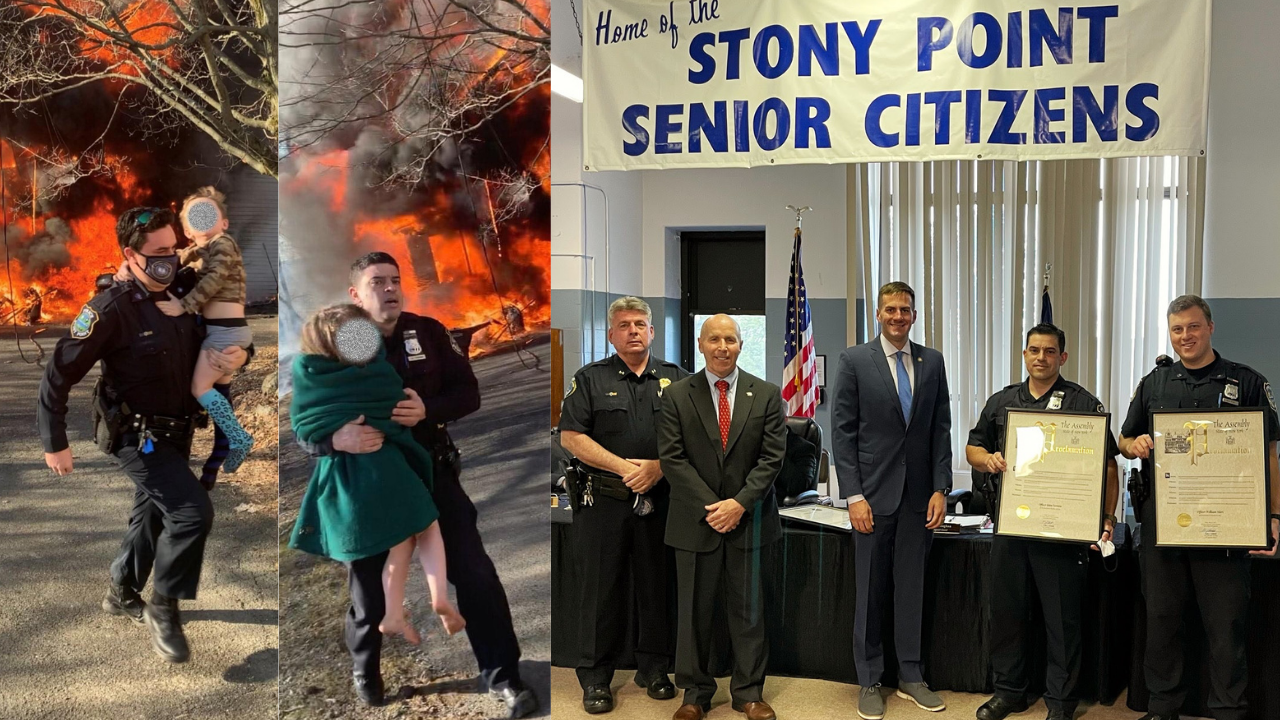 STONY POINT, NY – Assemblyman Colin J. Schmitt (Stony Point) joined by Stony Point Town Supervisor Jim Monaghan recognized three Stony Point Police Officers; Vincent Agovino, John Ferrara, and William Mari.
They were formally presented with a New York State Assembly Proclamation, by Assemblyman Schmitt, for their heroic efforts in March when they ran into a burning house to save the lives of children who were inside. (Photos at the end of the video)
Video of the ceremony below.
Each of these police officers received their own official Proclamations at the Stony Point Town Board meeting on, May 11, 2021, detailing their service of honor, courage, and personal sacrifice.
Supervisor Jim Monaghan, "Officers Vincent Agovino, John Ferrara, and William Mari are heroes. Their actions saved the lives of local residents and represent the very best of our local police department and it is great that Assemblyman Colin Schmitt joined the town board during police week to honor them."
Assemblyman Colin J. Schmitt stated, "Today and every day we should be thanking law enforcement who put their lives on the line to protect our families and communities. Police Officers Vincent Agovino, John Ferrara, and William Mari are prime examples of what the badge stands for; honor. courage, sacrifice, and selfless service. These heroes were just doing their jobs, not looking for recognition, but they deserve this honor today. I am proud to officially recognize the heroes that live amongst us and thank them for their service."
Video via Stony Point Facebook Live Stream – rocklandreport.com