Shocking Video: Man Filmed Licking Shopping Cart at Stop & Shop (Nanuet) Amid COVID-19 Pandemic
NANUET, NY – UPDATE (SUN – 11:00 am) – The man filmed in the video has posted on Facebook that the video was a " hoax / prank" and claims he never actually licked the shopping cart. He has also apologized for his actions.
– – – – – – – – –
The shocking video was originally posted by Tik- Tok personality – Aristotle Gold. It is unclear if this was part of the "Coronavirus Challenge" and was staged, or if an individual was recording the man.
It is not known when the video was filmed.
2021 Rockland County Saint Patrick's Day Parade in Pearl River Postponed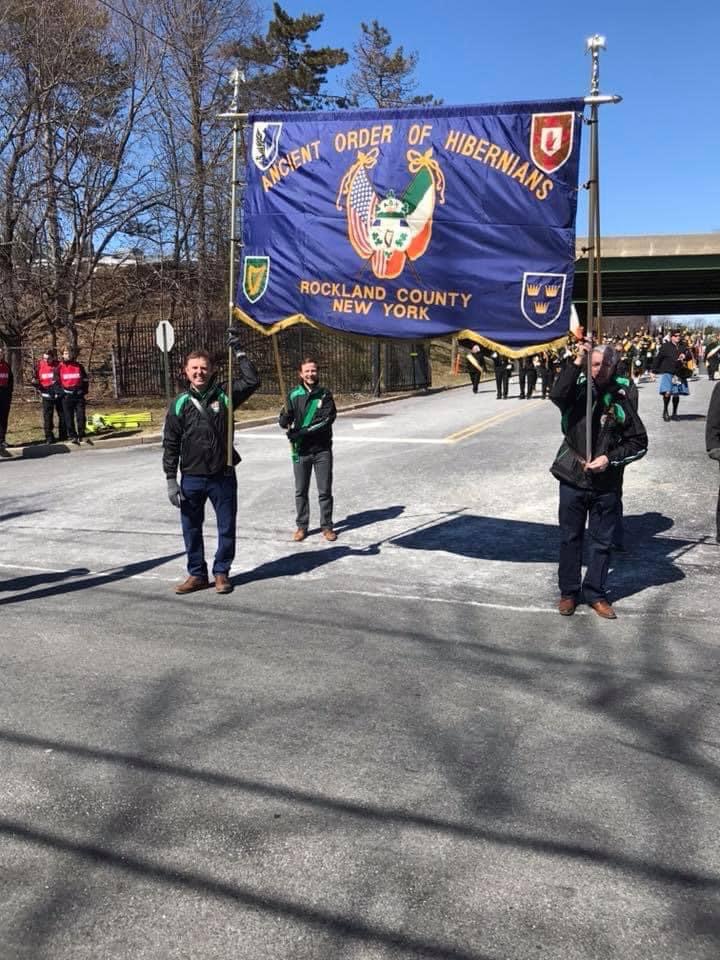 Statement from the Rockland County St. Patrick's Day Parade Committee
It is with profound sadness that the Rockland County St. Patrick's Day Parade Committee announces the decision to postpone the 58th Rockland County St. Patrick's Day Parade to now be held on March 20, 2022 in light of current restrictions on social gatherings.
The decision to go a second year without our St. Patrick's day parade was not easy. It means another year's delay in celebrating our honorees, who are so deserving of public recognition for their contributions to our community. Sadly, this year would have been a time to remember the many people we have been lost to the insidious disease of the pandemic, including Rich Lenihan. Rich, a longtime member of AOH Division 3 in Pearl River, was to have been an Aide to the Grand Marshal in 2020, but never had the opportunity to march. We have lost many people in our community, and many with a particularly strong connection to this Parade. In their memory, we dedicate ourselves to "march again," but must now take every precaution not to lose others.
We also realize that many of our already struggling small businesses could use the economic boost that hosting the second-largest St. Patrick's Day Parade in the State of New York could bring them. We also know that the Parade day is one of gatherings of family and friends, and after this prolonged period of social isolation, we all feel the basic human need to reconnect.
We would like to take an opportunity to address one issue that was frequently raised last year as many asked, "why don't you postpone?" Last year, many other parade committees, understandably thinking with their hearts, had stated they would postpone their parades only to cancel later when faced with the realities of the virus and logistics. Planning a parade is a multi-month process; the Parade committee begins planning the next year's Parade the week after the current one. To plan effectively, we need a feasible date on which we could hold a parade; today we simply have no date that we could in good faith and confidence plan around.
We are all disappointed that our Parade and others are canceled this year. However, we should not let the numerous contributions made by countless Irish men and women and their descendants go unrecognized. We remind our state and local officials, the media, and particularly our schools that March is "Irish American Heritage Month," proclaimed by U.S. Presidents of both parties since 1991. Our Presidents have called on "all Americans to celebrate the achievements of Irish Americans and their contributions to our Nation with appropriate ceremonies, activities, and programs." Since the Irish American community has been asked to forego their traditional celebrations out of respect for the general welfare, we respectfully ask our elected and educational leaders to step up and answer the presidents call this year and ensure that the contributions of Commodore Barry, Mother Jones, and particularly all the Irish Americans who wear there green every day on their graves in service to America do not go unrecognized.
William Lee
Parade Chair
Sisters of Saint Dominic Hosting "Living Through COVID with Faith & Hope" Virtual Discussion on March 4th
BLAUVELT, NY – The Sisters of Saint Dominic of Blauvelt, New York, will be hosting a "Living Through COVID with Faith & Hope" Virtual Discussion for Catholic Sisters Week on March 4th at 3 PM EST.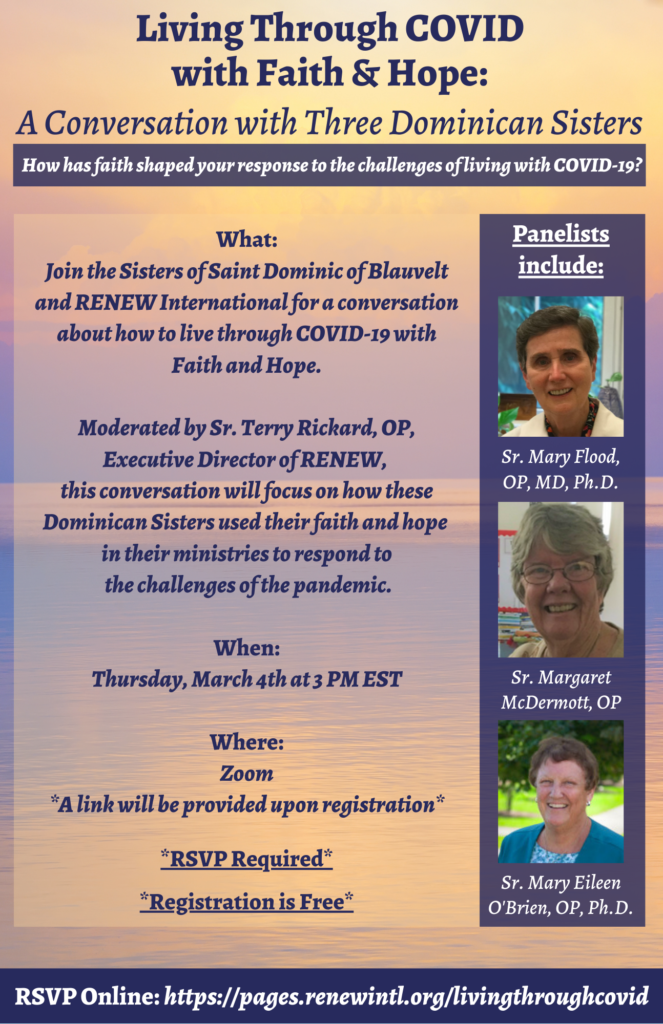 Sr. Terry Rickard, President and Executive Director of RENEW International will be moderating the discussion, while event participants will hear from Sisters Mary Flood, Maggie McDermott, and Mary Eileen O'Brien on how they have used their faith and hope in their ministries to respond to the challenges of the pandemic.
· As Executive Director of the Tolentine Zeiser Community Life Center, Sr. Maggie's ministry impacts individuals in need throughout the Bronx as her organization provides affordable child care and homeless, HIV/AIDS, and immigrant services.
· Throughout the pandemic, Sr. Mary's ministry as a Physician and Associate Professor of Medicine at New York-Presbyterian Hospital, Columbia University Medical Center, and a Leadership Team member for the Sisters of Saint Dominic of Blauvelt, has been instrumental in developing protocols at the Motherhouse to ensure safe practices were in place to protect sisters and staff, including those who are high-risk.
· In her ministry, Sr. Mary Eileen, the President of Dominican College, has worked endlessly with administrators to develop safety and health guidelines for the school, in consideration of all its aspects and collaboration with all its constituents.
To register for this event, visit: https://pages.renewintl.org/livingthroughcovid, and for any questions, contact Katie Beckmann Mahon by e-mailing [email protected]