Senator Skoufis Partners with United Way of Rockland for Winter Coat and Toy Drive

HAVERSTRAW, NY – Senator James Skoufis  announced that his office, in partnership with United Way of Rockland County, will be collecting donations at his North Rockland office for a winter coat and toy drive. Due to COVID-19, only new items can be accepted at this time; coats of all sizes, infant to adult, are needed; toys, games, and electronics are needed; and grocery store gift cards are welcome and appreciated.
Donations can be dropped off at Senator Skoufis' North Rockland office during business days, from 9 AM – 5 PM through December 14. Skoufis' office is located in the Garner Arts Center at 55 West Railroad Avenue, Building 24, right across the street from Zugibe's Hardware in Garnerville.
Last year, Senator Skoufis and United Way partnered on the same effort and were able to distribute coats and toys to over 300 children and adults in North Rockland. Senator Skoufis is hopeful that the community can build upon last year's success.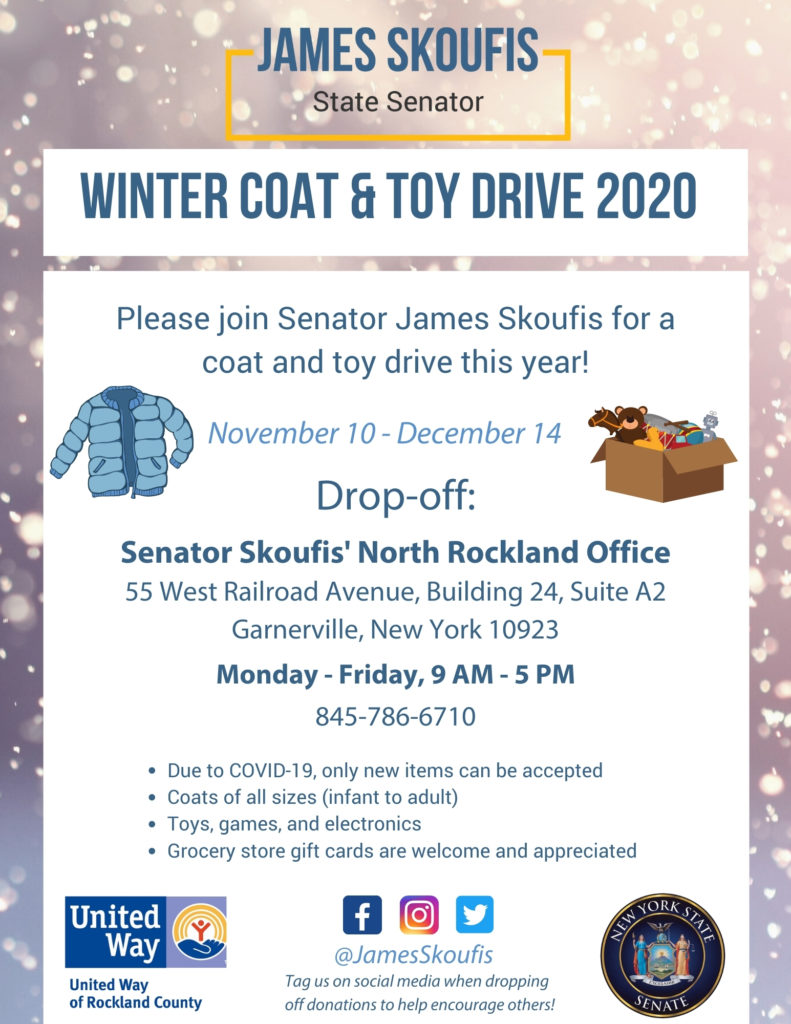 The Coat and Toy Drive is part of United Way's "2020 Hope for the Holidays" Program. According to a recent study, 41% of Rockland households are struggling on a daily basis to meet their basic needs of food, shelter, and clothing.
"We all know that this year has been especially challenging for families across our state. The ongoing public health and economic crises have left many in North Rockland in need of basic items during the holiday season," said Senator Skoufis. "Working with United Way of Rockland, I'm confident that our community, as we have always done, can come together to help bring warm coats for those in need and toys for children to brighten their holiday season."
"We are very grateful to all of the people and groups that joined with us last year in these efforts, and so generously donated new clothing, jackets, shoes/boots, household items, bedding items, electronics, games, and toys," said Dana Treacy, President & CEO of United Way of Rockland. "This is truly a statement of our community Living United and I thank Senator Skoufis for partnering with us again this year to help get residents what they need during this season."
Please see the attached flyer for more information and distribution.
Rep. Mondaire Jones on Build Back Better Act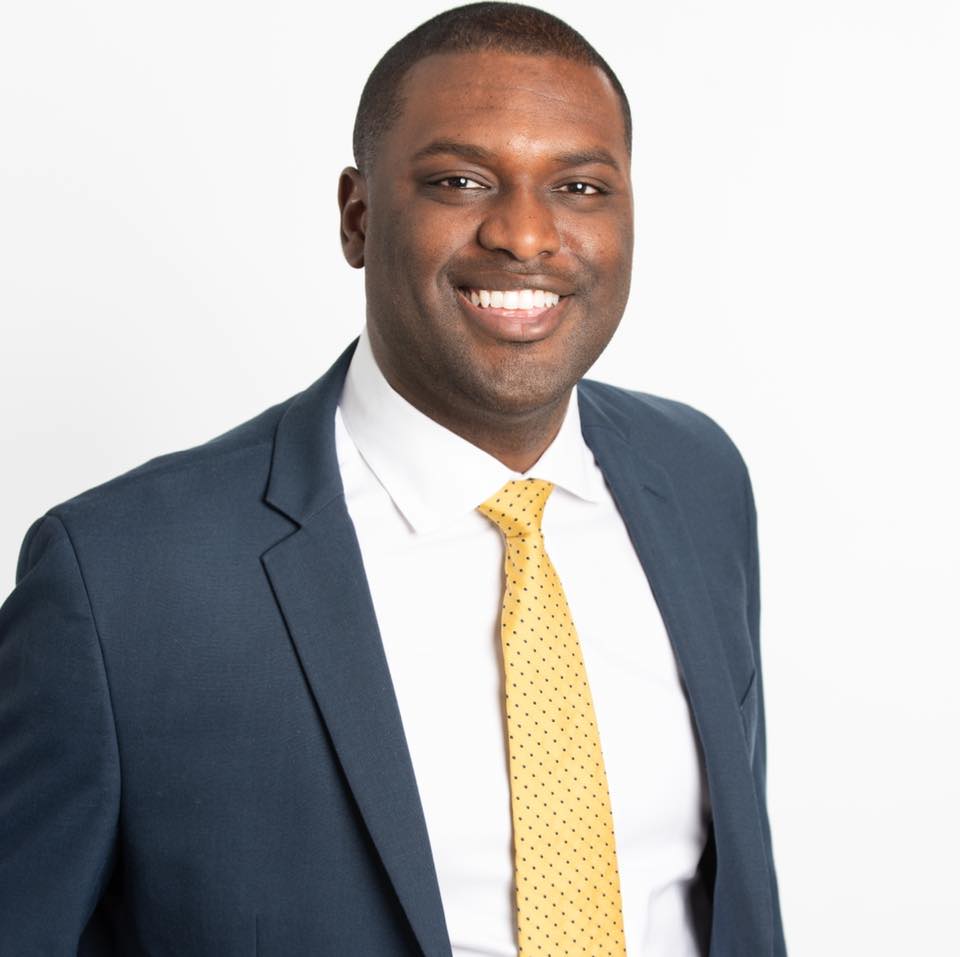 Congressman Mondaire Jones (D-NY) released the following statement:
"Today is an historic day for our nation, and for the great people of Westchester and Rockland Counties. Thanks to the leadership of progressives—who insisted on passing not just the bipartisan infrastructure bill, but also the larger Build Back Better Act—the House passed the most significant investment in our nation and our people in more than half a century.
The bill will guarantee that high-quality child care is affordable for every family in America; save the planet from climate catastrophe while creating millions of good-paying, union jobs; expand Medicare to include hearing; continue to cut child poverty in half through an extension of the expanded Child Tax Credit; make an historic investment in housing affordability; lift the cap on the State and Local Tax deduction that has unjustly burdened working families in Westchester and Rockland; and so much more.
I'm especially proud that this bill contains key provisions that I led the fight to secure: universal child care and an increase in the SALT deduction cap to $80,000.
This victory is a testament to the strength and tenacity of the Congressional Progressive Caucus, of which I'm proud to be a Deputy Whip, and which held the line throughout this process to ensure we passed a bill that meets this unprecedented moment of overlapping crises.
We in the House have done our job, and now our colleagues in the Senate must do theirs. I look forward to President Biden making good on his promise to secure 51 votes for the Build Back Better Act in the Senate expeditiously so we can get this bill onto his desk and begin delivering the change people in Westchester, Rockland, and across America need and deserve. The American people are counting on us to deliver, and we must do so without delay."
End of the Village of South Nyack: Village Hall is Up For Sale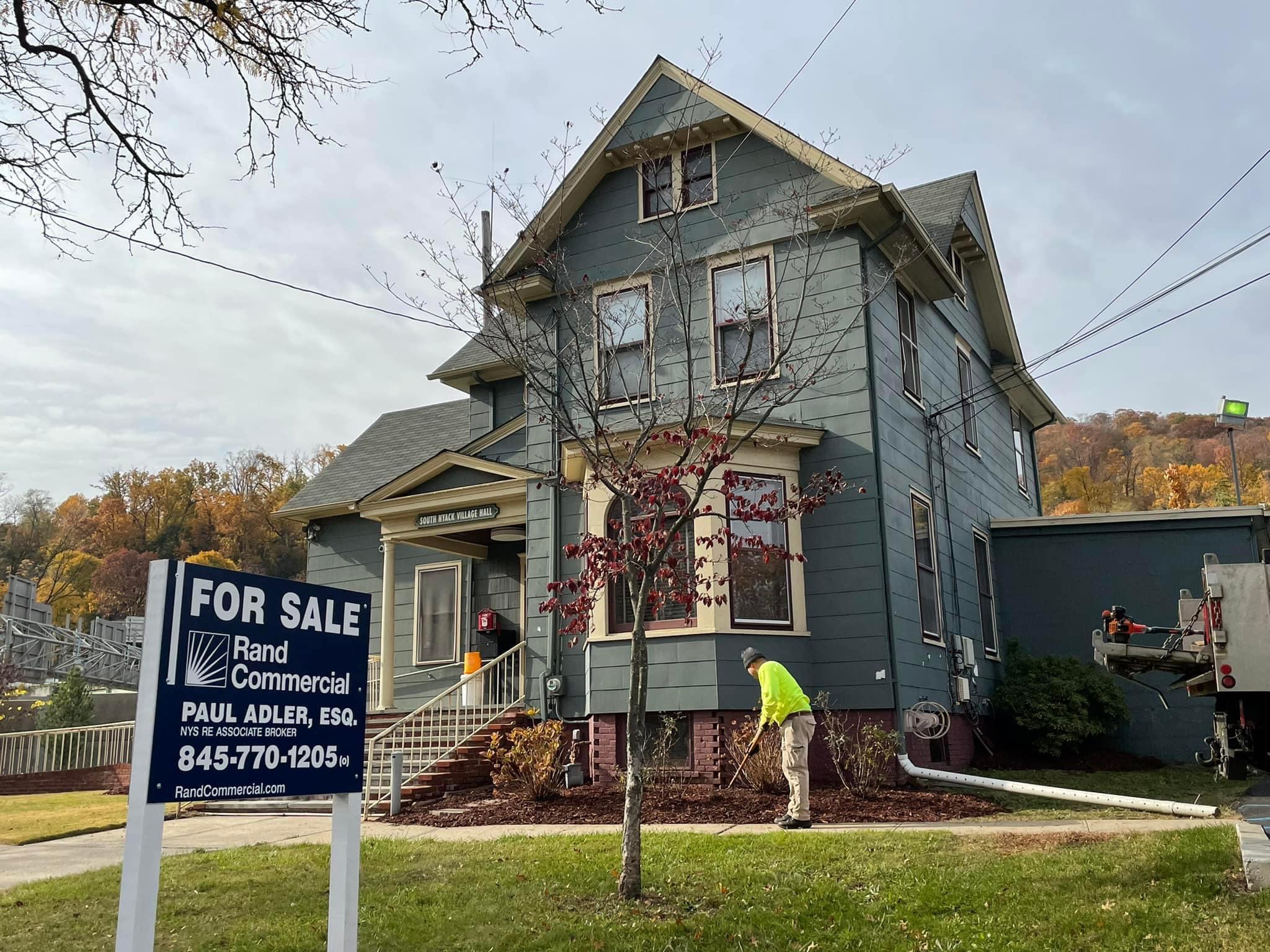 End of the Village of South Nyack: Village Hall is Up For Sale.
After a referendum, residents of South Nyack voted to disband and join the Town of Orangetown.
This article will be updated when a price is listed for the Village Hall.