Rockland's Pfizer-U.S. Government Reach $1.95B Deal to Provide Americans with Free COVID-19 Vaccine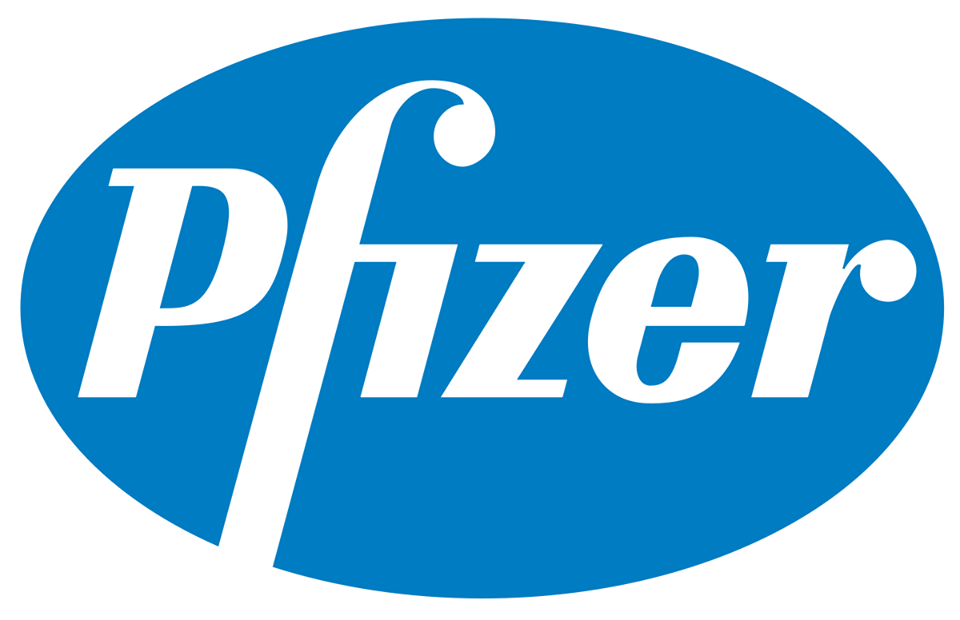 PEARL RIVER, NY – Pfizer Inc. and BioNTech SE today announced the execution of an agreement with the U.S. Department of Health and Human Services and the Department of Defense to meet the U.S. government's Operation Warp Speed program goal to begin delivering 300 million doses of a vaccine for COVID-19 in 2021.
Under the agreement, the U.S. government will receive 100 million doses of BNT162, the COVID-19 vaccine candidate jointly developed by Pfizer and BioNTech, after Pfizer successfully manufactures and obtains approval or emergency use authorization from U.S. Food and Drug Administration (FDA).
WATCH CNBC'S REPORTING
The U.S. government will pay the companies $1.95 billion upon the receipt of the first 100 million doses, following FDA authorization or approval. The U.S. government also can acquire up to an additional 500 million doses.
Americans will receive the vaccine for free consistent with U.S. government's commitment for free access for COVID-19 vaccines.
"We've been committed to making the impossible possible by working tirelessly to develop and produce in record time a safe and effective vaccine to help bring an end to this global health crisis," said Dr. Albert Bourla, Pfizer Chairman and CEO. "We made the early decision to begin clinical work and large-scale manufacturing at our own risk to ensure that product would be available immediately if our clinical trials prove successful and an Emergency Use Authorization is granted. We are honored to be a part of this effort to provide Americans access to protection from this deadly virus."
"Expanding Operation Warp Speed's diverse portfolio by adding a vaccine from Pfizer and BioNTech increases the odds that we will have a safe, effective vaccine as soon as the end of this year," said HHS Secretary Alex Azar. "Depending on success in clinical trials, today's agreement will enable the delivery of approximately 100 million doses of this vaccine to the American people."
Rockland County Executive Ed Day commented on the news – "It is right here in Pearl River where the majority of Pfizer's R&D efforts to support this vaccine are taking place. Thank you to everyone at Pfizer's Pearl River site for their hard work developing a possible vaccine."
More information:
U.S. government placed an initial order of 100 million doses for $1.95 billion and can acquire up to 500 million additional doses
Americans to receive the vaccine for free consistent with U.S. government's commitment for free access for COVID-19 vaccines
Pfizer and BioNTech remain on track to begin an anticipated Phase 2b/3 safety and efficacy trial later this month, seek regulatory review as early as October 2020, and manufacture globally up to 100 million doses by the end of 2020 and potentially more than 1.3 billion doses by the end of 2021
Norcina in New City Recipient of NYS Empire Award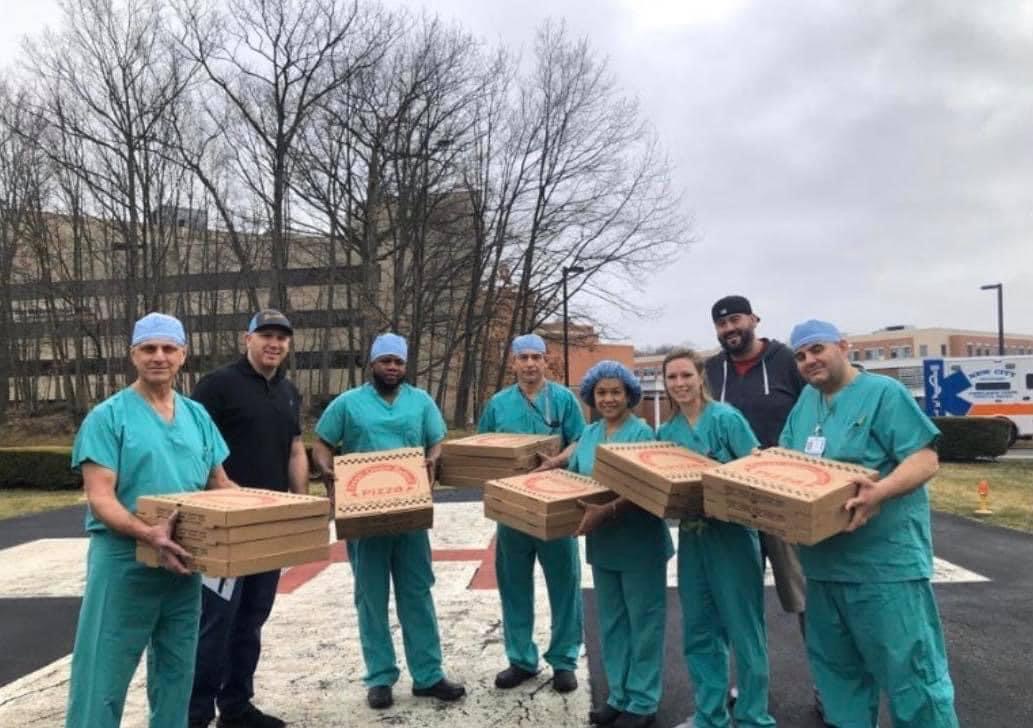 NEW CITY, NY – As Covid-19 hit Rockland County, many people wanted to help but didn't know how. Rockland native Eddie Stapleton, who now resides in North Carolina contacted Norcina's on how to help small business and people assisting the community he grew up in. He purchased and donated 10 large pies, to a place of their choice, which Norcina in turn matched w/ 10 more pies. 20 fresh pies were just delivered to Good Sam Hospital in Suffern. (Pictured below are the Cardiovascular Operating Room crew at Good Samaritan Hospital Suffern, NY with Norcina Owners Milan Dobrilovic and Nick Nuccio – top photo)
In just 26 days the Norcina Pizza Match would donate over 1,000 pizza pies to Rockland County medical professionals and first responders battling the COVID-19 epidemic.
How it worked: Norcina would match any donation an individual or organization makes to any hospital, first responders, or medical professionals who are actively fighting the COVID-19 pandemic.
Norcina would end up starting a trend locally that inspired other businesses to honor the same deal. Not only did it support small businesses but it provided residents with the ability to show their support to our first responders and medical professionals.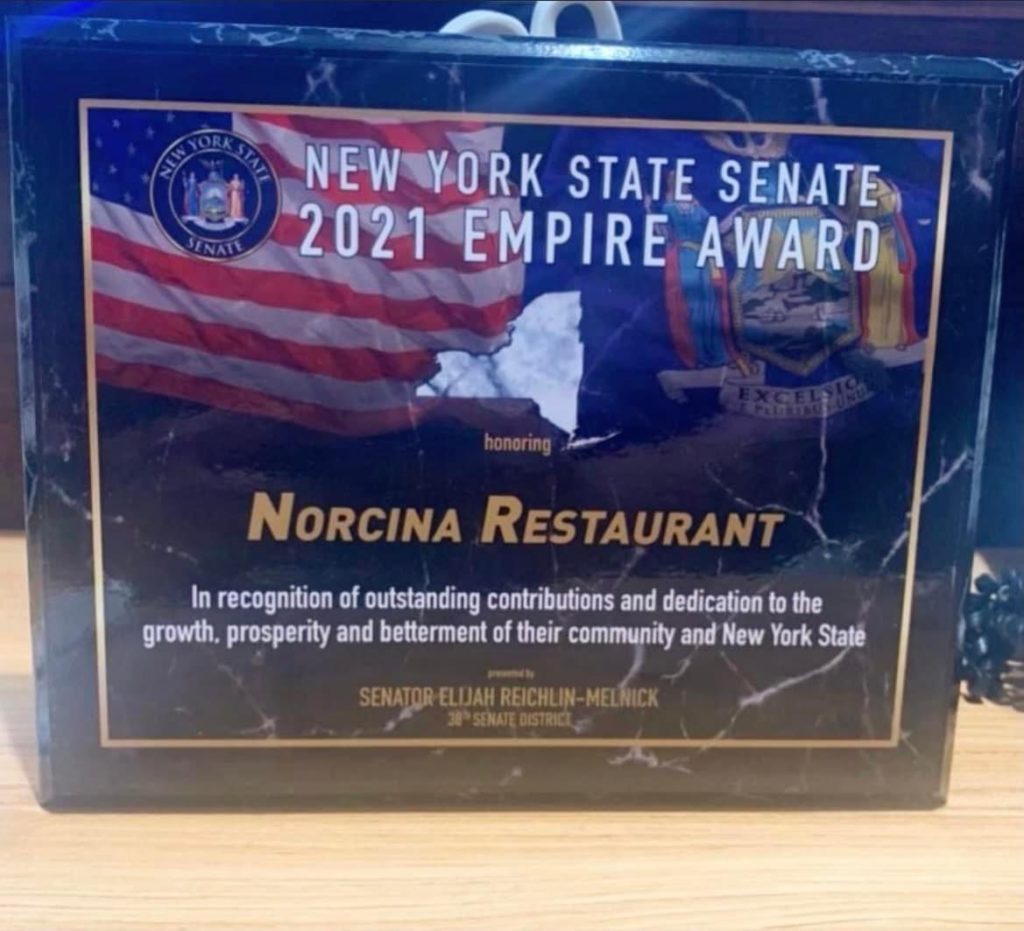 The New York State Empire Award was presented by Senator Elijah Reichlin-Melnick. It honors businesses that make major contributions to public service, and enhancing the quality of life for New Yorkers.
Slime World Announces Newest Location at Palisades Center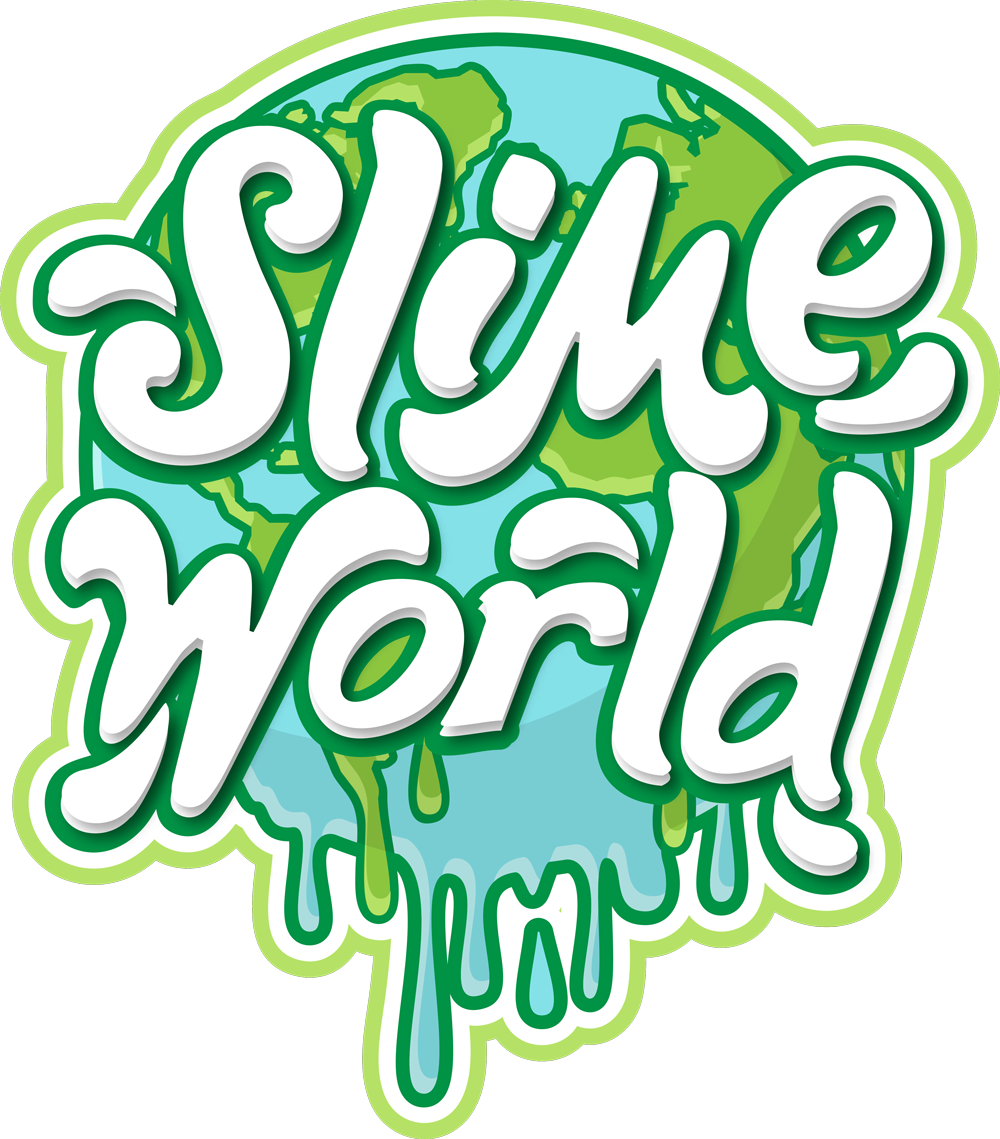 WEST NYACK, NY – Slime World, the premier craft studio where kids can make their own slime, will open its newest location at Palisades Center this November. Palisades Center's 2,300 sq. ft. Slime World studio will be located on Level Three next to the Build-A-Bear Workshop.
The sticky and gooey feel of slime has appealed to kids since the late 1970s. The popularity grew with the rise of YouTube, Instagram, and TikTok where millions of do-it-yourself slime videos highlight recipes with a wide array of captivating colors and satisfying textures.
Slime World takes the messy out of slime making. The studio space is designed for sticky fingers and messy projects where children can unleash their creativity, play, and express themselves in a stimulating environment.
"At Slime World, we know there is nothing that children love more than some messy fun, and we happen to be the pros," said Sandeep Shah, Owner of Slime World. "Our mission is to bring smiles to kids while engaging their creative minds! We invite our little guests to come for a one-on-one experience and parents to host the next party with us to create unforgettable memories for their children and all their friends!"
"The Slime World studio is a perfect destination for Palisades Center's youngest guests," said Darrin Houseman, General Manager of Palisades Center. "We can't wait to see them having a blast while they customize their own slime creations."
The only other Slime World studio is in Freehold, New Jersey.