Rockland Students and Adults Activists Join Millions in Global Climate Strike in Nyack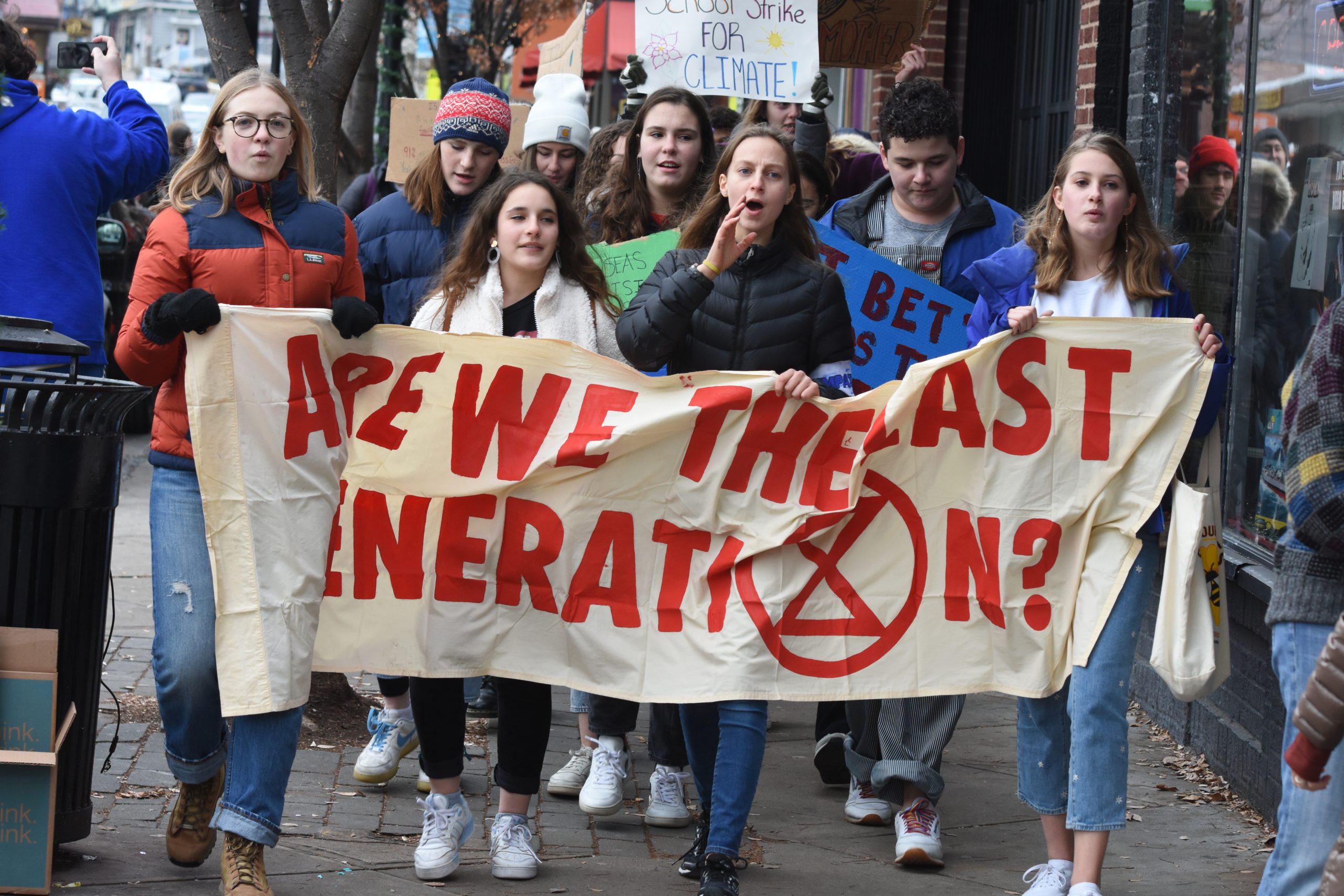 On Friday, December 6th, nearly 100 students and adult allies from Rockland County joined forces in Nyack to demand local and global action on the climate crisis. The strikers gathered at the Veterans Memorial Park Gazebo, at the intersection of Main Street and Cedar Street, and striked from school and work from 11am-3:30pm.
The strike was primarily organized by Extinction Rebellion Youth Rockland and a coalition of local climate and social justice organizations, including 350 NJ/Rockland, the Rockland Sierra Club, and Rockland Citizens' Action Network.
The strikers presented three demands; first off, a sustainability coordinator for Rockland County to head up the county's climate action plans. Secondly, better representation of the people of Nyack and Rockland County, especially those who will be disproportionately affected by the climate crisis, in local decision-making concerning the climate crisis. Finally, the third demand of the strike was immediate and effective global climate action by world leaders, beginning at COP25.
"Politicians talk but leaders act. We don't want any more empty promises. We don't want praise, apologies, or lies. We want the people in power to listen to the youth. And we want them to act now" said Emmy Udry in her speech at the rally. Emmy Udry is a sophomore at Nyack High School and an actions coordinator for Extinction Rebellion Youth Rockland, and she was one of the main organizers for the Rockland County Strike. Udry also detailed the strike's demands in her speech, explaining that the second demand "stems off of Extinction Rebellion US and XR Youth US's fourth demand: a just transition that prioritizes the most vulnerable people, those who are disproportionately affected by the climate crisis, and indigenous sovereignty. As Nyack and Rockland County establish climate action plans, it is imperative that everyone's voice is heard… This demand is very important because in order to work towards climate justice, the people in power have to listen to the people who are affected by the climate crisis the most".
The Rockland Climate Strike was mainly a youth-led strike; Extinction Rebellion Youth Rockland collaborated with multiple other groups in Rockland, but it was primarily led by students and youth activists. This was important to all who helped organize it, including adult organizers, and there was a big emphasis put on the youth and the future. The students marched up and down Main Street with a banner that read "ARE WE THE LAST GENERATION?" in bold, red lettering. A student's sign read "The eyes of the youth are watching", referring to COP25 going on right now, and one adult ally's sign read "Act now for the children worldwide". Even though the strike's main focus was on the youth and the future, the strike was attended by those of all ages. Additionally, many local politicians attended the strike to show their support, demonstrating that the climate crisis is a non-partisan issue, including congressional candidate Mondaire Jones (D), who spoke at the rally, congressional candidate David Buchwald (D), Rockland County Legislator Harriet Cornell (D), Clarkstown Supervisor George Hoehmann (R), and Rockland County Executive Ed Day (R), among others. But the youth have made it clear that they don't just want their support, they want action from these politicians, and they want it now. Although much of the strike's focus was on local climate action, the striker's were all very aware that the strike was coinciding with COP25, and that the decisions made there would affect everyone, regardless of age, where they lived, or political views. The strike date was picked for that exact reason and the Rockland Climate Strike's third demand was aimed at the world leaders attending COP25.
"We are insisting that you take the necessary and appropriate measures to curb the climate crisis and prevent a total ecological collapse. We demand that you act now to reduce greenhouse gas emissions to net zero by 2025, rather than 2050. We urge you to guide the world through a just and equitable transition from a fossil fuel-focused economy into one that prioritizes those who are disadvantaged and unequally affected by climate change… Moderate, optimistic policies will no longer be enough to make a real impact" read Isabel Heider, a senior at Nyack High School and a main organizer of the strike, at the rally at the Veterans Park Gazebo. She chose to read an open letter to the UN written by Extinction Rebellion Youth Rockland and Extinction Rebellion New York City for a previous action on September 21st, 2019, aimed at world leaders attending the UN Climate Summit taking place two days later. Heider chose to read this open letter to the UN because she felt like many of the demands and points made in it were still very relevant to the strike, especially with COP25 currently underway in Madrid.
Now, the strikers are waiting to see if their demands for climate action will be met.
View video from the Climate Strike in New City from September 2019
Photos courtesy of Joel Kaufman
Over 500 Turkeys Distributed to Families in the Village of Spring Valley for Thanksgiving Day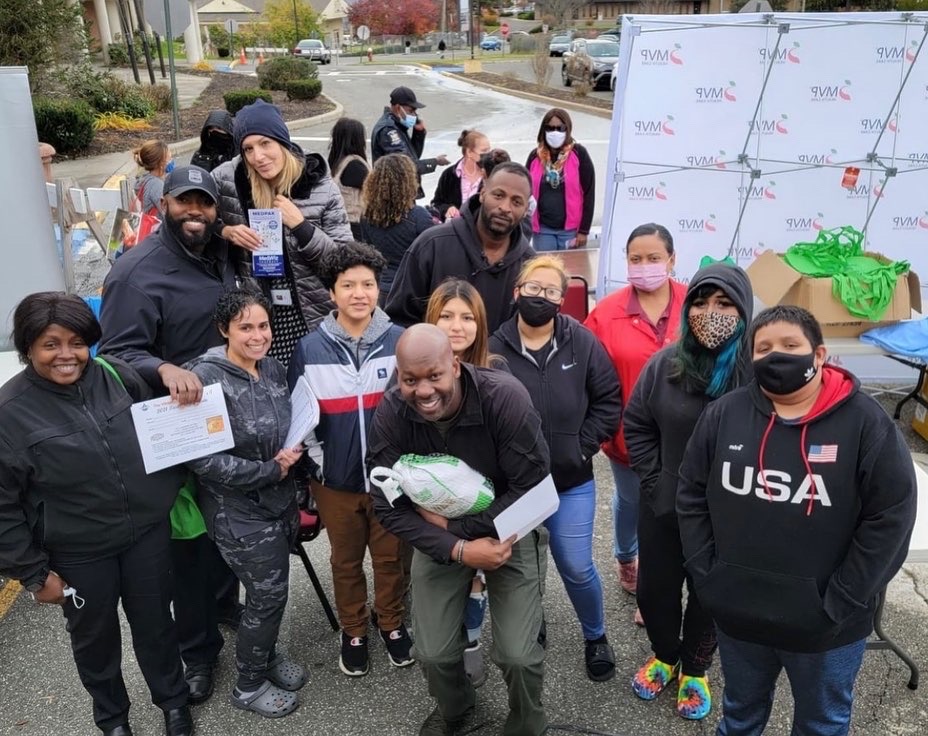 Over 500 Turkeys Distributed to Families in the Village of Spring Valley for Thanksgiving Day.
"This is the SEASON of GIVING and being THANKFUL! Remember that Thanksgiving is a joyous invitation to shower the world with love and gratitude. When we give cheerfully and accept gratefully, everyone is blessed." said East Ramapo School Board Member Sabrina Charles Pierre.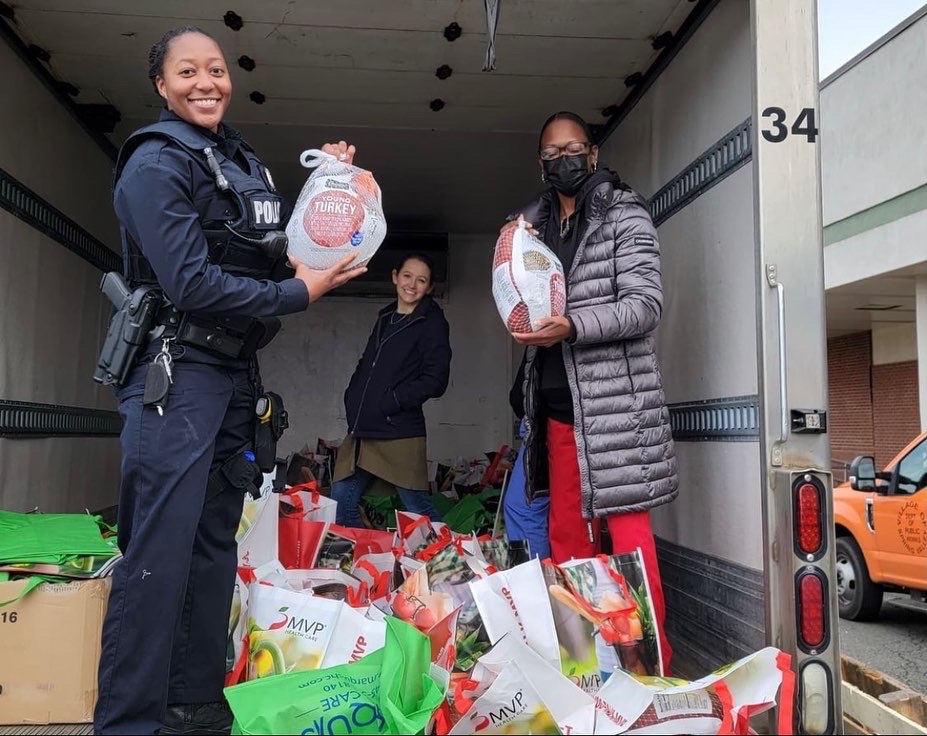 Great job by Sabrina Charles-Pierre, Spring Valley Police Department, and all involved. 
Sons of Italy Meatball Contest Raises $7,000 for Medical Expenses for Local Family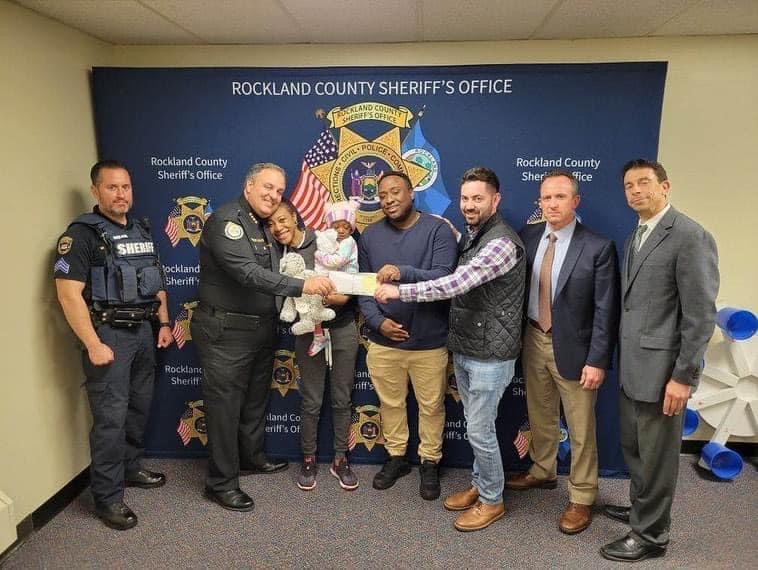 Assemblyman Lawler and Sheriff Falco presented 2-year old Jhanaè Fairclough and her parents Kirk and Jodi Ann with the proceeds raised from the recent Meatball Contest hosted by the Blauvelt Sons of Italy. Assemblyman Lawler won the contest defeating Sheriff Falco for best meatballs.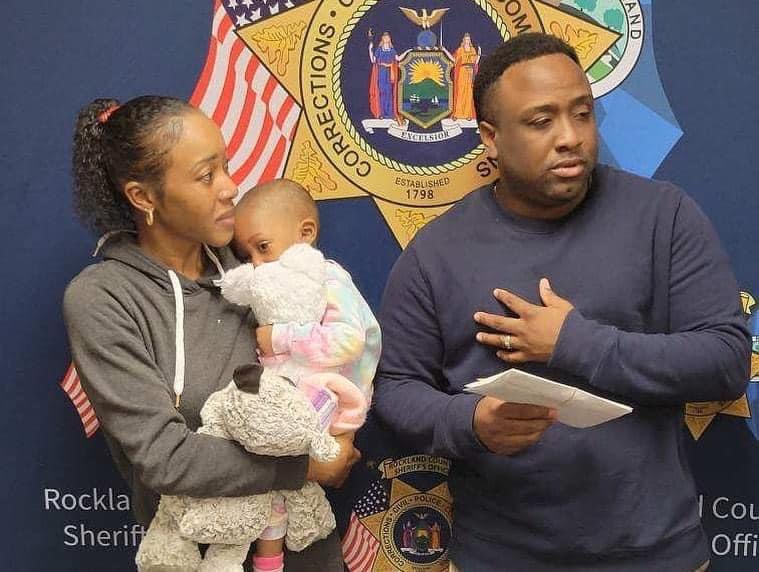 The $7,000 will help the family cover some of Jhanaè's medical expenses.
Our best wishes to the Fairclough family!