Rockland Health Department Offers Free Drive-Thru Rabies Vaccination Clinic on October 4

NEW CITY, NY, – Rockland County Executive Ed Day and County Health Commissioner Dr. Patricia Schnabel Ruppert today announced that free rabies shots (vaccinations) are available for cats, dogs, and ferrets on Sunday, October 4, 2020, from 10:00 am until 1:00 pm. at the Robert Yeager Health Complex, 50 Sanatorium Road in Pomona (Enter Complex at Building F). No appointment is needed. The shots are free; however, a $5 donation per animal will help defray our costs. Please download and print a Rabies Vaccination Release FORM and bring the completed and signed form to the clinic. To prevent the spread of COVID-19, all attendees must limit the number of passengers and remain in the vehicle. In order for your pet to receive a vaccine, everyone in the vehicle must wear a mask.
"Animal rabies continues to be a serious public health problem in Rockland County. We remind all residents to make sure that their animals are immunized against rabies and that the vaccinations are kept up to date," said Dr. Ruppert.
To get a free rabies shot:
Your dog, cat or ferret must be healthy.
Your pet must be older than three months.
Your dogs must be on a leash.
Your cats and ferrets must be on a leash or in a top-opening container.
New York State law requires that all dogs, cats, and domesticated ferrets be vaccinated against rabies by four months of age. Owners can be fined up to $250 if they fail to get their pets vaccinated and keep them up-to-date. All animal bites or contacts with animals suspected of having rabies must be reported to the Rockland County Health Department at (845) 364-2656. After hours, callers should contact (845) 364-8600.
For more information on animal rabies or the vaccine, call the Rockland County Department of Health at (845) 364-2594.
VIDEO: $7 Million Park & Ride in Monsey Nears Completion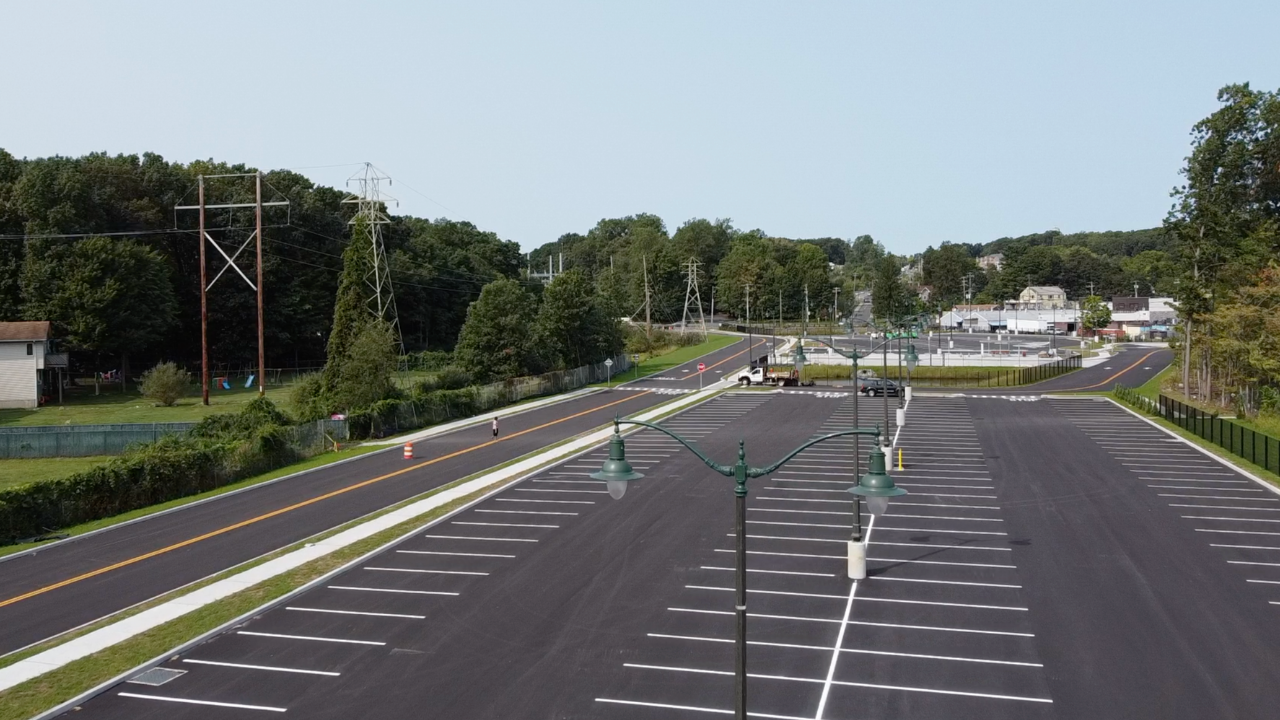 MONSEY, NY – The construction on the over $7 million park and ride located on Route 59 near the corner of Saddle River in Monsey is almost completed.
It includes two parking lots, a bus turn-around, roads into the lots, a large cul-de-sac for other turning needs, numerous lights, sidewalks, fencing, and a large water retention area. The overall park and ride area will accommodate some 300 vehicles and is expected to open this year. Construction on the project started in 2019. At the end of the video, you will find video when crews began work on the park and ride.
No local county tax dollars were used for the project because the Federal Transit Administration (FTA), the New York State Department of Transportation (DOT) and the Metropolitan Transportation Authority (MTA) will cover all costs. That figure brings the original contract approved by the Legislature in 2018 to a total of about $7.05 million.
The County currently leases property at the former Rockland Drive-In Movie Theater but expects to discontinue its use of that area once the new lot is fully operational. Transdev's Hudson Link and the Rockland Transport of Rockland buses will serve the lot.
Supervisor Hoehmann Receives 2020 New York State Recreation and Parks Society Elected Official of the Year Award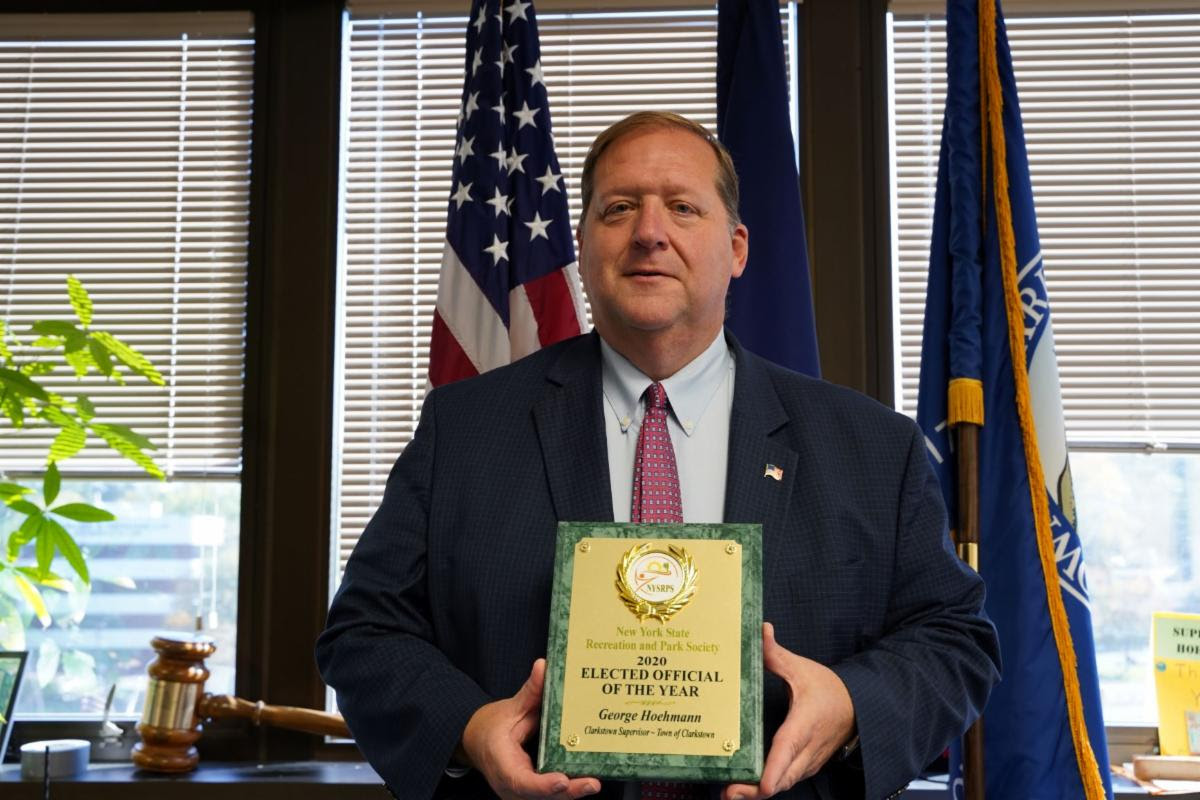 NEW CITY, NY – Town of Clarkstown Supervisor George Hoehmann is the recipient of the New York State Recreation and Parks Society 2020 Elected Official of the Year Award. The Supervisor accepted the award at the Town Board meeting this week. The award was presented by Jessica Dickinson, Regional Representative of NYS Recreation and Parks Society.
"I am delighted to accept this award and proud to be recognized for our efforts to make the Town's Recreation programs and parks the best in the state," said Supervisor Hoehmann.
Supervisor Hoehmann has dedicated the necessary resources and funding to the Town's Recreation and Parks Department to advance its goals of better serving its residents' changing recreational needs. He is always supportive of exploring and instituting new programs, ideas and events.
Under Supervisor Hoehmann's leadership, renovations and upgrades have been completed at Germonds Pool, Lake Nanuet, Street Community Center, and several playgrounds throughout the Town. The historic Tallman Budke House was restored for future generations. Clarkstown also acquired several properties for open space and recreational use. Supervisor Hoehmann also created the Town's first dog park at Congers Lake and constructed and opened its first Winter Wonderland LED light display around Congers Lake.
"Supervisor Hoehmann and I have collaborated on and instituted many new programs and events for the benefit of Clarkstown's 85,000 residents over the past five years," said Clarkstown Superintendent of Recreation and Parks Elaine Apfelbaum. "Thanks to Supervisor Hoehmann the residents of Clarkstown enjoy state of the art facilities, beautiful parks, and a variety of activities and events for all ages."
"We are indebted to leaders like Supervisor Hoehmann who truly understand the significant need for recreational outlets and appreciate the resources it takes to serve the community's needs. With many deserving candidates across New York State to select from this is quite an honor, residents of Clarkstown are lucky to have such an advocate for parks and recreation," said Lisa Morahan, Executive Director of the New York State Recreation and Park Society.