"Rockland Goes Green" By Rockland County Executive Ed Day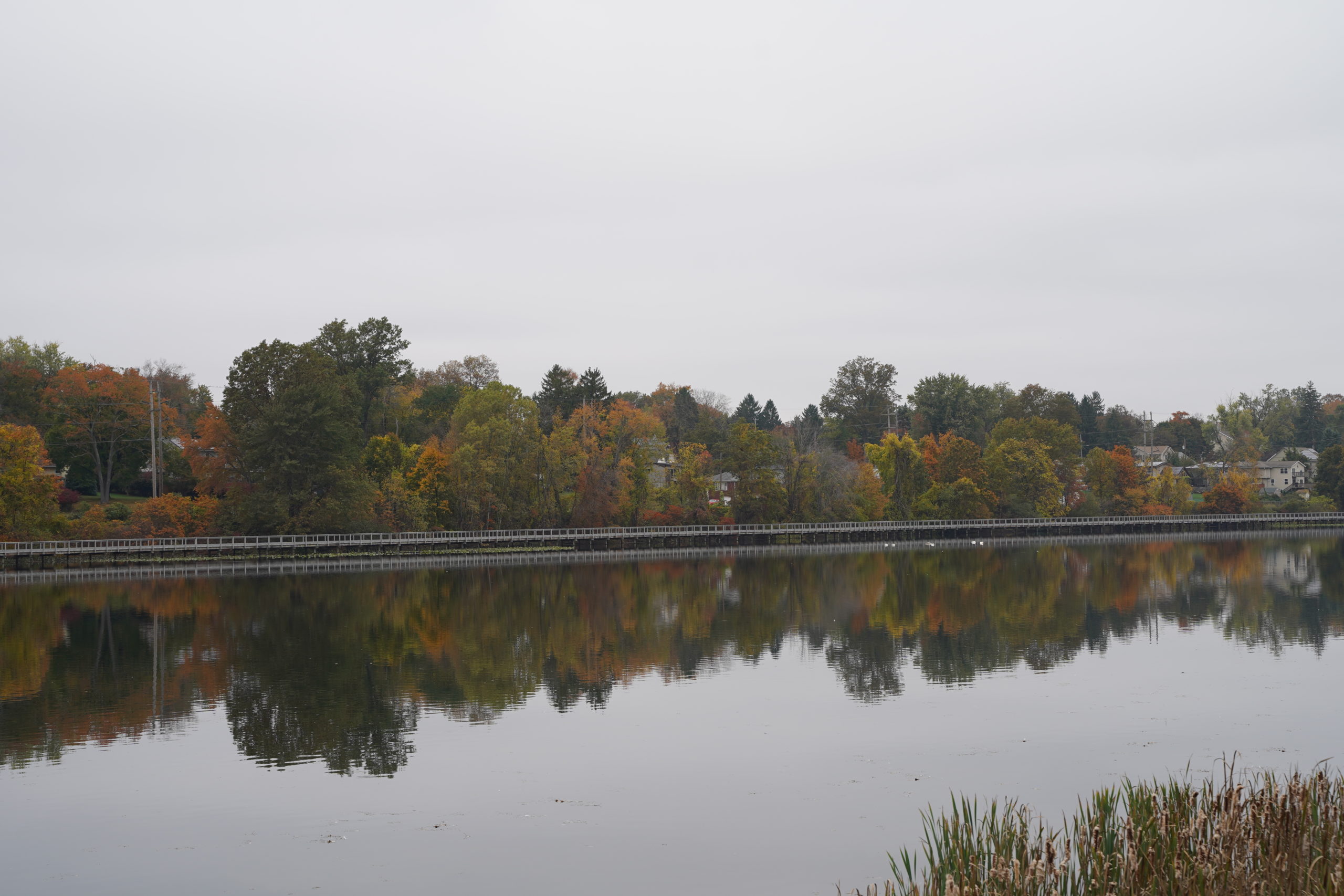 Here in Rockland County government we are not only committed to respecting and preserving our local environment but doing so in a way that saves your taxpayer dollars. Our Purchasing Director, Paul Brennan, worked with the Rockland County Sewer District No. 1, Rockland Community College and the Rockland County Solid Waste Management Authority to award a contract to provide 100% green/renewable electricity to each agency over the next three years all at a lower cost!
The County Purchasing Division managed a Cooperative Bidding process on behalf of the agencies and aggregated each agency's demand to obtain more competitive pricing. The contract with Engie Power & Gas will provide Renewable Energy
Certificates (RECs) based on U.S. generated wind power which will match 100% of the agencies' usage during the contract term.
The physical electricity the County receives through the utility grid says nothing of its origin or how it was generated, RECs play an important role in accounting, tracking, and assigning ownership to renewable electricity generation and use. RECs are the
instrument that electricity consumers use to substantiate the purchase of renewable electricity.
Annual savings are projected to be $79,257 for the County, $95,118 for the Rockland County Sewer District, No. 1, $12,002 for Rockland Community College and $14,143 for the Rockland County Solid Waste Authority. In total, savings are projected at $601,560 for all agencies, over the three-year term of the contract.
This is a win-win for all of us locally; we are saving significant taxpayer dollars while making use of 100% renewable electricity. Think of it as Rockland's version of a "Green New Deal." I'm proud of each of these agencies for recognizing the importance of reducing greenhouse gas emissions and want to reaffirm Rockland County's commitment to achieving New York State Climate Smart Communities Certification.
Also, as part of the County's Shared Service Initiative, the County's contract award allows other local governments to 'piggyback' on the County contract pricing, thereby eliminating the need for the local government to issue their own cooperative bid. This
enables smaller local governments to take advantage of the aggregated purchasing power of the County, Sewer District, College and Solid Waste Management Authority.
We have already spoken to additional municipalities and agencies about their joining in on this contract. My special thanks and acknowledgement to our County Purchasing Director Paul Brennan and his team; together we are turning Rockland green!
*This is a weekly column by Rockland County Ed Day.
Village of Suffern 2020 Winter / Holiday Coloring Contest Details Announced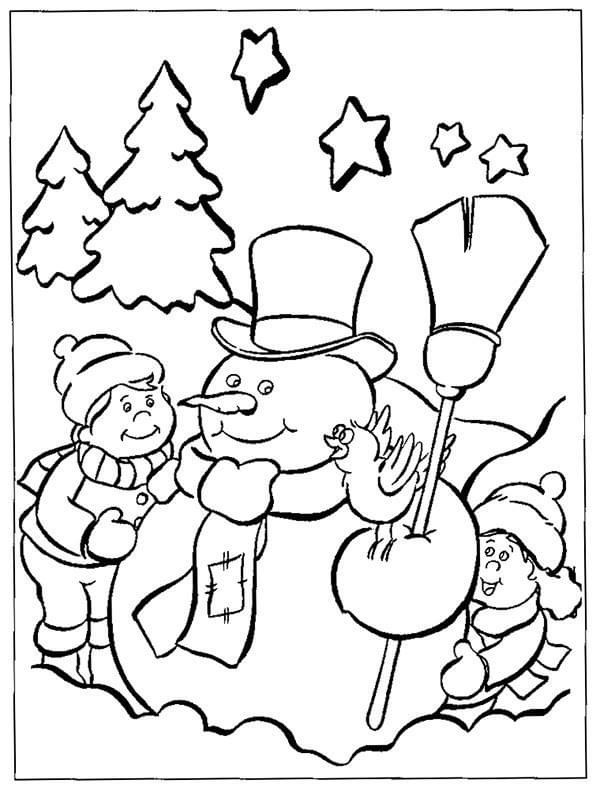 SUFFERN, NY – VILLAGE OF SUFFERN 2020 Winter / Holiday Coloring Contest
Open to Village of Suffern Students, pre-school thru grade 5.
Forms are available at: www.suffernny.gov or the R. P . Connor School electronic back pack.
Submit your entry by scanning and emailing to [email protected] or by mail to: Suffern Village Hall, 61 Washington Ave, Suffern, NY 10901
ATTENTION: RECREATION DEPARTMENT
NO DROPPING OFF (one entry per child please)
Be sure to provide: child's name, age, school, grade and phone number.
Prizes awarded per age group for:
"BEST COLORING" & "MOST CREATIVE".
Deadline Thursday, December 17, 2020. Have Fun!!!
Senator Skoufis Partners with United Way of Rockland for Winter Coat and Toy Drive

HAVERSTRAW, NY – Senator James Skoufis  announced that his office, in partnership with United Way of Rockland County, will be collecting donations at his North Rockland office for a winter coat and toy drive. Due to COVID-19, only new items can be accepted at this time; coats of all sizes, infant to adult, are needed; toys, games, and electronics are needed; and grocery store gift cards are welcome and appreciated.
Donations can be dropped off at Senator Skoufis' North Rockland office during business days, from 9 AM – 5 PM through December 14. Skoufis' office is located in the Garner Arts Center at 55 West Railroad Avenue, Building 24, right across the street from Zugibe's Hardware in Garnerville.
Last year, Senator Skoufis and United Way partnered on the same effort and were able to distribute coats and toys to over 300 children and adults in North Rockland. Senator Skoufis is hopeful that the community can build upon last year's success.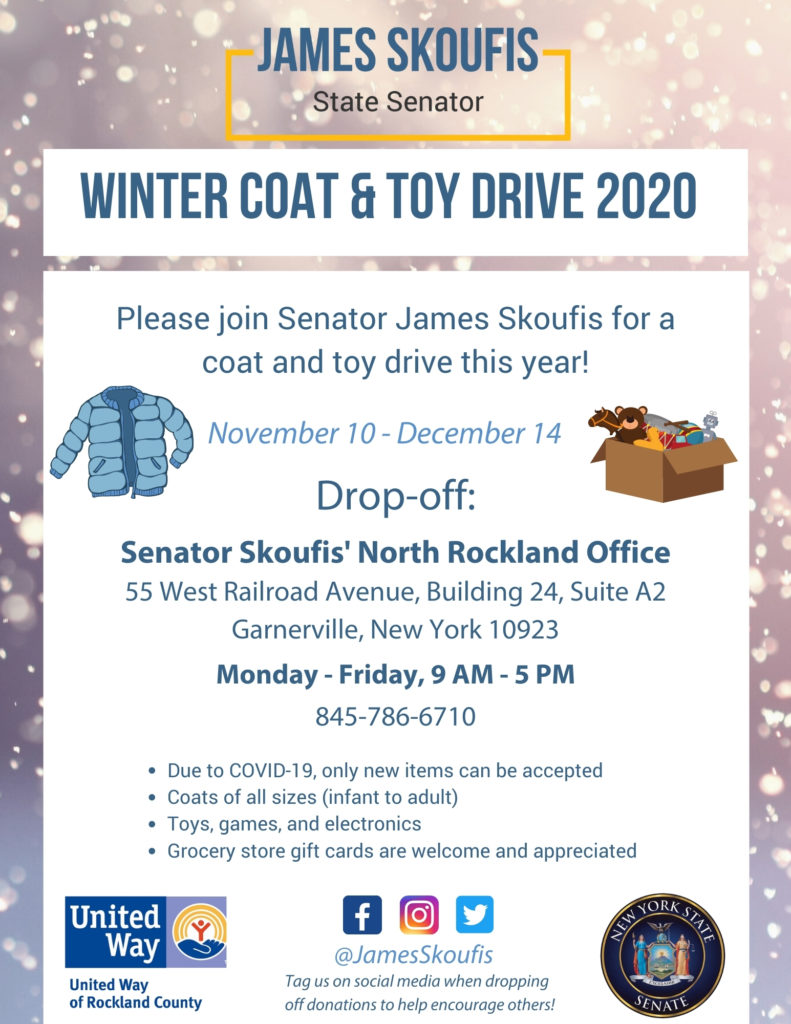 The Coat and Toy Drive is part of United Way's "2020 Hope for the Holidays" Program. According to a recent study, 41% of Rockland households are struggling on a daily basis to meet their basic needs of food, shelter, and clothing.
"We all know that this year has been especially challenging for families across our state. The ongoing public health and economic crises have left many in North Rockland in need of basic items during the holiday season," said Senator Skoufis. "Working with United Way of Rockland, I'm confident that our community, as we have always done, can come together to help bring warm coats for those in need and toys for children to brighten their holiday season."
"We are very grateful to all of the people and groups that joined with us last year in these efforts, and so generously donated new clothing, jackets, shoes/boots, household items, bedding items, electronics, games, and toys," said Dana Treacy, President & CEO of United Way of Rockland. "This is truly a statement of our community Living United and I thank Senator Skoufis for partnering with us again this year to help get residents what they need during this season."
Please see the attached flyer for more information and distribution.