Rockland County Welcomes New PPE Manufacturer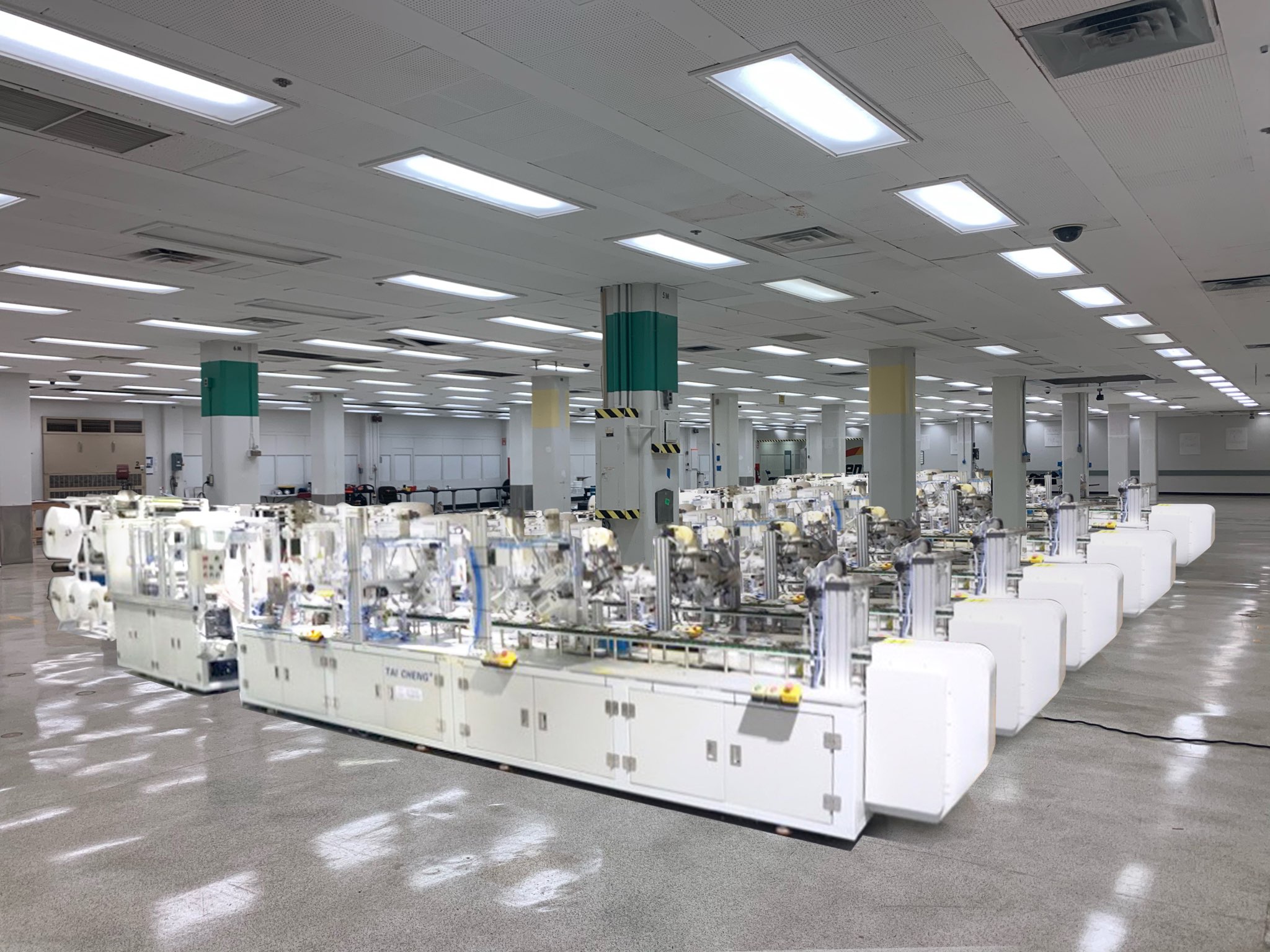 NEW CITY, NY – Rockland County Executive Ed Day and Economic Development Director Jeremy Schulman today congratulated NY Critical Materials LLC, a manufacturer of Personal Protective Equipment (PPE) who was awarded a $750,000 New York State grant, the largest amount in this round of funding, to produce COVID-19 supplies. NY Critical Materials will open a facility at the New York Center for Innovation in Pearl River to produce N95 respirator face masks.
"We are thrilled that NY Critical Materials has chosen Rockland County to produce these lifesaving supplies," said County Executive Day. "Rockland has all the essential elements conducive for entrepreneurship, production and growth. This project will have a tremendous impact on the county in terms of public health, safety and long-term economic growth."
NY Critical Materials is a subsidiary of Hudson Holdings Group which is expanding beyond its Piscataway, New Jersey base and was formed in response to the pandemic and the demand for American-made PPE. NY Critical Materials plans to hire 100 new employees and has invested in eight specialized machines that will allow it to manufacture 2 to 3 million face masks per day.
"Our new home in Rockland County is a unique opportunity for us to help solve the PPE shortage crisis, particularly N95 masks," said Jonathan Ho, CEO and Founder of Hudson Holdings Group. "Our made-in-America mission is squarely in line with supporting in-state needs. Our approach brings mass production of high-quality, low-cost disposable masks to a space dominated by Chinese imports. This partnership will also bring much-needed American jobs to New York at a time when people are still feeling the harsh economic impact of the pandemic. We're proud to help."
NY Critical Materials will lease over 50,000 square feet of commercial space in Building 100 at the campus, making it the first manufacturer and largest tenant to occupy the building, which has ample space, power and specialized infrastructure to accommodate future expansion plans and those of other industrial users. The company seeks to take advantage of the Foreign Trade Zone (FTZ)–an economic development tool available to Rockland companies–as an incentive to help them "Make it in Rockland" and remain competitive in global trade.
"The New York Center for Innovation is a perfect fit for NY Critical Materials as a socially-conscious tax ratable that will provide jobs in the local community," said Economic Development Director Schulman. "The county quickly assisted NY Critical Materials through identification, coordination and facilitation of its site selection search with Empire State Development's collaboration."
"How fitting that NY Critical Materials LLC, a manufacturer of Personal Protective Equipment (PPE), is coming to Pearl River and, notably, to the same campus where Pfizer's successful research for the COVID-19 vaccine took place," said Town of Orangetown Supervisor Teresa Kenny. "NY Critical Materials will help us to continue our fight against COVID-19 with its production of N95 respirator facemasks. After a difficult financial year for so many, the creation of 100 new jobs right here in Orangetown is welcome news to all of us. We welcome NY Critical Materials to the growing Orangetown business community and look forward to a ribbon cutting ceremony in the near future."
Cafe Diem is Open in Pearl River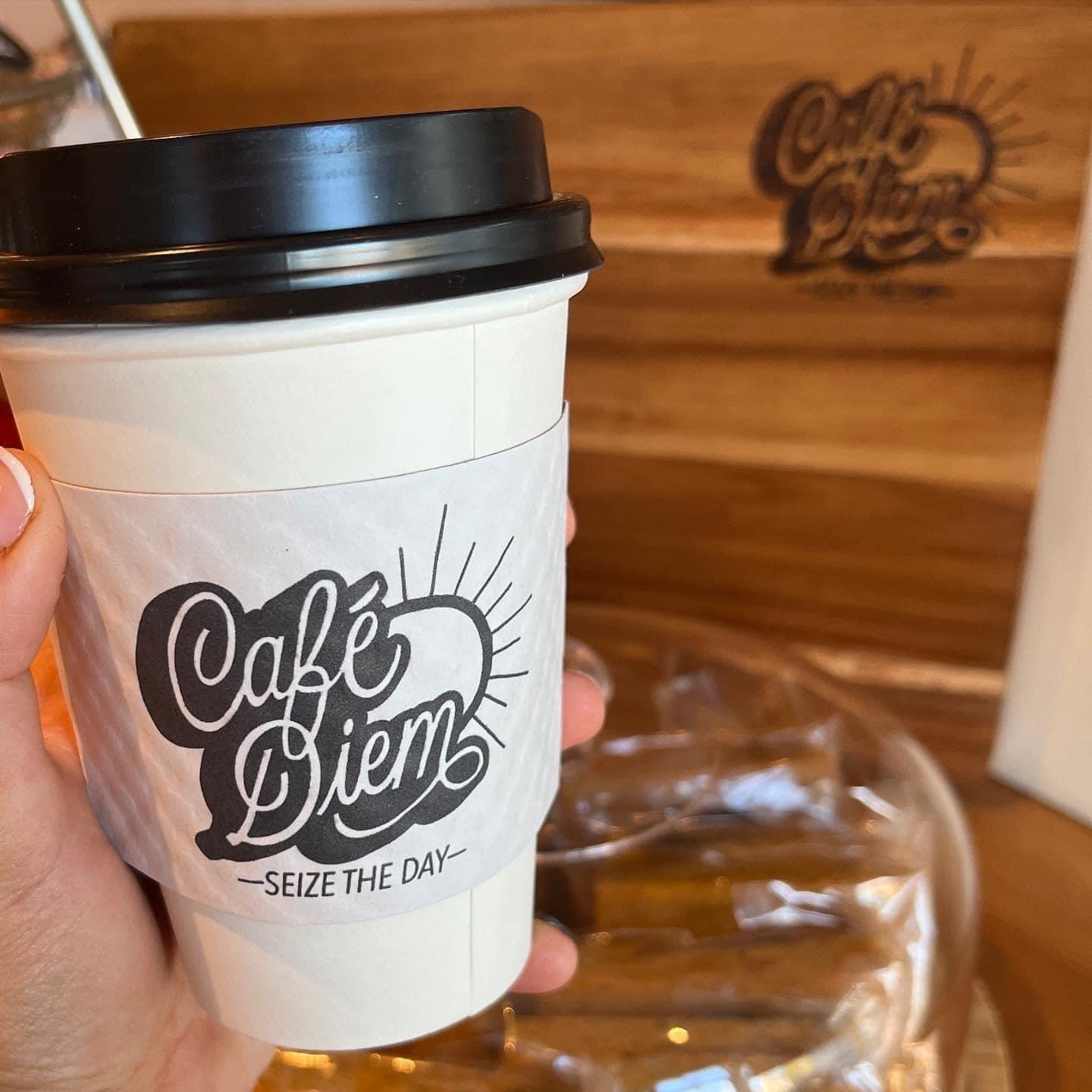 Cafe Diem is Open in Pearl River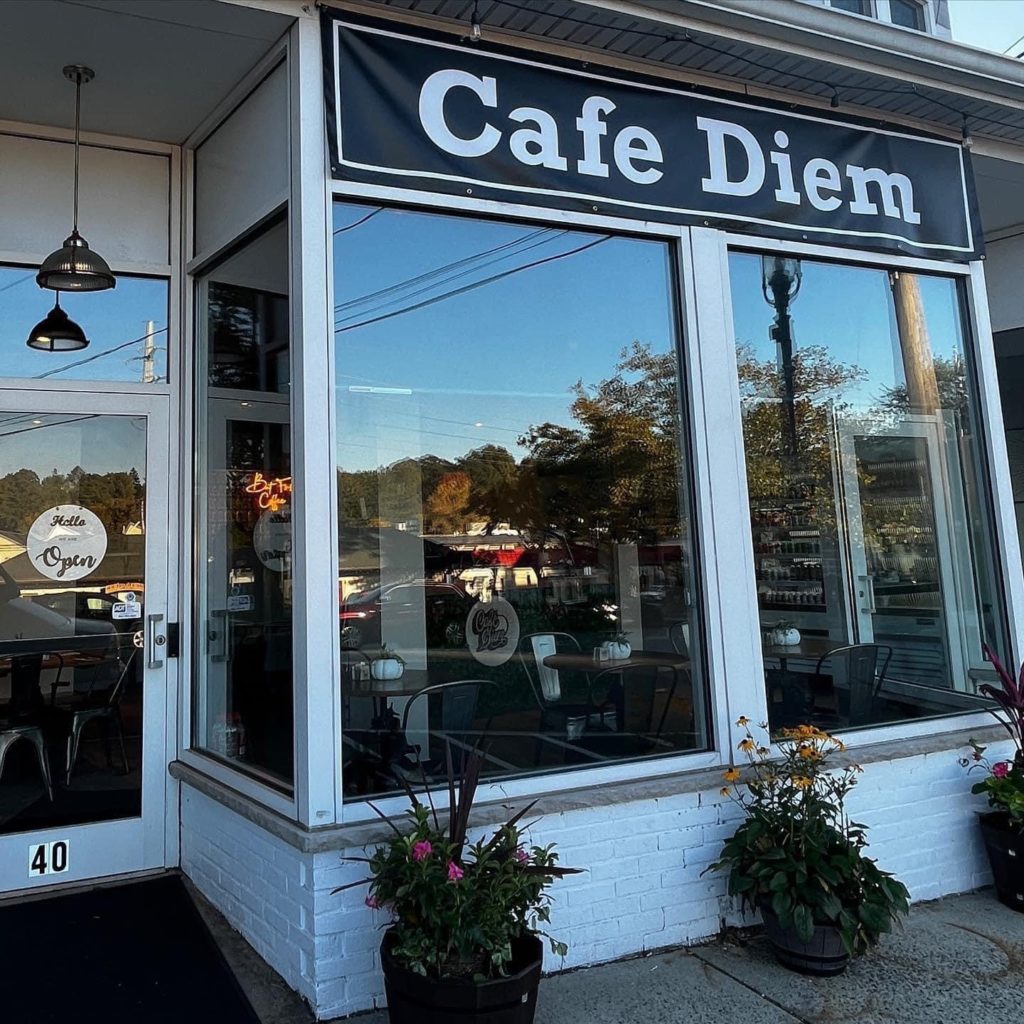 Owner Chef Kerri Horgan has crafted a menu concept that includes unique breakfast and lunch options.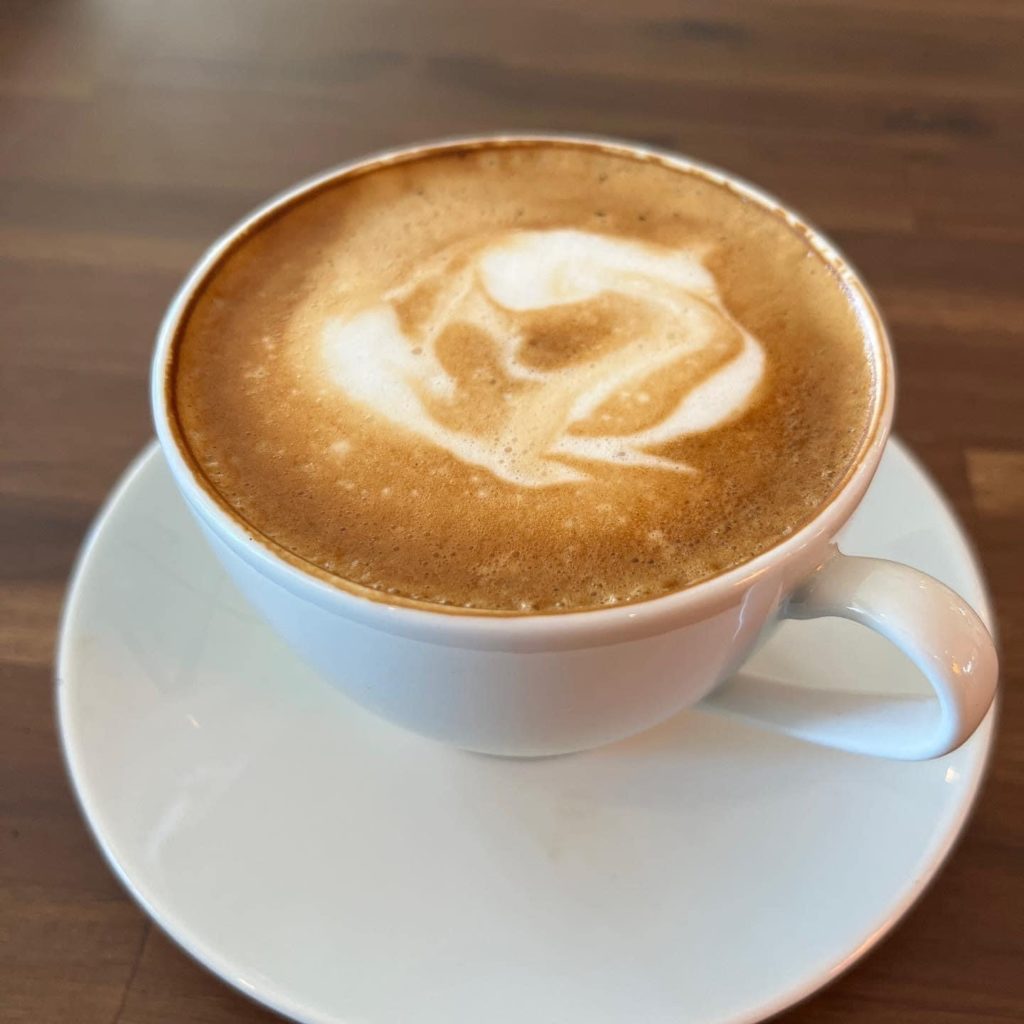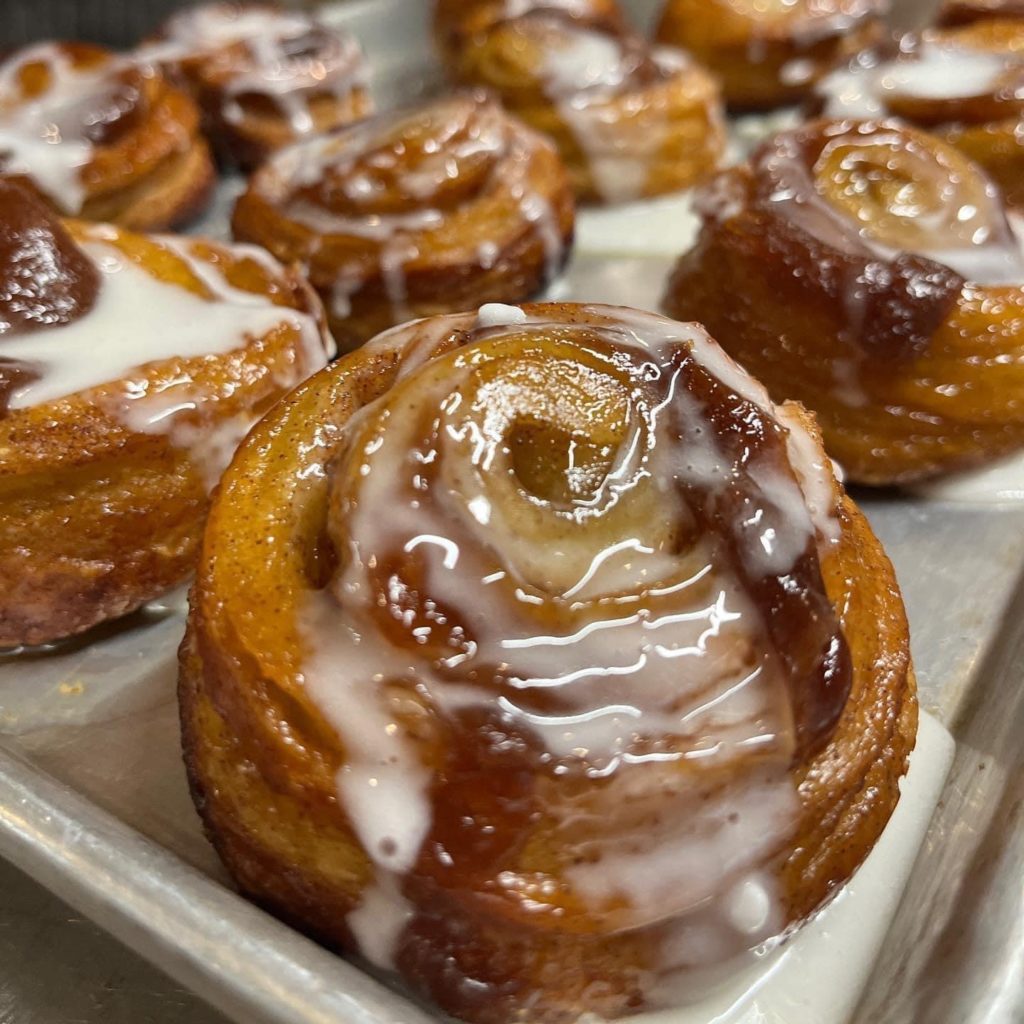 Horgan has cooked in many Rockland kitchens, including Nanuet Restaurant, Morgan's Publick House in Tappan and most recently DVine Bar in Sparkill, New York.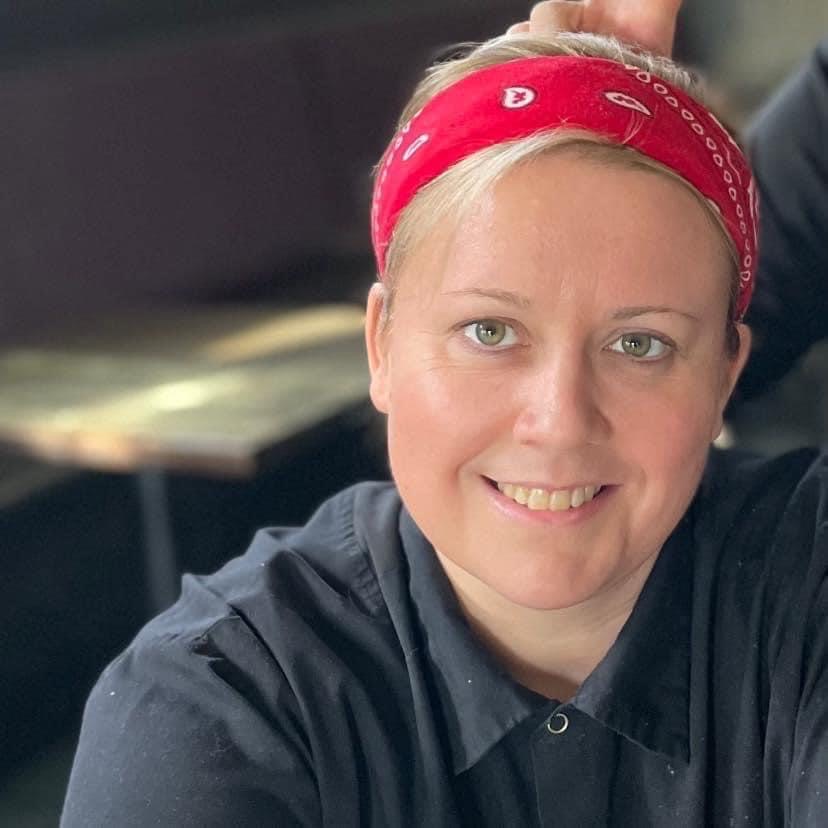 Cafe Diem
40 South Main Street
Pearl River, NY
https://www.cafediempr.com
Norcina in New City Recipient of NYS Empire Award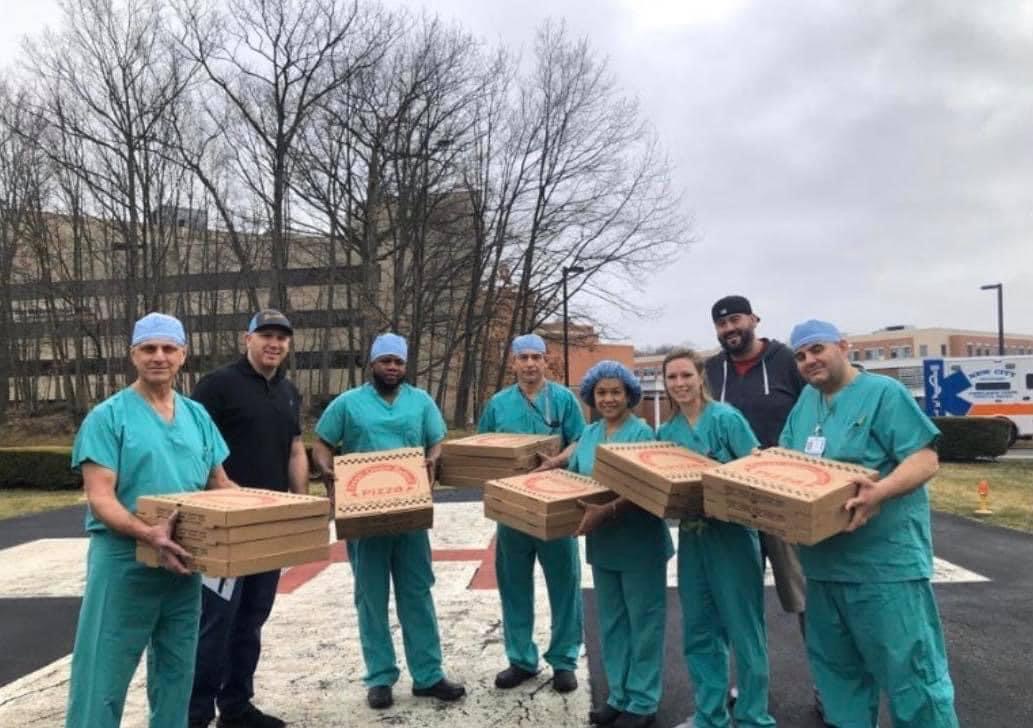 NEW CITY, NY – As Covid-19 hit Rockland County, many people wanted to help but didn't know how. Rockland native Eddie Stapleton, who now resides in North Carolina contacted Norcina's on how to help small business and people assisting the community he grew up in. He purchased and donated 10 large pies, to a place of their choice, which Norcina in turn matched w/ 10 more pies. 20 fresh pies were just delivered to Good Sam Hospital in Suffern. (Pictured below are the Cardiovascular Operating Room crew at Good Samaritan Hospital Suffern, NY with Norcina Owners Milan Dobrilovic and Nick Nuccio – top photo)
In just 26 days the Norcina Pizza Match would donate over 1,000 pizza pies to Rockland County medical professionals and first responders battling the COVID-19 epidemic.
How it worked: Norcina would match any donation an individual or organization makes to any hospital, first responders, or medical professionals who are actively fighting the COVID-19 pandemic.
Norcina would end up starting a trend locally that inspired other businesses to honor the same deal. Not only did it support small businesses but it provided residents with the ability to show their support to our first responders and medical professionals.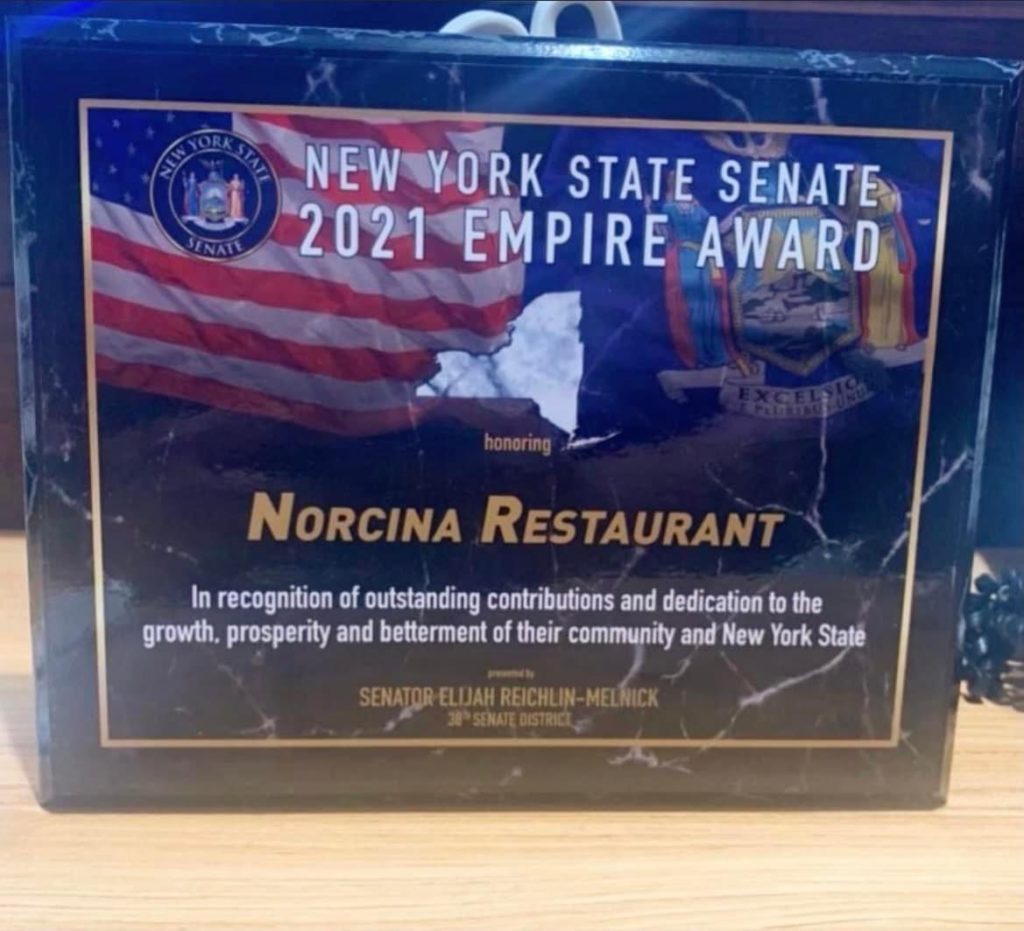 The New York State Empire Award was presented by Senator Elijah Reichlin-Melnick. It honors businesses that make major contributions to public service, and enhancing the quality of life for New Yorkers.