Rockland County PBA Endorse Diviny and Donohue for Orangetown Town Council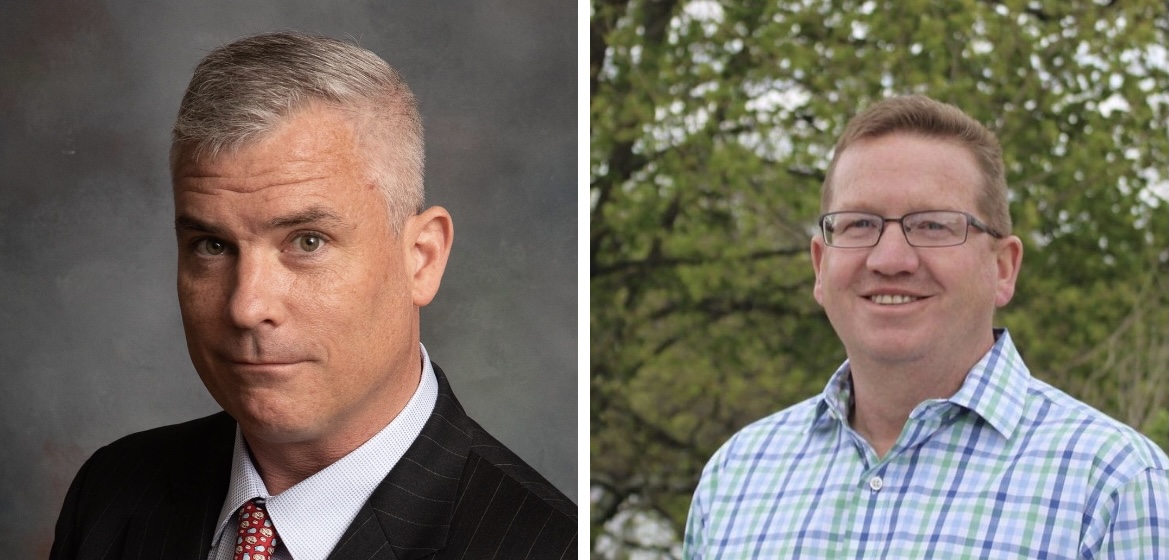 ORANGETOWN, NY – Rockland County PBA announces the endorsement of Tom Diviny and Brian Donohue for Orangetown Town Council.
"Your commitment to the law enforcement community is well recognized and we believe you are well qualified to serve the people of the Town of Orangetown. We look forward to continuing to work with you towards the same goal of a safer Town of Orangetown." said Rockland County PBA President Larry Ayers.
First Elected in 2009, Tom Diviny is a lifelong Orangetown resident and a 1988 graduate of Pearl River High School. He is a small business owner, married his wife Joy, another lifelong Orangetown resident, and Pearl River High School graduate, in 2006. Tom and Joy live in Pearl River with their two children, Addison and Finn. Tom's brother Tim, sisters Ellen and Tara, and mother Grace, all live in Rockland.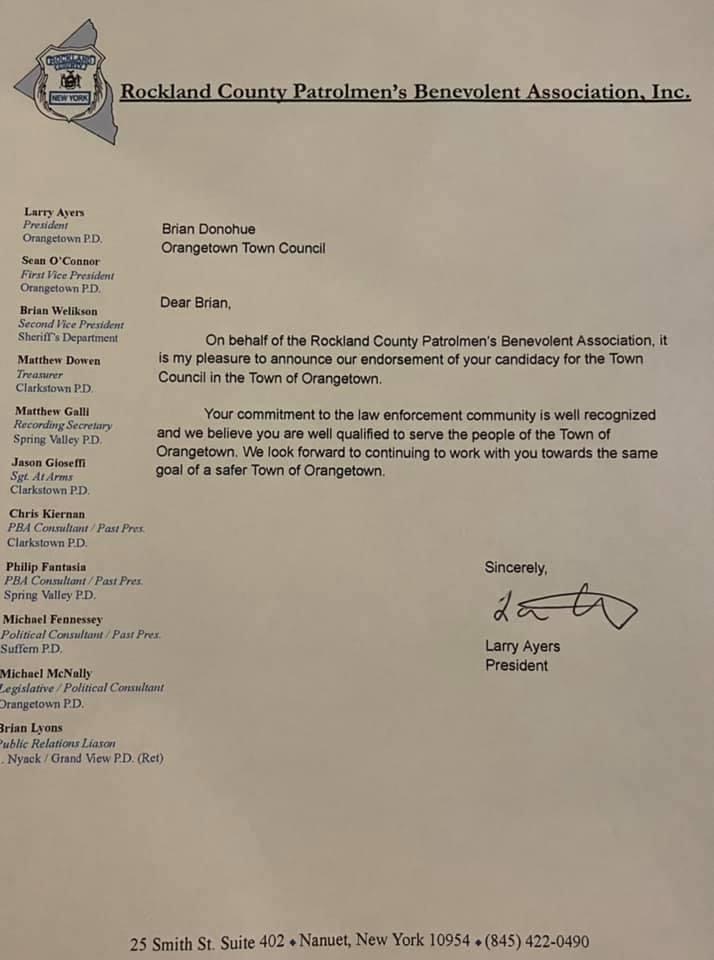 Brian Donohue is a partner in a Home Health Care Company helping the elderly live independently in their homes and employing over 40 people locally. Brian is also a teaching assistant in the Clarkstown school district.
After graduating from the University of Scranton in 1994, he began a successful 20-year career with Bear Stearns / JPMorgan, culminating as Managing Director for the institutional equity trading division.
Brian and his wife Colleen, a community health nurse at Nyack Home Care, are 18-year residents of Pearl River, where they raise their three children Ryan, Brendan, and Caitlyn. Brian has also volunteered his time coaching his children's sports teams, as well as serving as a board member on the Pearl River High School Lacrosse Attack Club.
VIDEO: Heroes Homecoming for Injured Valley Cottage Firefighter
Police Investigating Fatal Accident on Route 303 in Blauvelt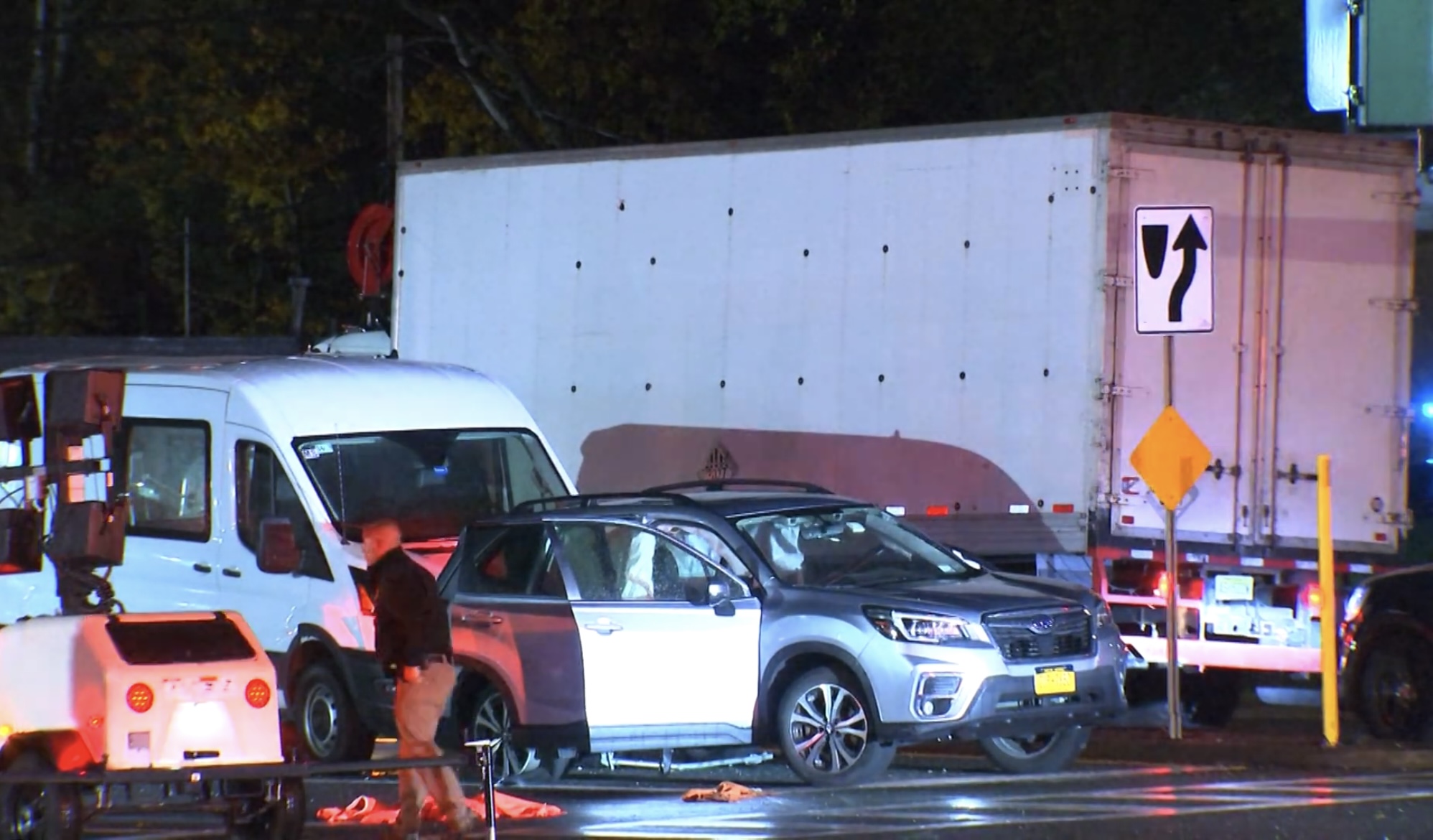 BLAUVELT, NY – On Monday November 15, 2021, at approximately 5:03PM, the Orangetown Police responded to a report of a Motor Vehicle Collision at the intersection of State Route 303 and East Erie Street in the Hamlet of Blauvelt, N.Y.
VIDEO
A 2005 Mack commercial box truck operated by Andrew Roe, 29, of Middletown, NY was traveling northbound on Route 303. A 2019 Subaru Forester, operated by Seymour Whynman, 83, of Blauvelt, NY was traveling westbound on E. Erie Street. A collision occurred at the intersection and the Subaru Forrester subsequently collided with a 2020 ford transit van in the southbound left only turn lane of Route 303. Mr. Whynmn and a female passenger were transported to Nyack Hospital by South Orangetown Ambulance Corps.
It is with deep sadness we report the passing of Seymour Whynman.
This accident is currently being investigated by the Orangetown Police Accident Investigation team. Police are asking anyone who may have witnessed the collision or anyone who may have additional information to contact the Orangetown Police Department at 845-0359-3700.
Photo credit – Rockland Video