Rockland County Health Department Offer Free Rabies Shots for Cats, Dogs, and Ferrets on Nov. 15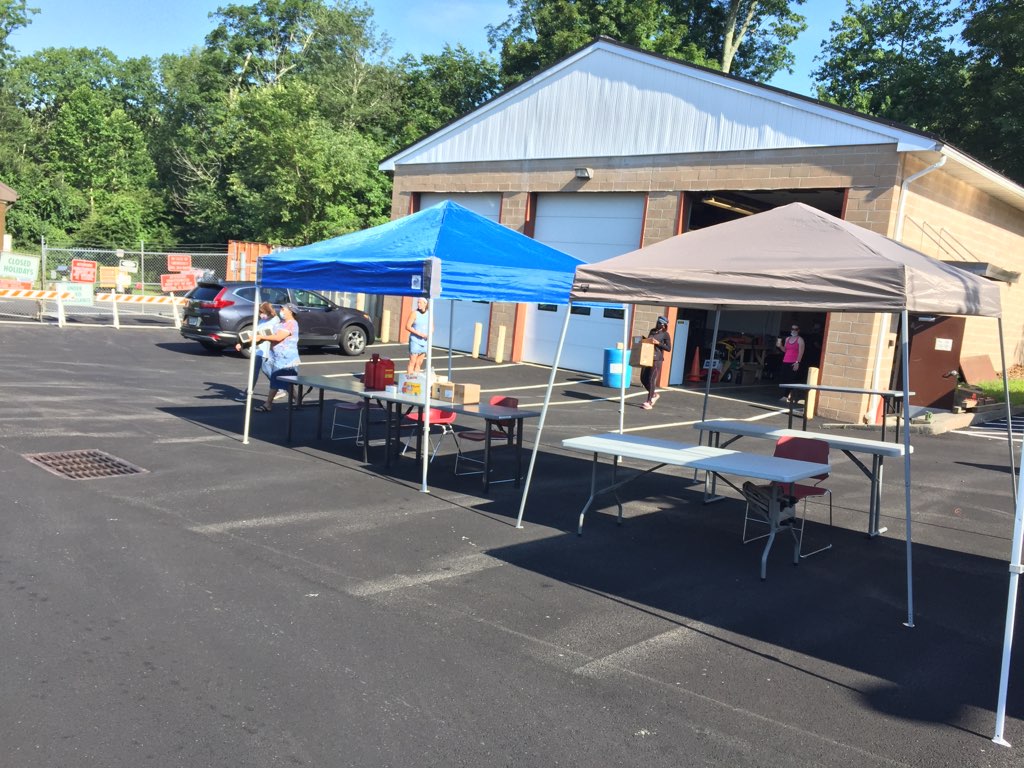 NEW CITY, NY, – Rockland County officials announce a free rabies shots (vaccinations) clinic is available for cats, dogs, and ferrets belonging to Rockland residents on Sunday, November 15, 2020, from 10:00 am – 1:00 pm at the Robert Yeager Health Complex, 50 Sanatorium Road in Pomona (In the parking lot in front of Building F).
No appointment is needed. The shots are free; however, a $5 donation per animal will help defray our costs. Please download and print a Rabies Vaccination Release FORM and bring the completed and signed form to the clinic. Please check Facebook.com/rocklandgov for any weather-related cancellation before arrival.
To prevent the spread of COVID-19, all attendees must remain in their vehicle and limit the number of passengers in the vehicle. Face masks or cloth face coverings are required for everyone in the vehicle.
"Animal rabies continues to be a serious public health problem in Rockland County. We remind all residents to make sure that their animals are immunized against rabies and that the vaccinations are kept up to date," said Dr. Ruppert.
To get their free rabies shot:
Your dog, cat, or ferret must be healthy.
Your pet must be older than three months.
Your dogs must be on a leash.
Your cats and ferrets must be on a leash or in a top-opening container.
New York State law requires that all dogs, cats, and domesticated ferrets be vaccinated against rabies by four months of age. Owners can be fined up to $250 if they fail to get their pets vaccinated and keep them up-to-date. All animal bites and animals suspected of having rabies must be reported to The Rockland County Health Department at (845) 364-2656. After hours, callers should contact (845) 364-8600.
For more information on animal rabies or the vaccine, call the Rockland County Department of Health at (845) 364-2594.
Village of Suffern 2020 Winter / Holiday Coloring Contest Details Announced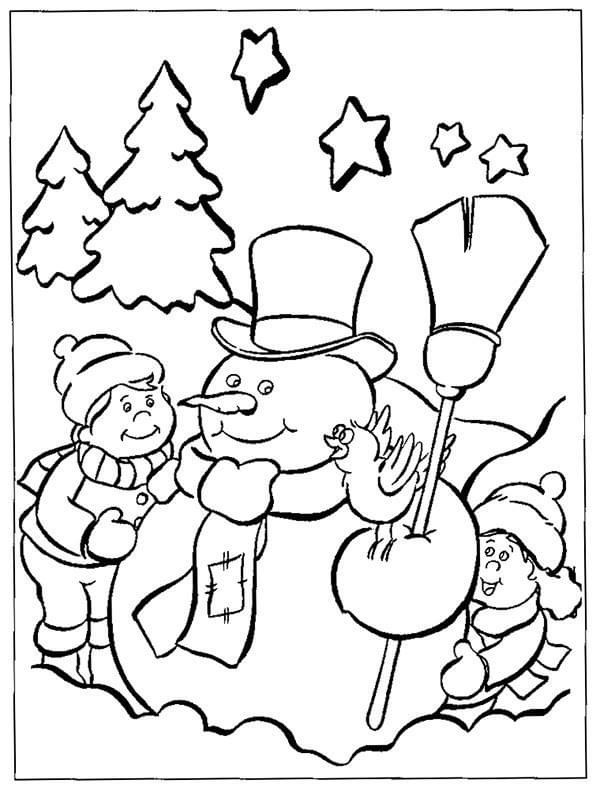 SUFFERN, NY – VILLAGE OF SUFFERN 2020 Winter / Holiday Coloring Contest
Open to Village of Suffern Students, pre-school thru grade 5.
Forms are available at: www.suffernny.gov or the R. P . Connor School electronic back pack.
Submit your entry by scanning and emailing to [email protected] or by mail to: Suffern Village Hall, 61 Washington Ave, Suffern, NY 10901
ATTENTION: RECREATION DEPARTMENT
NO DROPPING OFF (one entry per child please)
Be sure to provide: child's name, age, school, grade and phone number.
Prizes awarded per age group for:
"BEST COLORING" & "MOST CREATIVE".
Deadline Thursday, December 17, 2020. Have Fun!!!
Senator Skoufis Partners with United Way of Rockland for Winter Coat and Toy Drive

HAVERSTRAW, NY – Senator James Skoufis  announced that his office, in partnership with United Way of Rockland County, will be collecting donations at his North Rockland office for a winter coat and toy drive. Due to COVID-19, only new items can be accepted at this time; coats of all sizes, infant to adult, are needed; toys, games, and electronics are needed; and grocery store gift cards are welcome and appreciated.
Donations can be dropped off at Senator Skoufis' North Rockland office during business days, from 9 AM – 5 PM through December 14. Skoufis' office is located in the Garner Arts Center at 55 West Railroad Avenue, Building 24, right across the street from Zugibe's Hardware in Garnerville.
Last year, Senator Skoufis and United Way partnered on the same effort and were able to distribute coats and toys to over 300 children and adults in North Rockland. Senator Skoufis is hopeful that the community can build upon last year's success.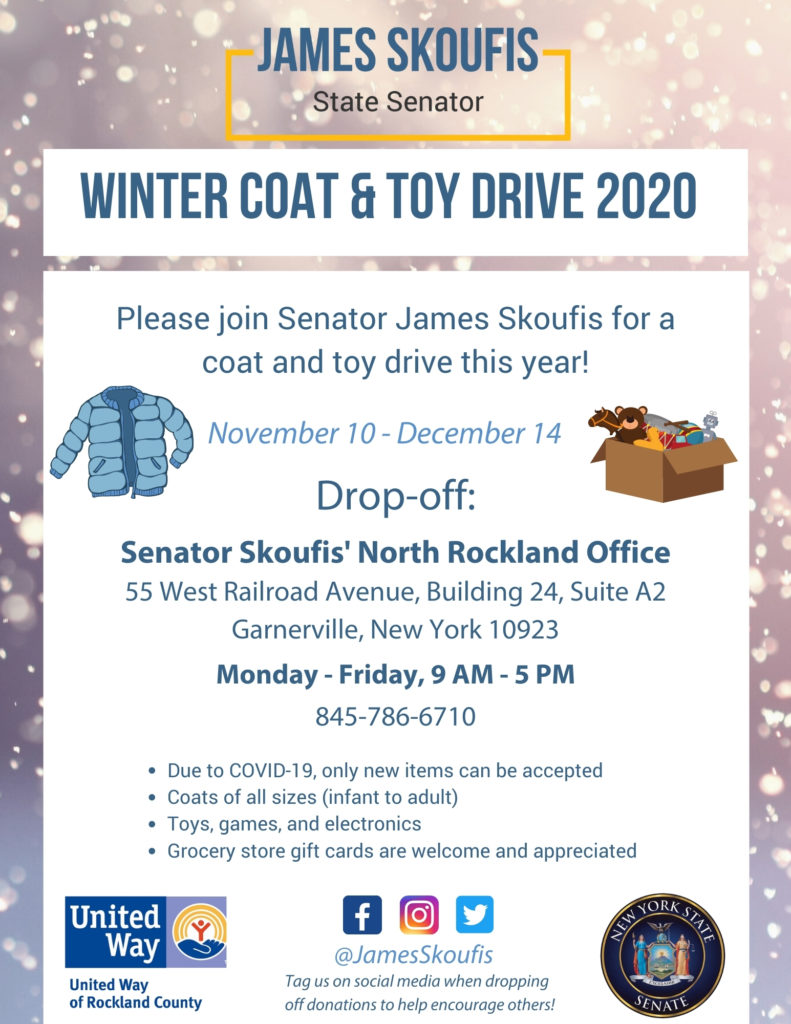 The Coat and Toy Drive is part of United Way's "2020 Hope for the Holidays" Program. According to a recent study, 41% of Rockland households are struggling on a daily basis to meet their basic needs of food, shelter, and clothing.
"We all know that this year has been especially challenging for families across our state. The ongoing public health and economic crises have left many in North Rockland in need of basic items during the holiday season," said Senator Skoufis. "Working with United Way of Rockland, I'm confident that our community, as we have always done, can come together to help bring warm coats for those in need and toys for children to brighten their holiday season."
"We are very grateful to all of the people and groups that joined with us last year in these efforts, and so generously donated new clothing, jackets, shoes/boots, household items, bedding items, electronics, games, and toys," said Dana Treacy, President & CEO of United Way of Rockland. "This is truly a statement of our community Living United and I thank Senator Skoufis for partnering with us again this year to help get residents what they need during this season."
Please see the attached flyer for more information and distribution.