Ramapo PD Provide Update on Fatal Accident on Route 202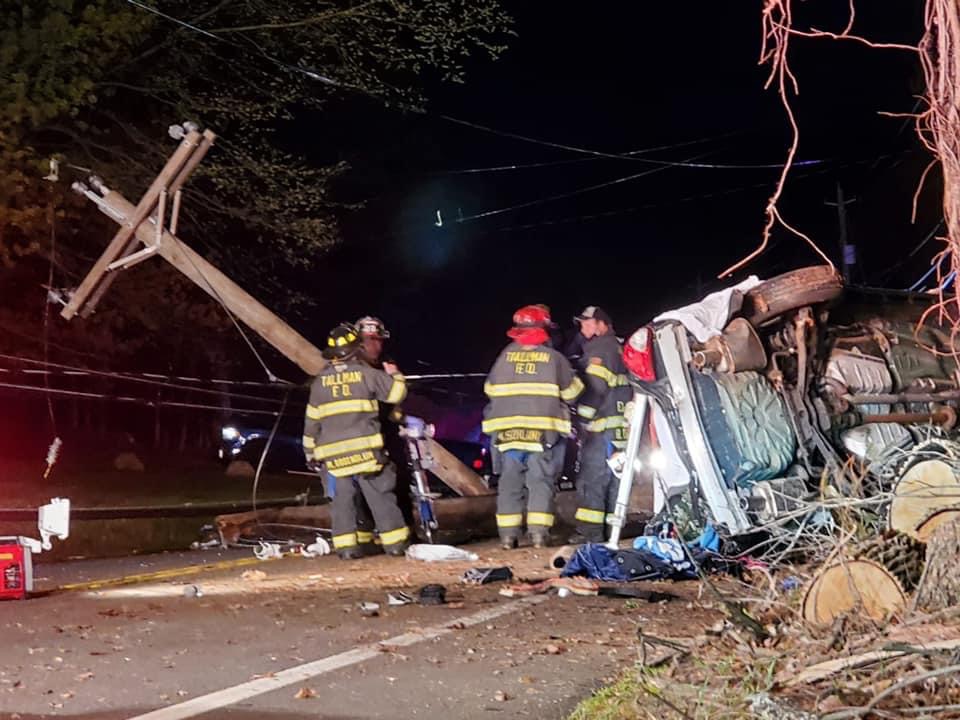 MONTEBELLO, NY – 5PM (Saturday) Update via Ramapo PD
OVERNIGHT CAR ACCIDENT CLAIMS THE LIFE OF LOCAL RESIDENT AND THE ARREST OF A SUFFERN YOUTH
At approximately 2:50 AM this morning on Rt.202 in the Village of Montebello, NY, the RPD responded to a report of a one car accident. Responding patrol officers observed a vehicle flipped over on its side. It had been occupied by five individuals.
Four of the occupants were transported to both Nyack Hospital and Westchester Medical Center. Those occupants were treated for non-life threatening injuries. One female occupant was declared deceased at the scene. All of the occupants including the deceased were under the age of 18 years old.
The vehicle struck a utility pole, causing power disruption in the area. The road remains closed at this time.
The Rockland County District Attorney's Office is assisting the Ramapo Police Department Crash Investigation Team with the investigation.
The preliminary investigation revealed that the 17 year old male driver from Suffern, NY was intoxicated. He was transported from Nyack Hospital to the Ramapo Police Department for arrest processing.
The driver, whose identity will be withheld due to his juvenile status, was charged with Manslaughter 2nd, Assault 2nd, Vehicular Assault 1st, Vehicular Manslaughter 2nd and DWI.
The investigation into the cause of the crash is ongoing and is expected to take some time to complete.
The male driver was arraigned virtually this afternoon in Rockland County Youth Superior Court. He was released on his own recognizance and will return to court on Monday April 26, 2021.
– – – – – – – – – – – – – – – – – – – – –
The Ramapo Police Department continue their investigation into a serious car accident that occurred on Route 202 and Viola Road in the Village of Montebello in the early morning hours of Saturday, April 24.
Police have confirmed that five individuals were in the vehicle at the time of the crash.  One occupant of the vehicle was killed in the crash. Other individuals were transported to local hospitals.
Assisting RPD early this morning was Tallman Fire Department, Springhill, W.P. Faist, Ramapo Valley Ambulance Corps and Rockland Paramedics. O&R utilities also initially responded and remains on scene.
Photo by Rockland Buff.
** This is a developing story and this article will be updated with the latest information **
Assemblyman Schmitt Presents State Assembly Proclamation to Heroic Stony Point Police Officers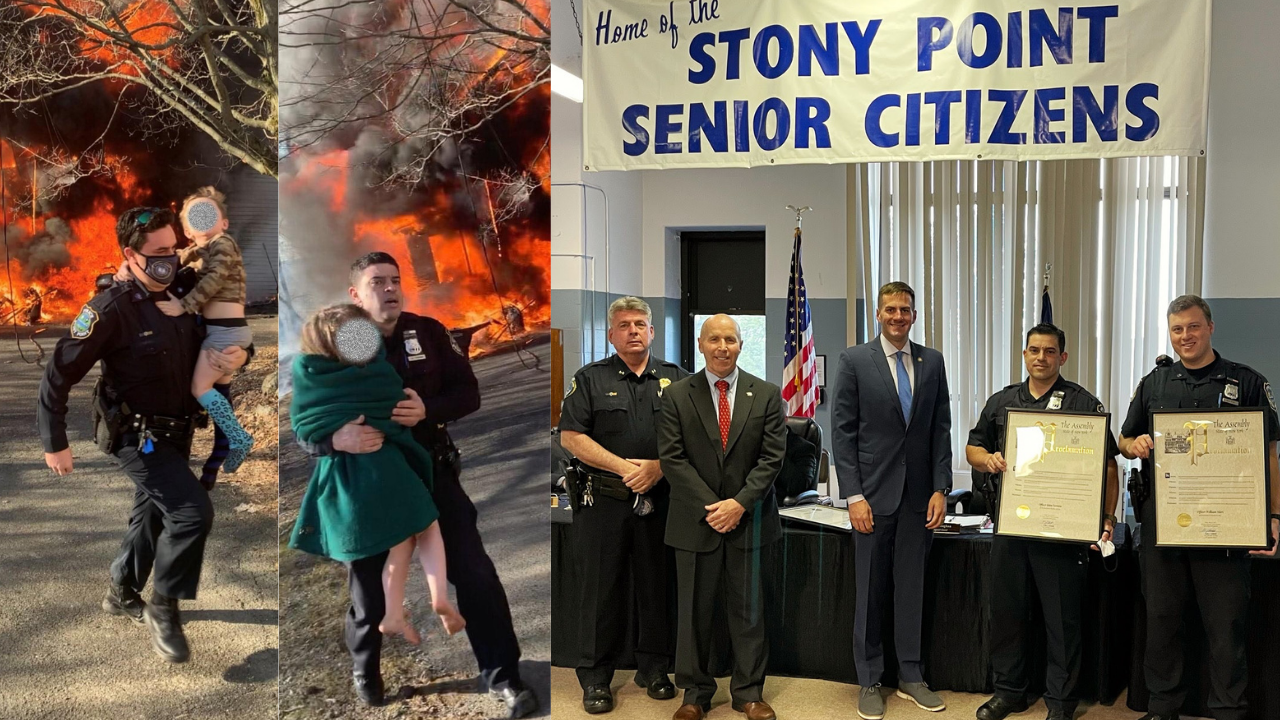 STONY POINT, NY – Assemblyman Colin J. Schmitt (Stony Point) joined by Stony Point Town Supervisor Jim Monaghan recognized three Stony Point Police Officers; Vincent Agovino, John Ferrara, and William Mari.
They were formally presented with a New York State Assembly Proclamation, by Assemblyman Schmitt, for their heroic efforts in March when they ran into a burning house to save the lives of children who were inside. (Photos at the end of the video)
Video of the ceremony below.
Each of these police officers received their own official Proclamations at the Stony Point Town Board meeting on, May 11, 2021, detailing their service of honor, courage, and personal sacrifice.
Supervisor Jim Monaghan, "Officers Vincent Agovino, John Ferrara, and William Mari are heroes. Their actions saved the lives of local residents and represent the very best of our local police department and it is great that Assemblyman Colin Schmitt joined the town board during police week to honor them."
Assemblyman Colin J. Schmitt stated, "Today and every day we should be thanking law enforcement who put their lives on the line to protect our families and communities. Police Officers Vincent Agovino, John Ferrara, and William Mari are prime examples of what the badge stands for; honor. courage, sacrifice, and selfless service. These heroes were just doing their jobs, not looking for recognition, but they deserve this honor today. I am proud to officially recognize the heroes that live amongst us and thank them for their service."
Video via Stony Point Facebook Live Stream – rocklandreport.com
VIDEO: Stony Point Supervisor Monaghan Announces Retirement of Chief Brian Moore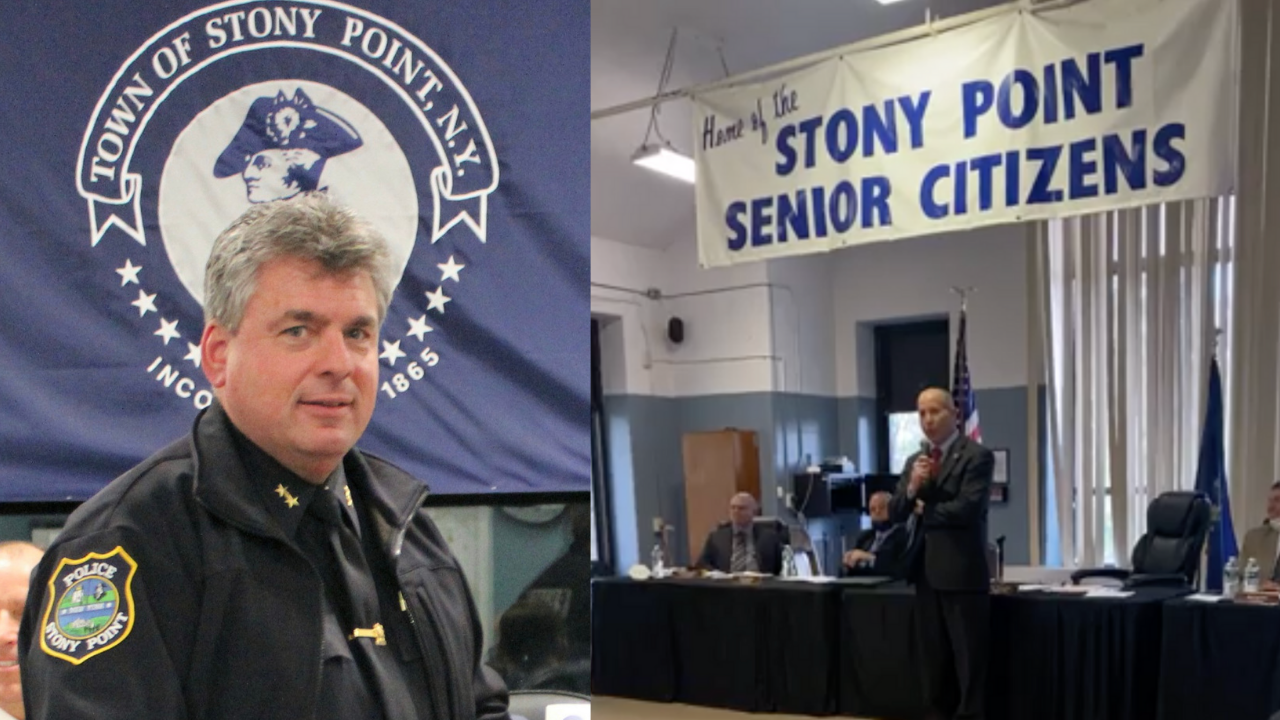 At the April 11, 2021 Stony Point Town Board Meeting, Supervisor Jim Monaghan announced that Police Chief Brian Moore was retiring.
Moore has been an officer with the Stony Point Police Department for forty-one years.