NY moves to become the second state to ban plastic bags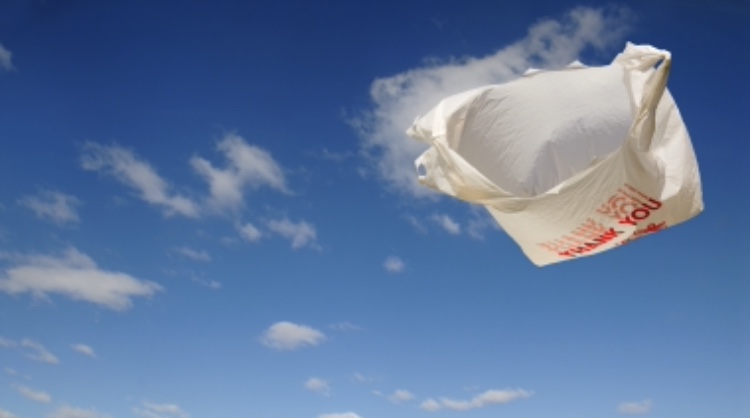 New York is set to become the second state in the country to implement an outright ban on single-use plastic shopping bags, but it will be up to municipality whether to charge a 5-cent fee for paper.
The plastic bag ban is set to take effect March 1, 2020. Grocery stores and other retailers will have to stop providing single-use plastic bags for most purchases.
The NY Times reports there are "a number of carveouts, including food takeout bags used by restaurants, bags used to wrap deli or meat counter products and bags for bulk items. Newspaper bags would also be exempted, as would garment bags and bags sold in bulk, such as trash or recycling bags."
Counties will be allowed to opt for a 5-cent charge for paper bags, with 3 cents going to the state's Environmental Protection Fund and 2 cents kept by local governments.
The state budget is due April 1st, and we will know all the finalized details.
Last week, the Rockland County legislator adopted a new law that bans most single-use plastic bags at retail outlets, restaurants and grocery stores.
In a bipartisan 14-3 vote, lawmakers backed a measure that was sponsored by County Legislators Laurie Santulli (R-Congers) and Nancy Low-Hogan (D-South Nyack). Passage followed a two-hour public hearing where speakers overwhelmingly supported the ban.
The resolution was sent to the County Executive on Wednesday. He has 21 days to approve it, veto it or take no action.
"Plastic bags not only make Rockland County look terrible, they cause problems for our solid waste facility and pose a significant threat to the environment," Legislator Santulli said. "A simple change in our habits – switching to paper and reusable bags, will help us address these problems for the betterment of our county."
Legislator Low-Hogan said "Passing the plastic bag ban is an example of what can happen when a community comes together in support of what is best for the whole community, not only in the short term, but in the long term. We are ready to make the choice that will benefit our environment and ultimately our world."
Rockland is the latest of several New York state municipalities to adopt a law governing plastic bags, including Hastings-on-Hudson, Larchmont, New Castle, New Paltz, Pleasantville, Rye and earlier this year, in Piermont village.
Under the law:
Businesses would be banned from providing any single-use plastic carryout bags. This applies to department stores, home center and hardware stores, drug stores, supermarkets, liquor stores, gas station stores, restaurants, farmers' markets and others.
Businesses would only be allowed to provide paper bags made of recycled materials that can be recycled, or reusable plastic bags that have handles and are machine washable or are easily cleaned and disinfected. Businesses cannot charge a fee for the recycled paper bags.
The law does not ban plastic bags used for loose bulk items such as fruit, vegetables, buts, grains, candy, cookies, small hardware items or to wrap meats, fish, deli and frozen foods.
The law does not ban bags used by pharmacies to contain prescription drugs, newspaper bags, door-hanger bags and laundry-dry cleaning bags.
The law would be enforced by the county Office of Consumer Protection.
Fines would range from up to $250 for a first-time offense; up to $500 for a second offense within a 12-month period; and up to $1,000 for a third and each subsequent offense within a 12-month period.
The Consumer Protection Office would also have the authority to confiscate any single-use plastic carryout bags from businesses found to be in violation.
While it seems like plastic bags have always been with us, they did not come into use in the U.S. until 1979, according to published reports. Two of the nation's largest grocery store chains – Safeway and Kroger – switched to plastic bags in 1982, and by the end of the 1980s, the use of plastic bags had replaced paper bags not only in the U.S., but around the world.
Problems associated with plastic bags began surfacing soon after. For example, in 1997, a sailor and researcher named Charles Moore discovered the Great Pacific Garbage Patch, the largest of several ocean gyres where massive amounts of plastic waste have accumulated, including plastic bags.
In waterways, plastic bags are ingested by sea turtles, which mistake them for jellyfish, whales and other aquatic life. On Saturday, a Cuvier's beaked whale was found dead on the Philippine island of Mindanao; its stomach contained 88 pounds of plastic, a significant portion of it being plastic bags. Other dead whales, as well as sea birds and other aquatic life have been found with plastic, including bags, filling their stomachs.
Here in Rockland, plastic bags can routinely be seen littering roadsides and tangled in trees. The bags get washed into our streams, lakes and rivers when it rains or there is runoff from snow melt. This happens when the bags get washed into storm drains, most of which empty into a waterway. Local in the ocean, local aquatic life, as well as wildlife, can be threatened.
Plastic bags are not recycled at the county Solid Waste Management Authority's facility in Hillburn, but they end up in the waste stream because people mistakenly mix them in with their recyclables. Legislators Santulli and Low-Hogan met with representatives of the SWMA and were told that the bags gunk up the sorting machines at the facility about three to four times per day, becoming trapped in the gears. The situation brings operations to a halt while the machines are cleaned out or parts are repaired or replaced; motors need to be replaced monthly.
Retail stores in Rockland have collection boxes where you can return your plastic bags; the stores make their own arrangements for the recycling of the bags.
"Our Rockland County community is ready for this change," Legislator Low-Hogan said. "We are ready to choose reusable bags over single use bags. This was a group-effort and I would like to thank everyone who supports this new law. It was wonderful to see people from all of our towns, all political persuasions and people of all ages who came out in support of this new law."
Assemblyman Lawler, Senator Reichlin-Melnick, Historians, and Piermont FD Look to Honor Thomas "Pomp" Pomplin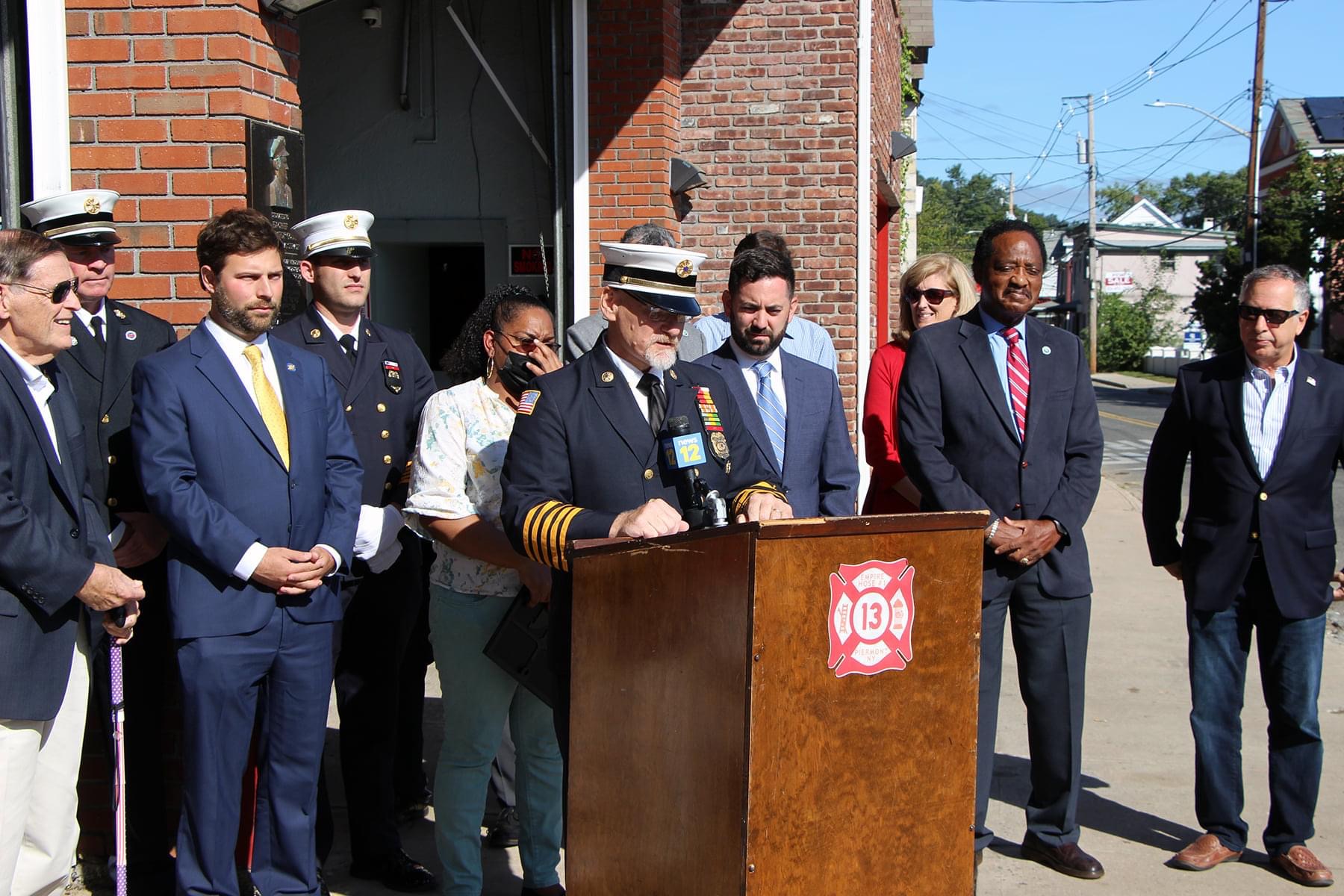 Assemblyman Mike Lawler, members of the Piermont Fire Department, ex-Chief Dan Goswick, State Senator Elijah Reichlin-Melnick, Supervisor Teresa Kenny, Piermont Mayor Bruce Tucker, County Legislator James Foley, NYACK NAACP President Nikki Hines, Bill Batson, and other historians and activists held a press conference announcing their intention to honor Thomas "Pomp" Pomplin, a black Piermont resident and firefighter, as the first line of duty death in Rockland County.
In 1854, Pomp and the other members of the Piermont Fire Department were called to Nyack to help put out a massive factory fire. They pushed their fire truck from Piermont all the way to Nyack and helped battle the blaze. Unfortunately, Pomp passed away a few days later from heat exhaustion and other injuries. There is a direct connection between Pomp and all of the other heroic firefighters who have given their lives in service of keeping our communities safe. May he and all other fallen firefighters rest in peace, and may we never cease to thank, honor, and memorialize them for their sacrifice.
The goal is to raise $10,000 to help the Village of Piermont and the Piermont Fire Department build a proper memorial for his heroic sacrifice, which would be located in the village. Please consider donating at this link:
https://www.gofundme.com/f/thomas-pomplin-lodd-memorial?utm_source=customer&utm_medium=copy_link&utm_campaign=p_cf+share-flow-1&fbclid=IwAR1lmpGERbqtmRgW0LJ-vMeqRkJiLB9jXL-mPcaNFS6yVLAenhhcEck3QJo
Watch the Press Conference Below 
Rockland Community College Receives National Award for Excellence in Diversity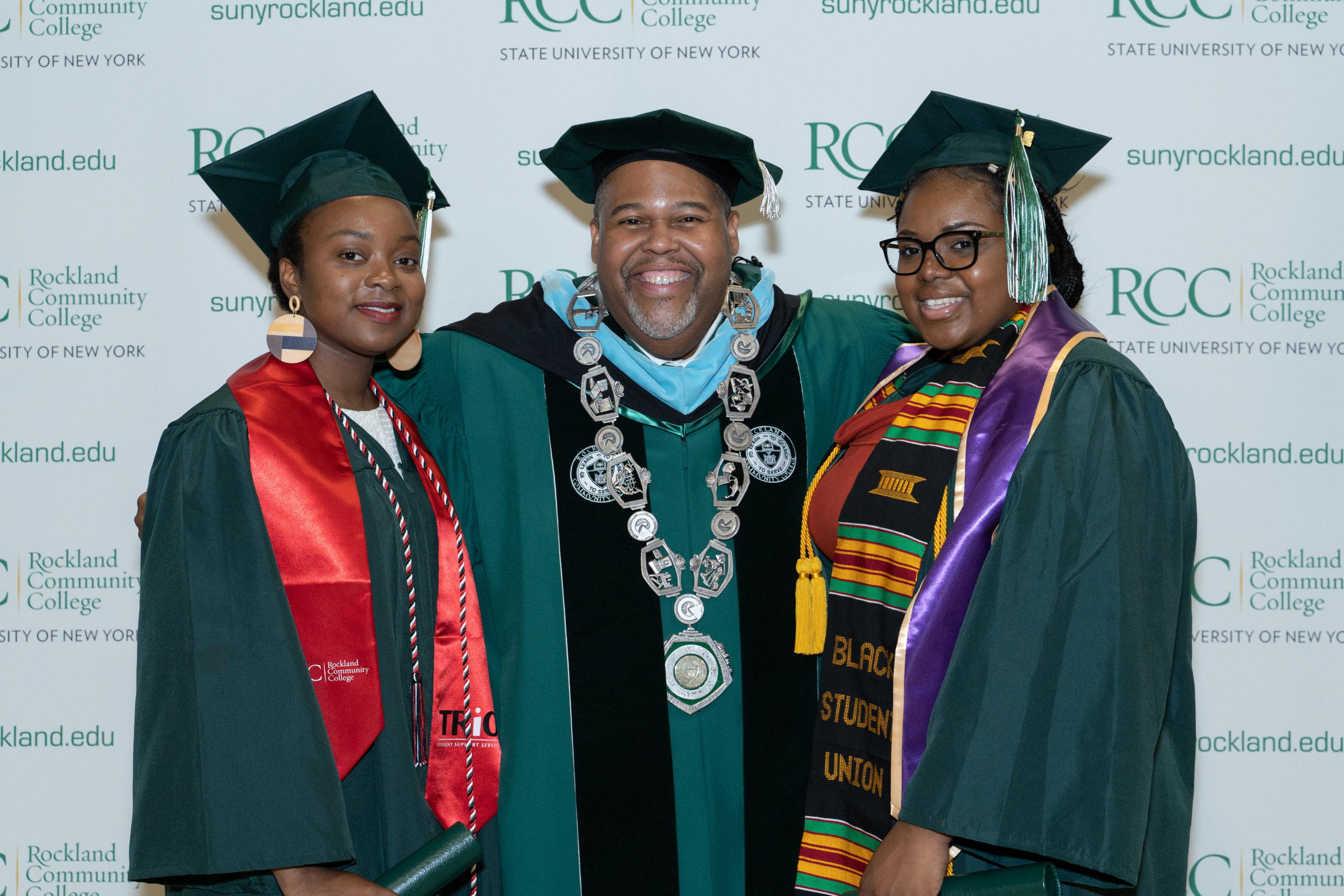 SUFFERN, NY – Rockland Community College has been selected as a 2021 Higher Education Excellence in Diversity (HEED) Award winner from INSIGHT Into Diversity magazine, the nation's oldest and largest diversity-focused publication in higher education. This national honor recognizes US colleges and universities that demonstrate an outstanding commitment to diversity and inclusion. RCC will be featured, along with 100 other recipients, in the November 2021 issue of INSIGHT Into Diversity magazine. This is the first time RCC has been named as a HEED Award recipient.
"Diversity reflects an appreciation and respect for the unique gifts and talents in all of us," said RCC President Dr. Michael A. Baston. "To close equity gaps, community colleges must first offer a safe and welcoming environment. Then we can create strategic partnerships between the college and the community and take advantage of our organizational resources and collaborative leadership to ensure equitable opportunities and outcomes for all our students."
"Last year RCC started developing an actionable plan by establishing a working group to review the legacy of diversity efforts led by the College's former Diversity Council and to build on their outcomes to reflect current realities. We are now developing a new college-wide plan that incorporates those recommendations with recommendations from all areas of the College. The new plan will include specific outcomes that are measurable using key performance indicators to be reported on an equity
scorecard," stated Melissa L. Roy, Chief Diversity Officer for RCC.
"The HEED Award process consists of a comprehensive and rigorous application that includes questions relating to the recruitment and retention of students and employees — and best practices for both — continued leadership support for diversity, and other aspects of campus diversity and inclusion," said Lenore Pearlstein, publisher of INSIGHT Into Diversity magazine. "We take a detailed approach to reviewing each application in deciding who will be named a HEED Award recipient. Our standards are high, and we look for institutions where diversity and inclusion are woven into the work being done
every day across their campus."