New York Blood Center Announces Regional Blood Emergency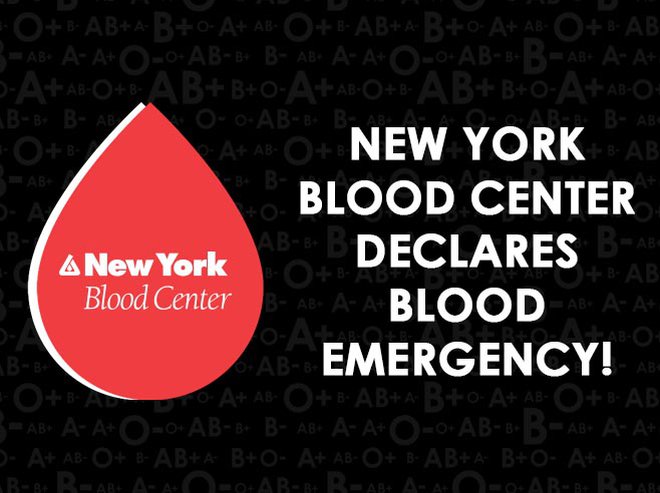 New York Blood Center (NYBC) today announces a blood shortage in the region, one year after New York was the epicenter of the pandemic. Before COVID-19, donors could stop by community blood drives at convenient locations like high schools, colleges, and offices. It has been one year since these groups had to cancel their blood drives due to COVID-19 and few have been able to resume these life-saving events.
NYBC currently has a 4 day supply of blood, which is well below what is needed by area hospitals. New York's healthcare system requires 1,500 donations each day to treat patients ranging from trauma victims to newborn babies and their mothers to cancer patients. Donors with type O and type B blood are especially needed as NYBC currently has a 1-2 day supply of
these blood types.
"With thousands of New Yorkers getting vaccinated each day, we are thrilled to watch our state recover from this catastrophic year," said Andrea Cefarelli, Senior Executive Director at New York Blood Center. "As New York bounces back in strides this spring, we need everyone to make an appointment and donate blood to help save lives. While the end of the pandemic is near,
our struggle to fight for those in need continues."
NYS DEC Announces Spring Turkey Hunting Seasons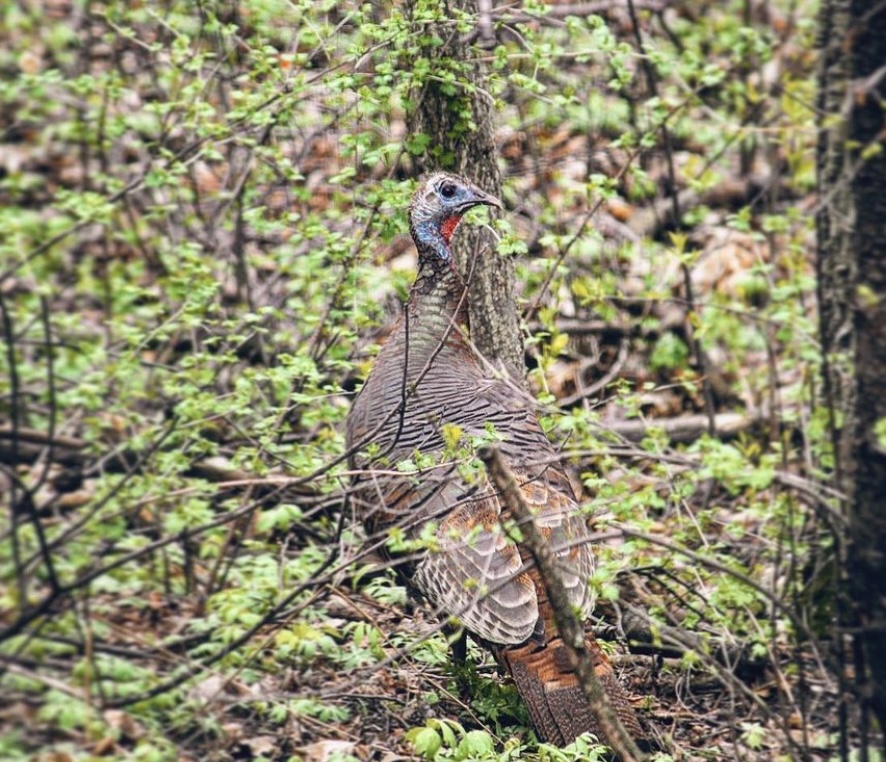 New York State Department of Environmental Conservation (DEC) Commissioner Basil Seggos today announced that spring turkey season opens May 1, in all parts of Upstate New York, north of the Bronx-Westchester County boundary. In addition, DEC's annual youth turkey hunting weekend will take place April 24 to 25. The youth turkey hunt for junior hunters aged 12 to 15 is open in all parts of Upstate New York and Suffolk County.
"Turkey hunting has long been a sign that spring is here. It also presents a wonderful opportunity for New Yorkers to get outside and enjoy the outdoors and introduce the next generation of hunters to the sport," Commissioner Seggos said. "As hunters take to the field this spring, DEC reminds everyone to hunt safe and hunt smart by following the guidelines to support hunter safety and prevent the spread of COVID-19."
Last year, turkey hunters took approximately 21,500 birds in New York during the spring season, an increase of about 25 percent from 2019. Much of the increase was likely due to a rise in hunter participation as more people looked for outdoor activities close to home during the COVID-19 pandemic. This spring, hunters can expect good numbers of jakes based on average-to-good productivity in 2020 and a mild winter. However, two-year-old birds may be more difficult to find. During 2019, turkeys in New York experienced one of the worst breeding seasons in the 25 years DEC has been monitoring productivity, and the effects of this poor productivity will be experienced most heavily for hunters targeting adult birds this year.
About the Spring Youth Hunt, April 24-25:
Hunters 12 to 15 years of age are eligible and must hold a hunting license and a turkey permit;
Youth 12 to 13 years of age must be accompanied by a parent, legal guardian, or adult over 21 years of age with written permission from their parent or legal guardian. Youth 14 to 15 years of age must be accompanied by a parent, legal guardian, or adult over 18 years of age with written permission from their parent or legal guardian;
Accompanying adults must have a current hunting license and turkey permit. The adult may assist the youth hunter, including calling, but may not carry a firearm, bow, or crossbow or kill or attempt to kill a wild turkey during the youth hunt;
Shooting hours are from one-half hour before sunrise to noon each day;
The youth turkey hunt is open in all parts of Upstate New York, north of the Bronx-Westchester County boundary, and in Suffolk County;
The bag limit for the youth weekend is one bearded bird. This bird becomes part of the youth's regular spring season bag limit of two bearded birds. A second bird may be taken only in Upstate New York, north of the Bronx-Westchester County boundary, beginning May 1;
Crossbows may only be used by hunters 14 or older. In Suffolk and Westchester counties it is illegal to use a crossbow to hunt wild turkeys; and
All other wild turkey hunting regulations remain in effect.
About the Spring Turkey Season, May 1-31:
Hunting is permitted in most areas of the state, except for New York City and Long Island;
Hunters must have a turkey hunting permit in addition to their hunting license;
Shooting hours are from one-half hour before sunrise to noon each day;
Hunters may take two bearded turkeys during the spring season, but only one bird per day;
Hunters may not use rifles or handguns firing a bullet. Hunters may hunt with a shotgun or handgun loaded with shot sizes no larger than No. 2 or smaller than No. 8, or with a bow or crossbow (except crossbows may not be used in Westchester County);
Successful hunters must fill out the tag that comes with their turkey permit and immediately attach it to any turkey harvested;
Successful hunters must report their harvest within seven days of taking a bird. Call 1-866-426-3778 (1-866 GAMERPT) or report harvest online at DEC's Game Harvest Reporting website; and
For more information about turkey hunting in New York, see the 2020-2021 Hunting and Trapping Regulations Guide or visit the Turkey Hunting pages of DEC's website.
Hunt Safe, Hunt Smart!
While statistics show that hunting in New York State is safer than ever, mistakes are made each year. Every hunting-related shooting incident is preventable and DEC encourages hunters to use common sense this season and remember what they were taught in their DEC Hunter Education Course:
Point your gun in a safe direction;
Treat every gun as if it were loaded;
Be sure of your target and beyond;
Keep your finger off the trigger until ready to shoot; and
Stalking stinks! Set up with your back against a tree or other object wider than your shoulders and call birds to you.
DEC also encourages all hunters to wear blaze orange or blaze pink when moving between hunting spots to make themselves more visible to other hunters. A blaze orange or blaze pink vest or other material can be hung in a nearby tree when you are set up and calling birds so other hunters are alerted to your presence. In addition, all hunters should continue to follow COVID-19 precautions to ensure a safe hunt, including social distancing and wearing masks. A hunter education class is required for all new hunters and is available in-person (for free) or online (for a fee). To find an in-person hunter education class in your area, visit DEC's Hunter Education Program website or call 1-888-HUNT-ED2 (1-888-486-8332).
Meet Suffern School Board Member Angus Mackenzie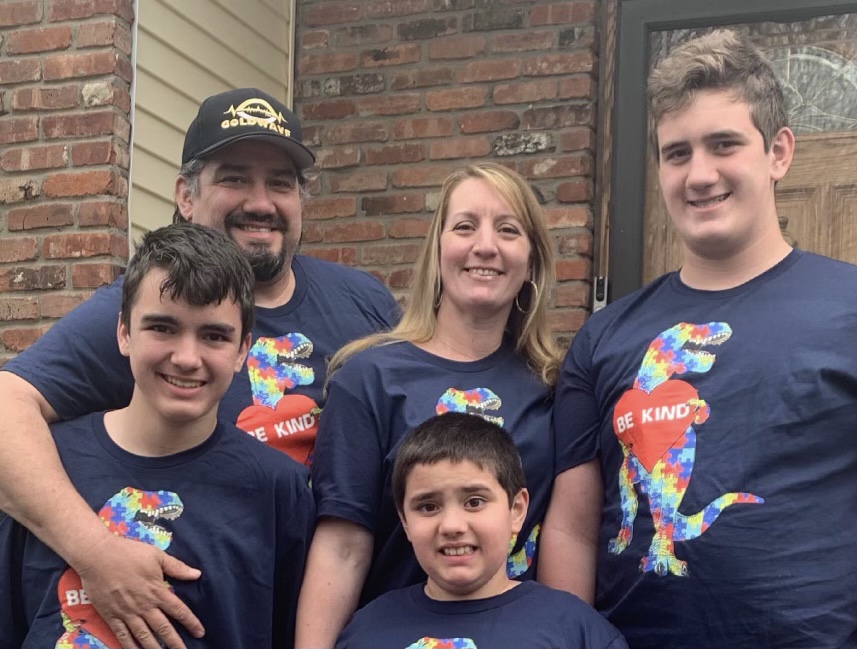 Meet Suffern School Board Member Angus Mackenzie, who just announced he will be running for re-election. "It has been my pleasure to serve on the board the last three years and I hope to serve our community! Thank you for that privilege!" said Mackenzie during his re-election announcement.
EDUCATIONAL BACKGROUND: Graduated from Suffern High School and received a bachelor's degree in Criminal Justice & Law Enforcement Administration from St. John's University. Went on to earn a master's degree in Public Administration from John Jay College of Criminal Justice and an advanced certificate in police leadership from John Jay College of Criminal Justice.
PROFESSION: Retired. Previous positions include Narcotics Detective with the New York City Police Department, and Deputy Sheriff with the Rockland County Sheriff's Department.
RESIDENT: Born and raised in Suffern
FAMILY: Married to Amy (also a Suffern High School graduate), with three sons, Angus, grade 9, James, grade 7, and Rory, grade 3, all in the Suffern Central Schools
COMMUNITY ACTIVITIES: Has served as a volunteer football coach for Suffern Midget Mounties, Ramapo PAL Flag Football and Suffern Middle School Football. Has served as Treasurer of the Cherry Lane PTA. Current President-Elect of the Suffern Rotary Club
ELECTED POSITIONS HELD: Union Delegate, New York City Police Department Detectives Endowment Association , Vice-President Board of Education
WHY ARE YOU RUNNING? My wife and I are products of the Suffern Central Schools, as were our fathers. There is nothing like the education and experience of attending the schools in Suffern Central. I want to ensure that the experience that my family has enjoyed will be enhanced for future generations. I would like to continue to work collaboratively with fellow board members to expand and improve special education services for our students, maintain the district's high level of education by increasing the use of new technologies in classrooms and to achieve optimal results for our students. In addition, I would like to see our programs for English Language Learners expand and culturally responsive teaching in the classroom. I hope to help create a Recovery School program to serve the students who are struggling and recovering from addiction.
ACCOMPLISHMENTS WHILE ON THE BOARD
Brought the Visions program that facilitated the internship of two visually impaired students at Cherry Lane Elementary School.
Former Vice-President of the Board of Education
Helped to develop the SCSD five year strategic plan
Helped to develop the SCSD safety plan
Organized school safety and active shooter training for all SCSD staff and faculty
Member of the Re-Opening Team
Chairperson, Advocacy Committee
Former Chairperson, Strategic Planning Committee
Board Representative Safety Committee
Board Representative of the Strategic Planning Steering Committee