In Memory of a Rockland County Hero – Pamela Orlando
NEW CITY, NY – We remember a Rockland County Hero – Pamela Orlando
ER Nurse Pamela Orlando, 56 of New City, worked to treat coronavirus patients at Valley Hospital (Ridgewood, NJ) until she became one herself, and then documented her fight with the virus until she died on April 16, 24 days after she fell ill.
One of her sons, Reid, said he begged his mother not to go to work, but she continued to fight on the front lines. CBS News' David Begnaud profiled Orlando and shared her story.
Orlando, was described as a selfless hero, and the hardest-working person in the hospital. The single mom worked 60 hours a week as an ER nurse at Valley Hospital to support her two boys: Reid and Ryan.
Pamela Ann Orlando of New City, NY passed away on Thursday, April 16, 2020 at the Valley Hospital in Ridgewood, NJ. She was 56. Pam was born on November 16, 1963 in Suffern, NY.
We will never forget your sacrifice, and our deepest condolences and prayers are with the Orlando family.
VIDEO: Tree Down & Blocking Lanes on Palisades Interstate Parkway (Tappan) – Tropical Storm Isaias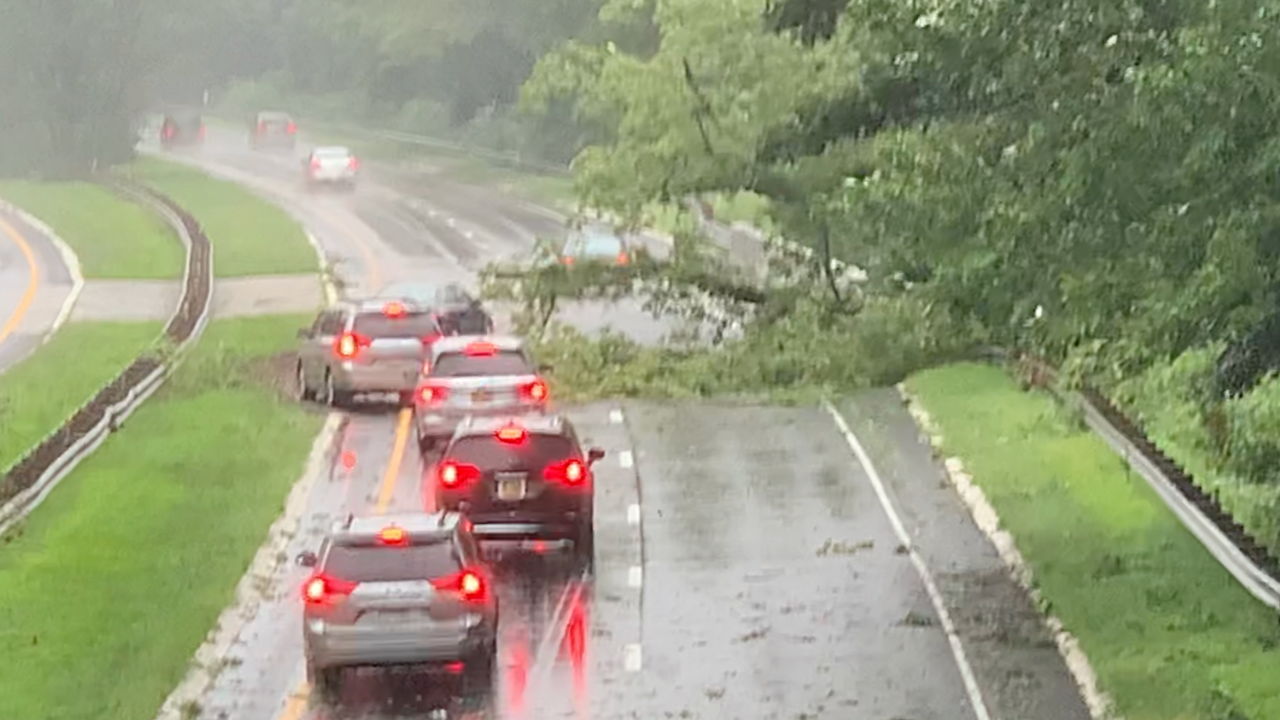 TAPPAN, NY – A large tree fell and was blocking both lanes on the Palisades Interstate Parkway in the vicinity of Tappan, New York as Tropical Storm Isaias came through Rockland County.
Motorist were able to use the grass to navigate around the tree. Live updates on #TropicalStormIsaias on rocklandreport.com
LIVE: Tropical Storm Isaias Watch – Rockland County
ROCKLAND COUNTY, NY – As Tropical Storm Isaias approaches Rockland County, we will be monitoring various social media accounts, news organizations, responding to any breaking news events in the county and giving live updates on the storm.
Resources
Orange and Rockland Outage Map
LIVE: Rockland County Fire Dispatch (Scanner)
LIVE: 44 – Control (Rockland Co. Fire Calls)
**This article will be updated regularly with information.**
Rockland Report (1:30 Tuesday, Aug. 4): Giant tree blocking both lanes on the Palisades Interstate Parkway in the vicinity of Tappan. Motorist were able to use the grass to navigate around the tree.
Clarkstown Supervisor George Hoehmann (Noon Tuesday, Aug. 4): Tropical Storm Isaias has shifted and we are now receiving heavy rain and winds. I will be posting regular updates.  We expect wind gusts up to 60 mph and between 2 – 4 inches by the end of the day.

Don't approach down wires and assume they are all live. Please stay off the roads if possible. Photo below is by Prospect and North Lexow in Nanuet.
Hudson Valley Weather (10:30 am Tuesday, Aug. 4) :10:30am Radar Discussion
A quick look at Tropical Storm Isaias, and you can see on the 2 hour radar loop that this system is moving FAST. Tropical Storm Isaias has winds of 70mph (as of the 8am update), but continues to weaken. It's center is currently located over the Chesapeake Bay, as it races NNE at 33mph. It's speedy movement will mean it arrives (and departs) a bit faster than earlier projected.
We're able to get pretty detailed at this point, so lets look at the timeline
Timeline:
– Now thru 12pm –
Scattered showers and downpours, relatively calm winds, gusting 10 to 20mph. A severe thunderstorm with strong wind gusts and possibly a tornado can't be ruled out (less than 2% chance)
– 12pm to 2pm –
Increasing wind gusts and heavy downpours. Areas from I-84 on south especially will see moderate to heavy rainfall closer to 2pm. The SE wind gusts with the onset of heavy rain will be 30mph to 60mph, with strongest winds in higher elevations. This will be the front edge of the tropical storm, so banding rainfall and bursts of wind will be expected.
– 2pm to 4pm –
Height of the storm! Center of Isaias expected to move right over the Hudson Valley. Ahead of the center, is where the worst weather will be. Strong SE wind gusts between 30mph and 60mph are possible, along with wind driven rainfall. Flash flooding is possible in areas where heaviest bands persist… but the area of heaviest rainfall with Isaias will likely be in eastern PA up toward Binghamton. For that reason, wind gusts in our area will be a considerable concern… and scattered power outages are possible due to down trees and power lines. 1 to 3 inches of rain are possible for the eastern half of the Hudson Valley, with 2 to 5 inches possible in the western HV and Catskills.
– 4pm to 6pm –
Heaviest rain shifts north of I-84… as heavy rain begins to taper off in the lower Hudson Valley toward 6pm. Winds will diminish for a time, as the front edge of Isaias pushes north of our region. Winds will intensify again as the wind wraps around the back side of the storm, so expect strong wind gusts out of the NW between 20mph and 50mph, even after the rainfall stops.
– 6pm to 8pm –
Rain tapers off from south to north as Isaias exits. Winds will be quite strong and gusty out of the NW… gusting between 20mph and 50mph at times.
We'll try to have more updates as the front edge rain shields arrive in the Hudson Valley between 12pm and 1pm. Once again…
WORST OF THE STORM:
1pm to 4pm from I-84 on south
2pm to 5pm from I-84 on north
Rockland Fires (9:20 am Tuesday, Aug. 4): A Tornado Watch has been issued for Rockland County through this afternoon as Tropical Storm Isaias approaches our area. We have also been upgraded to an Enhanced Risk for severe weather which includes a 10% Tornado Risk which is pretty rare for this area. Wind gust this afternoon could reach 60-75 MPH. If you do not have to be out, stay home!
Clarkstown Supervisor George Hoehmann (8 am Tuesday, Aug. 4): A lot goes into making sure the Town is ready for Tropical Storm Isaias. Over the past several days the Highway department under the direction of Bob Milone for Town of Clarkstown Superintendent of Highways worked to clear blockages in steams and checked storm drains. Our town DEFM has pumped down Lake Lodico in West Nyack to help with potential flood control and also cleared storm drains and streams.
The Clarkstown Police Department has prepared over a two dozen portable generators to use at traffic lights in the event of power outages and has barriers ready to close roads in the event of downed trees and power lines. We have staff on alert and will open the emergency operation center as needed. Orange and Rockland Utilities, Inc. has extra crews on and we are ready for whatever may come. The updated forecast calls for several inches of rain and wind gusts upwards of 50 MPH which likely means potential power outages, downed trees and localized flooding in areas that typically are prone to flooding.
Everyone be safe the town is prepared to meet the challenge. Stay home and away from any downed lines that may result from storm activity
Hudson Valley Weather (11 pm Monday, Aug. 3): Fireside Chat – Hurricane Isaias Update
Rockland County Fire and Emergency Services (7:00 pm Monday, Aug. 3): Confidence is increasing on the track, timing and intensity of Isaias, as well as the potential hazards and impacts.
Our area is forecast to receive 2-4 inches of rain with locally higher amounts in the 4-6 inch range. The majority of the rain is expected to fall between Noon Tuesday and 10 pm.
In addition we can expect to see 35-45 MPH winds with gusts approaching 60 MPH. This can cause downed trees and power lines.
Tropical Storm Warnings, Coastal Flood Warnings, Flash Flood Watch are in Effect for the area
Piermont Fire Department (Monday, Aug. 3):Our area has been placed on a severe tropical storm warning beginning tomorrow at 12 noon till Wednesday mid afternoon.
Sustained high winds around 60mph are expected with heavy rain fall in our area. Coastal flooding, mud slides and wide spread power outages are also expected as well with this storm front. We ask that all residents remain in doors during this storm.
Also below we have provided a small list of items that all residents should have during a severe storm: 
Flashlight
Battery's
Fully charged cell Phone
Candles/Lighter
Non-perishable foods
First aid kit
AM/FM Radio
Smoke/Co detectors
Drinking Water
If possible, please check on your elderly neighbors!
The Piermont Fire & Police Department will be open for any residents that need to evacuate to higher ground during the storm. Also please remember to wear a mask and practice proper hygiene procedures when at one of our two facilities.
News 12 Hudson Valley (7:15 pm Monday Aug. 3): Tracking Isaias
Rockland Fires (6:15 pm Monday Aug. 3): Stay informed and stay prepared. We will post important updates as we receive them. Please do not attempt to drive through flooded streets and stay away from downed trees and utility wires.
Keep your electronic devices charged and have flashlight/batteries handy in the event of power outages.
Piermont Waterfront Resiliency Commission (2:15 pm Monday Aug. 3):High tide Tuesday 8/4 @ 11:45 PM is forecast from 2.7 to 4.3 ft NAVD88 of elevation. Wind driven waves may add a foot or more of additional water elevation in areas with E exposure to the river. A tropical storm warning is in effect Tuesday afternoon until early Wednesday. An extended period of heavy rain up to 6 inches and wind with gusts to 60 MPH is predicted which may further impact low lying and hillside areas, taking down trees and power lines. Localized flooding expected 12:00 PM Tuesday- 2:00 AM Wednesday.
Over 4 feet of water commonly floods Lot D, the River lot, Ferry road, Paradise ave, Bridge street, the Patch, and riverfront properties along Piermont ave. Expect road closures and plan accordingly. Avoid driving on flooded roadways. Overnight parking restrictions have been modified Tuesday night, if you park in an impacted area, please park on high ground Tuesday night.
If you need to leave your home during the storm, please be aware that social distancing and quarantine guidelines must still be observed. If you need assistance, or are assisting others, please use a mask, and take all possible precautions to not become exposed or expose others unnecessarily. Our firehouse emergency shelter is being prepared for activation of a non-congregant evacuation plan in the event that it is needed.
Make preparations now for an extended period of high winds Tuesday by securing items that could become airborne projectiles or flooding debris. Make plans now for experiencing a loss of power. Weather conditions may prevent utilities from responding immediately. If you lose power, don't assume the utility is aware, notify them one of these 4 ways:
At www.oru.com/outage from any computer or web-based mobile device. O&R mobile app from your iPhone, iPad or Android device — download via Apple Store or Google Play. Text messaging by texting "OUT" to 69678 (myORU) or Call 1-877-434-4100.