Gale Pisha Named 2021 County Executive's Outstanding Environmental Volunteer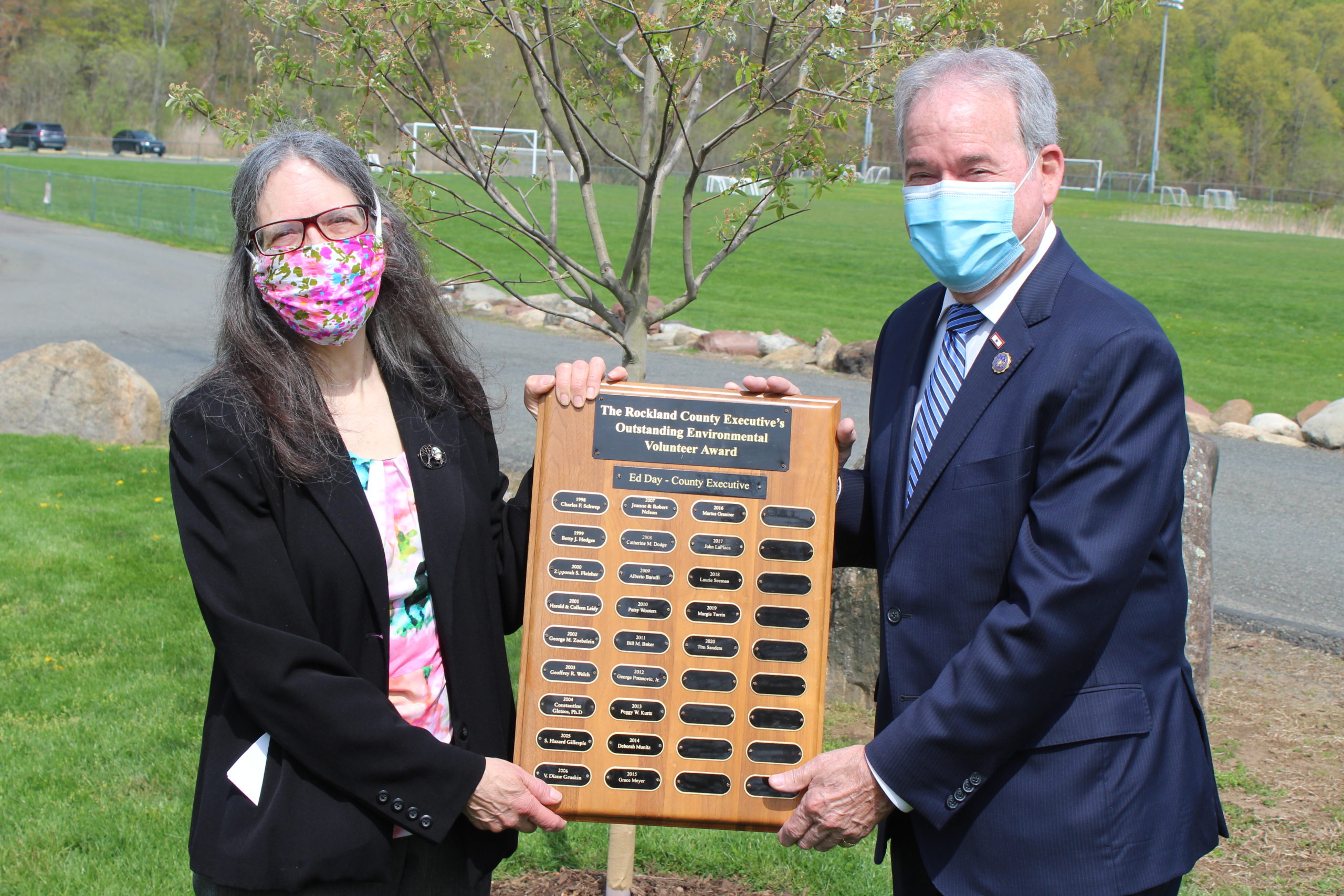 NEW CITY, NY – County Executive Ed Day and the Division of Environmental Resources presented the 24th County Executive's Outstanding Environmental Volunteer Award to Nanuet resident Gale Pisha during a ceremony at Kennedy Dells County Park in New City.
"While we have faced many challenges this year, one of the unexpected benefits of our situation is that many more residents are exploring our county parks and other natural environments that they may not have taken the time to visit in the past," said County Executive Ed Day. "This year's winner, Gale Pisha, has adapted to our challenges with 'virtual hikes' and 'campfires.'"
The virtual events developed by Gale events have seen dozens of participants join together online after a day of safe and socially distant hikes to share experiences, tips on places to explore and foster a deeper connection to each other and to nature.
"Gale's leadership was instrumental in defeating the proposed desalinization plant in Haverstraw that would have taken drinking water from the Hudson River. More recently she has served as Co-Chair of the Legislative Committee of the Sierra Club Atlantic Chapter where she focuses on reviewing new legislation and helps to set statewide priorities for the 54,000-member group," said County Executive Day. "And while Gale is deeply involved in statewide issues, she takes that experience and knowledge and applies it here at home."
A serviceberry tree was planted in her honor at Kennedy Dells County Park.
Outstanding Environmental Volunteer Award Winner Gale Pisha spoke to the connection between the environment and all major sectors of life urging that, "we as officials, activists, and citizens must keep in mind the environmental relationships to everything else both in our personal lives and societal decisions as we act each day."
Legislator Harriet Cornell, Chairwoman of the Environmental Committee of the Rockland County Legislature presented Gale with a Distinguished Service Award and said, "Gale epitomizes the best and most dedicated of community volunteers and has a wonderful sense of humor as well. She lives and breathes environmental stewardship, with never a thought of public recognition for herself. What an honor to know and applaud her!"
"Gale is known for her patience and willingness to listen to every viewpoint, even with the most complicated and murky situations. Rockland and all of New York State are extremely lucky to have a leader and advocate like Gale Pisha watching out for our natural environment. And so, on behalf of the people of Rockland, and the future generations of Rocklanders to come, I thank you for your dedication and hard work preserving and protecting this County," concluded County Executive Day.
Progressive Foot Care Holds 15th Annual Holiday Shoe Drive for the Homeless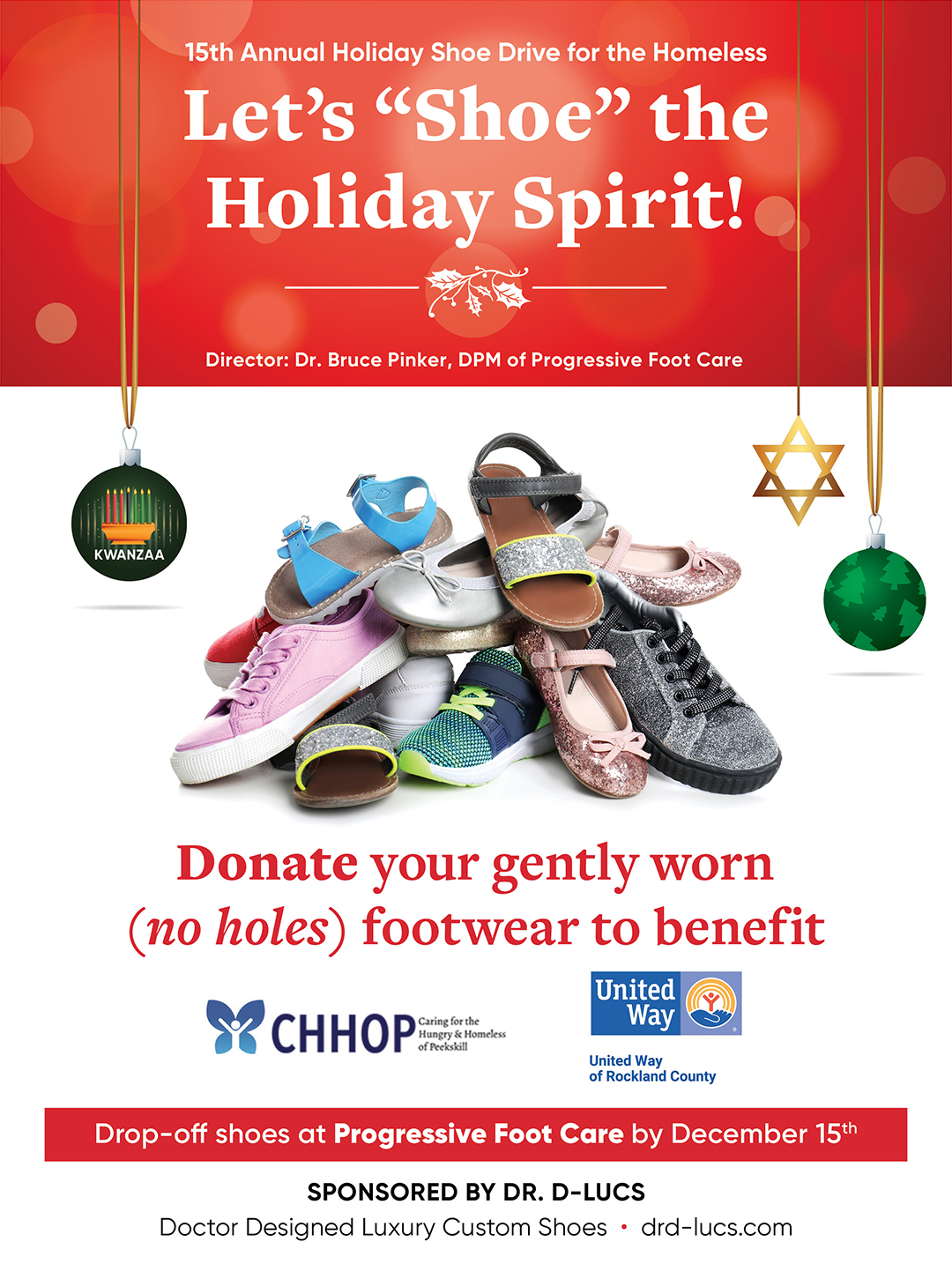 NANUET, NY – For the past 14 years, Progressive Foot Care have collected over 15,000 pairs of footwear to benefit the less fortunate. They are partnering with The United Way of Rockland (uwrc.org) and Catholic Charities of Rockland (ccsrockland.org), as well as Caring for the Hungry and Homeless of Peekskill (CHHOP chhop.org).
They will helping to support local businesses recovering from the pandemic. Several local businesses have donated gift certificates which will be drawn in a Facebook Live raffle in mid-December.
Everyone who donates footwear towards the shoe drive is eligible to receive a raffle ticket, available at the front desk at each of their offices (limit one per donor).
Office locations:
White Plains: 95 Church Street, Suite 210, White Plains, NY 10601.
Nanuet: 259 South Middletown Road, 2nd Floor, Nanuet, NY  10954
Footwear can be dropped off at our offices until December 15th.
Our local businesses generously donating raffle prizes are:
American Colosseum Pro Wrestling Santa Slam at the Haverstraw Center on December 3rd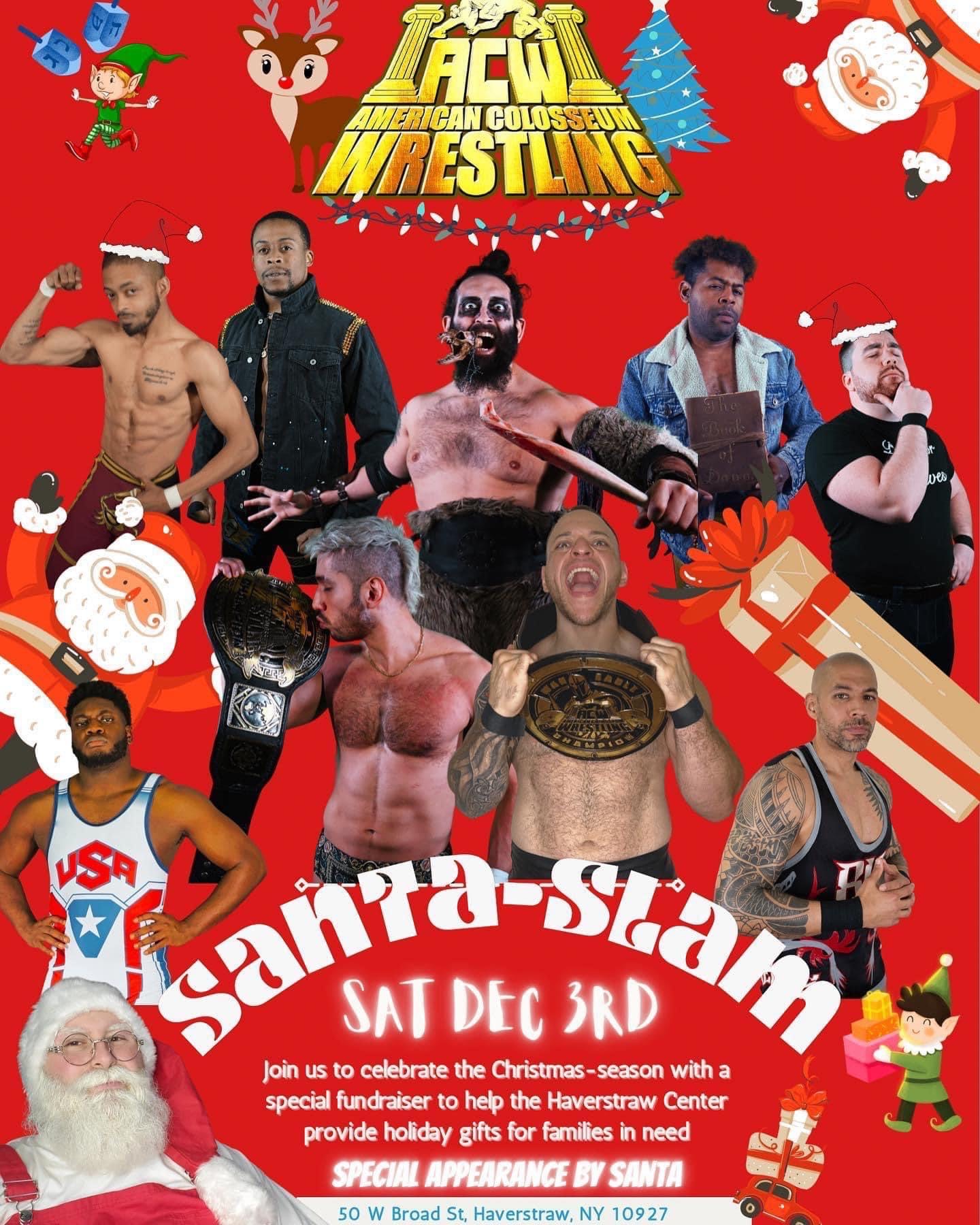 American Colosseum Pro Wrestling presents:SANTA SLAM!!!!
Saturday, December 3
7:05pm Bell Time
at The Haverstraw Center
50 West Broad Street (in Haverstraw)
Tickets: $15
Come support some very talented Rockland Pro Wrestlers at this benefit for The Haverstraw Center's Christmas Gift Program.  Bring the kids and get some candy…SANTA CLAUS will be there!
Haverstraw's own ANTHONY MARKOS won the ACW War Eagle Championship at the last Haverstraw Center show…but will he walk out of the Center with that belt on December 3rd??