HILLCREST, NY – Firefighters extracted a suspected drunk driver after rollover accident in Hillcrest on October 10, 2020 at approximately 11:40pm, Ramapo PD responded to Pennington Way in the Village of New Hempstead for a motor vehicle crash in which one of the vehicles was overturned and the driver was pinned inside.
A 2005 Mercedes Benz operated by a 44-year-old male was traveling southbound on Pennington Way when it crossed the lane of travel and struck a 1996 Toyota traveling northbound. The Mercedes then rolled over and came to rest on the driver's side of the vehicle.
Hillcrest FD quickly went to work to stabilize the vehicle before using the Rhyno Windshield Cutter to remove the windshield to free the driver. Once the driver was freed, the crews of 6-Squad and 6-Rescue had to use speedy-dry for the fluids that spilled onto the roadway as a result of the accident.
The Driver was treated by Spring Hill Ambulance and Rockland Paramedics for minor injuries and was transported to Nyack Hospital for evaluation.
He was arrested for Driving While Intoxicated by the Ramapo Police Department.
On Scene – Avrumy Biston
Former Sloatsburg EMS President Pleads Guilty to Multiple Charges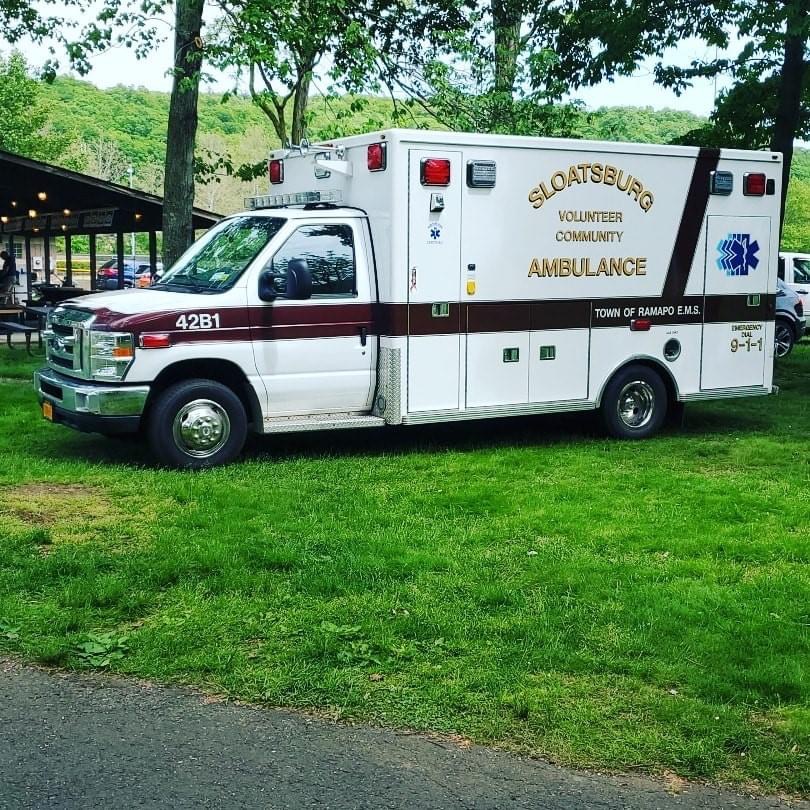 SLOASTBURG, NY – Rockland County District Attorney Tom Walsh announced the plea of guilty on a grand larceny charge of the former president of the Sloatsburg Volunteer Ambulance Corps. The plea brings to a close a months-long, multi- agency investigation into the stealing of funds from the ambulance corps.
Matthew Gannon, 54, of Sloatsburg, NY, appeared before Hon. Larry J Schwartz today, pleaded guilty to grand larceny 2nd (felony). In doing so, Gannon admitted to stealing in excess of $70,000 from the Sloatsburg Volunteer Ambulance Corps. during his tenure as President. Specifically, Gannon admitted to transferring moneys to two of his personal checking accounts in excess of $24,000, and admitted making payments directly from the Sloatsburg Volunteer Ambulance Corps. bank accounts for unauthorized personal expenditures to the following: All-State Insurance in excess of $18,000, Optimum in excess of $13,000, Salve Regina University / First Mark Loan in excess of $10,000, New York Jets in excess of $9,000, State Farm Insurance in excess of $5,000, Lucking Field Hockey in excess of $2,250, ACE Hardware in excess of $1,000, and the University of Albany in excess of $1,000. In exchange for Gannon's plea of guilty, Judge Schwartz promised to sentence Gannon based on one of the following three scenarios: (1) If Gannon fails to pay back restitution by his sentence date, he will be sentenced to 1-3 years in state prison, (2) if Gannon pays back at least half the restitution by his sentence date, he will be sentenced to one year intermittent in the Rockland County Jail, or (3) if Gannon pays back the entire restitution amount before his sentence date, he will be sentenced to a split sentence of six months intermittent in the Rockland County Jail and five-years probation which will include an undetermined amount of community service. The restitution amount may be up to $79,092.28, and will be paid back to the Town of Ramapo.
At Gannon's plea, the Rockland County District Attorney's Office recommended that Judge Schwartz sentence Gannon to an indeterminate term of two to six years in state prison with full restitution. The District Attorney's Office's position is based on defendant's prior conviction for falsifying business records for the Suffern school district, and the fact that the Sloatsburg Volunteer Ambulance Corps. has been shut down due to Gannon's theft. Judge Schwartz will sentence Gannon on 10/26/2021.
District Attorney Tom Walsh said, "Today's guilty plea is a direct result of a well-coordinated investigation, by a multitude of law enforcement agencies, from local, county and state levels. We cannot allow persons who oversee the funds of such a vital community program, such as a volunteer ambulance corps, to feel they can steal without consequence."
The investigation was conducted by Town of Ramapo Police Department, Rockland County District Attorney's Special Investigation Unit and the NYS attorney General's Office. The case was prosecuted by Executive Assistant District Attorney Michael Dugandzic and Assistant District Attorney Nicole Garcia
Driver Charged with DWI after Rollover Crash in Hillcrest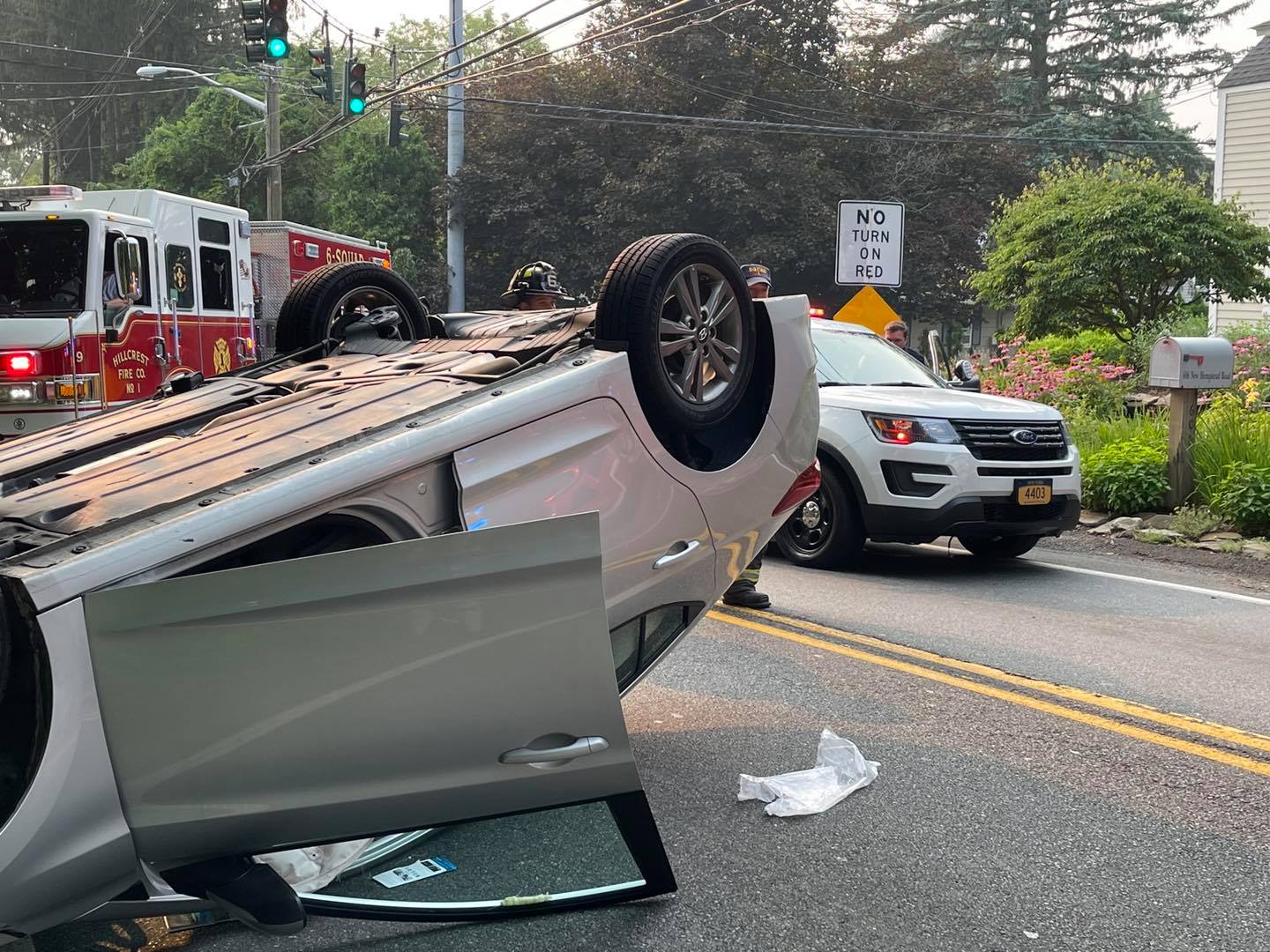 HILLCREST, NY – Ramapo Police announced that driver of the vehicle in a rollover accident on New Hempstead Road on Tuesday (July 22, 2021) has been charged with DWI.
Hillcrest FD, Spring Hill Community Ambulance Corps and Rockland Paramedic Services were on the scene.