Boulders Stadium Hosting Army vs. Navy Doubleheaders on May 8th and May 9th
POMONA, NY – The New York Boulders and the United States Military Academy announced that Palisades Credit Union Park in Rockland County will host Army and Navy baseball doubleheaders on May 8th and May 9th.
Game time for the first game on May 8 is set for 1 p.m., while May 9's first pitch is scheduled for 2:30 p.m.
Tickets for the single-admission doubleheaders are $10 for one day, while admission for both days will cost $15 when purchased in advance. Tickets go on sale Wednesday, April 28 at www.nyboulders.com and at the Palisades Credit Union Park box office.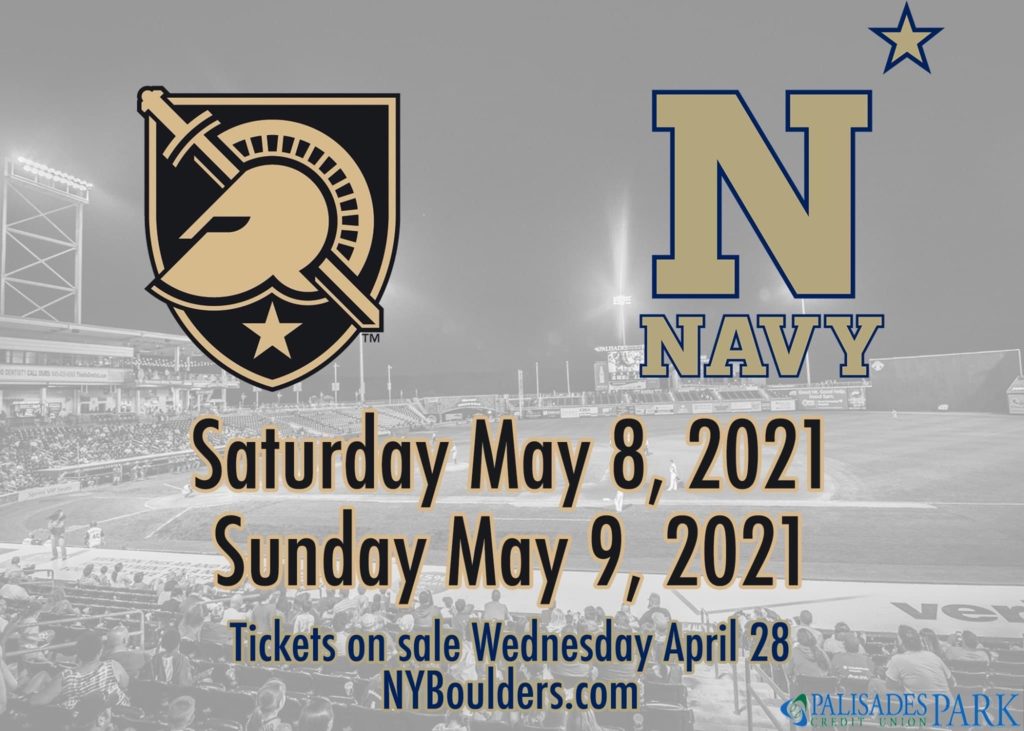 Members of the military attending in uniform will receive free admission to that day's games.
"We are honored to host the Army/Navy baseball games this year," Boulders' Team President Shawn Reilly said. "We welcome the families and classmates of the Cadets along with fans from throughout the New York area to come to our beautiful ballpark in Rockland County to cheer on our nation's best!"
Reilly added, "I think I share the sentiment of many when I say I can't wait to sit outside and watch baseball again."
Army and Navy both play in the Patriot League. This season, with the Patriot League divided into two divisions, Army sits atop the North, while Navy is second in the South. Barring a post-season meeting, these four games will be the only time the two service academy rivals will face each other on the diamond this year.
The Army-Navy baseball series began in 1901. Since then, Navy holds a 126-118 advantage over the Cadets. The games at PCU Park will be the first between the two teams since the 2019 season. That year, Army took three of four regular season Patriot League contests from the Midshipmen – splitting two games at West Point and sweeping a two-game set at Annapolis.
In May of 2019, the two teams squared off in the Patriot League championship with Army winning the best-of-three series, two games to one.
The two were scheduled to play in Philadelphia's Citizens Bank Park in 2019 but did not play due to COVID. They played in Fenway Park in Boston in 2018 and Baltimore's Camden Yards in 2006.
CBS Sports Network is set to televise the 2:30 p.m. game on Sunday, May 9, while the remaining three games will be available on the ESPN3 network.
After an exhibition game on May 22 against the NYPD – game time is set for 6:30 p.m., the New York Boulders' much anticipated Frontier League debut will arrive on May 27 when they host the New Jersey Jackals at Palisades Credit Union Park in Pomona.
Game time for Opening Day is 7 p.m.
Clev Lubin of Suffern HS Named New York Gatorade Football Player of the Year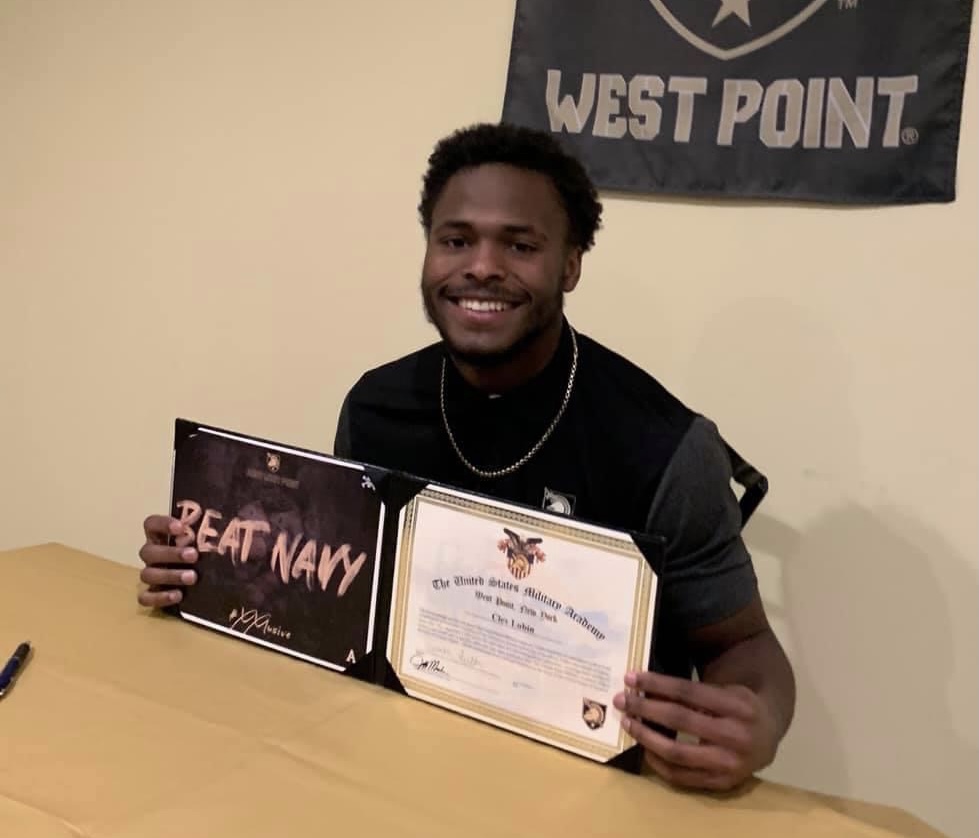 SUFFERN, NY – Clev Lubin, a senior at Suffern High School and An Army-West Point prospect, has been named the New York Gatorade Football Player of the Year.  Lubin broke the 1,000-yard mark in just six games this spring, leading the program to a 5-1 record. He scored 16 touchdowns on 110 carries and had 22 tackles on defense. Clev is also a star on the basketball court. Lubin is the first Gatorade New York Football Player of the Year to be chosen from Suffern High School.
The award, which recognizes not only outstanding athletic excellence, but also high standards of academic achievement and exemplary character demonstrated on and off the field, distinguishes Lubin as New York's best high school football player. Now a finalist for the prestigious Gatorade National Football Player of the Year award to be announced in May, Lubin joins an elite group of past state football award-winners, including Emmitt Smith (1986-87, Escambia High School, Fla.), Matthew Stafford (2005-06, Highland Park High School, Texas) and Christian McCaffrey (2012-13 & 2013-14, Valor Christian High School, Colo.).
The Section 1 Offensive Player of the Year, Clev had a season-best 303 yards and five touchdowns rushing on 31 carries in a victory over defending Class AA state champion New Rochelle. Lubin was an All-State selection as a junior.
Lubin has volunteered locally on behalf of a youth mentoring program. "Clevmer Lubin is one of the best running backs that we've ever played against," said Ray Rhett, head coach at New Rochelle High. "His size, speed and patience are rarely seen."
Lubin has maintained a 3.23 GPA in the classroom. He has signed a National Letter of Intent to play football at the U.S.
Military Academy this fall.
Rockland Officials Stress Safety for National Bike Month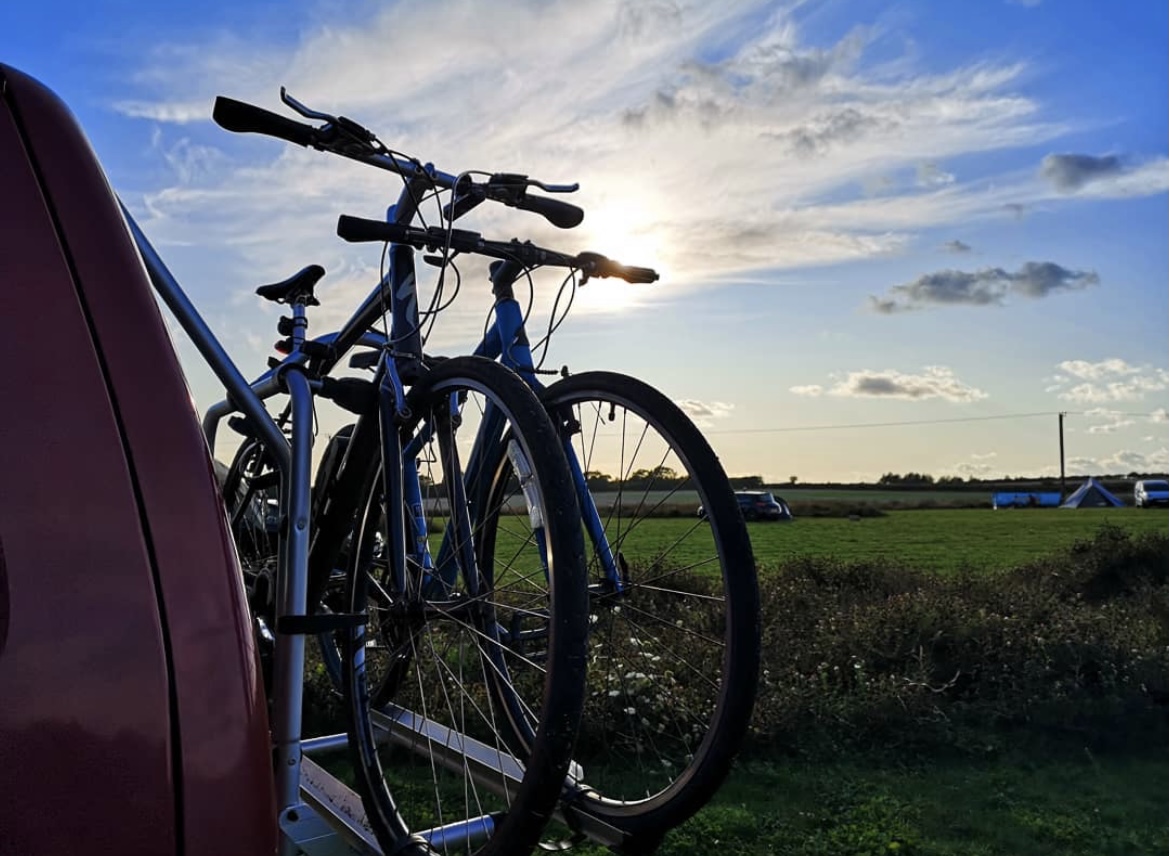 NEW CITY, NY – Rockland County Executive Ed Day and County Health Commissioner Dr. Patricia Schnabel Ruppert remind residents to follow safety guidelines when out bike riding.
One of the most important things you can do to stay safe when riding your bicycle is to wear a helmet that fits right every time you ride. This is the single most effective way to prevent head injury resulting from a bicycle crash. In Rockland County, all cyclists, no matter what their age, must wear a bike helmet.
"There are many great reasons to ride your bike: It offers fun, freedom, and exercise, and it's good for the environment. By law, bicycles on the roadway are vehicles with the same rights and responsibilities as motorized vehicles. To avoid crashes, be focused and alert to the road and all traffic around you; anticipate what others may do before they do it," said Dr. Ruppert.
Bike riders must follow the same rules of the road as motorists. Here are some additional safety basics that you should know when you are out bike riding:
Ride single file in the direction of traffic.
Use hand signals when turning and use extra care at intersections.
Before entering traffic, stop and look left, right, left again, and over your shoulder.
Wear bright clothing and ride during the day.
If night riding can't be avoided, wear reflective clothing.
Make sure your bike has reflectors on the bike frame in the front and back, pedals, and spokes, as well as a horn or bell. A rear-view mirror and a bright headlight are also recommended.
Do not wear earbuds when cycling. If you must stay connected, wear only one in your right ear.
No child under age one is permitted as a passenger on a bicycle.
If you haven't taken your bike out in a while, chances are it will need a slight tune-up. Here are some areas that should be checked before you get back on your bike:
Check your tires to see if they need air.
Spin the wheels to make sure the tires are not worn.
Check your brakes. Test them to make sure they can stop on dry pavement.
Make sure your bike frame is secure, and chains should not be rusted or black with grime.
Make sure your seat is secure.
Take your bike for a short trial ride in a parking lot or safe area to be sure the bike is in working order.
"We all must understand that the roads are shared by bicyclists, pedestrians and vehicles, and a failure to achieve peaceful coexistence can result in tragedy. It is everyone's responsibility to be smart and respectful on the roads to keep yourself and your family safe," said County Executive Day.