Boulders Stadium Hosting Army vs. Navy Doubleheaders on May 8th and May 9th
POMONA, NY – The New York Boulders and the United States Military Academy announced that Palisades Credit Union Park in Rockland County will host Army and Navy baseball doubleheaders on May 8th and May 9th.
Game time for the first game on May 8 is set for 1 p.m., while May 9's first pitch is scheduled for 2:30 p.m.
Tickets for the single-admission doubleheaders are $10 for one day, while admission for both days will cost $15 when purchased in advance. Tickets go on sale Wednesday, April 28 at www.nyboulders.com and at the Palisades Credit Union Park box office.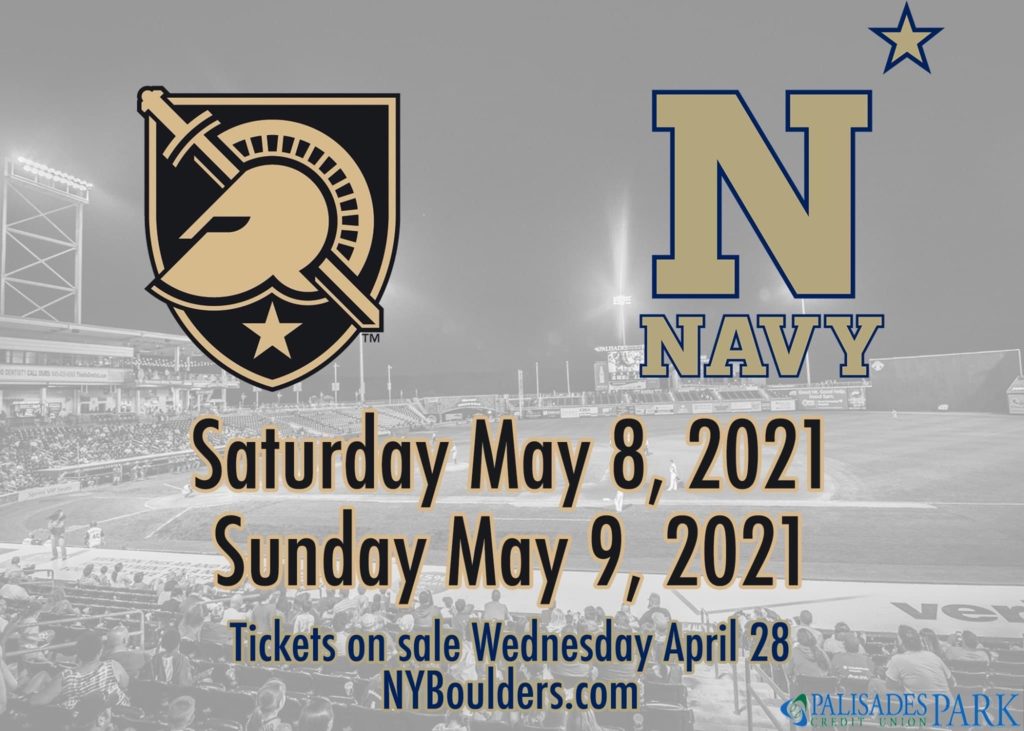 Members of the military attending in uniform will receive free admission to that day's games.
"We are honored to host the Army/Navy baseball games this year," Boulders' Team President Shawn Reilly said. "We welcome the families and classmates of the Cadets along with fans from throughout the New York area to come to our beautiful ballpark in Rockland County to cheer on our nation's best!"
Reilly added, "I think I share the sentiment of many when I say I can't wait to sit outside and watch baseball again."
Army and Navy both play in the Patriot League. This season, with the Patriot League divided into two divisions, Army sits atop the North, while Navy is second in the South. Barring a post-season meeting, these four games will be the only time the two service academy rivals will face each other on the diamond this year.
The Army-Navy baseball series began in 1901. Since then, Navy holds a 126-118 advantage over the Cadets. The games at PCU Park will be the first between the two teams since the 2019 season. That year, Army took three of four regular season Patriot League contests from the Midshipmen – splitting two games at West Point and sweeping a two-game set at Annapolis.
In May of 2019, the two teams squared off in the Patriot League championship with Army winning the best-of-three series, two games to one.
The two were scheduled to play in Philadelphia's Citizens Bank Park in 2019 but did not play due to COVID. They played in Fenway Park in Boston in 2018 and Baltimore's Camden Yards in 2006.
CBS Sports Network is set to televise the 2:30 p.m. game on Sunday, May 9, while the remaining three games will be available on the ESPN3 network.
After an exhibition game on May 22 against the NYPD – game time is set for 6:30 p.m., the New York Boulders' much anticipated Frontier League debut will arrive on May 27 when they host the New Jersey Jackals at Palisades Credit Union Park in Pomona.
Game time for Opening Day is 7 p.m.
NY Boulders Sundberg Recipient of 2021 Johnny Thompson Unsung Hero Award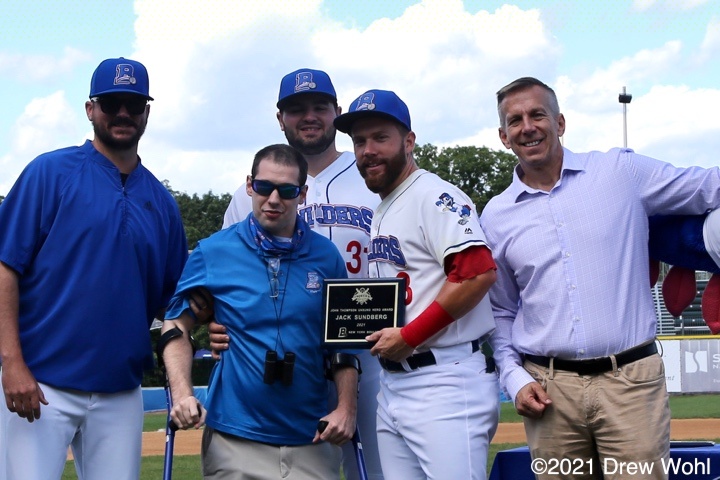 POMONA, NY – New York Boulders Baseball Outfielder Jack Sundberg named this year's recipient of the Johnny Thompson Unsung Hero Award.
John Thompson, who has Cerebal Palsy, is a resident of Nanuet and a true inspiration. He embodies the never quit attitude. He is the Disabilities Liaison Officer for the NY Boulders and the play-by-play announcer for the Rockland Community College Men's & Women's Basketball Team.
Thompson is a rising star in sports journalism, interviewing some of the biggest names in New York sports.
Sundberg has quietly put together an outstanding season on his way to the Thompson Award. He has given the Boulders' solid defensive play in left field, while, at bat, has maintained a batting average hovering around the .300 mark throughout the year and, through the Labor Day game versus Tri-City, is tied for the Boulders' single season stolen base mark of 47 set by Junior Arrojo in 2016.
Patriot Parachute Team – FDNY vs. NYPD Baseball Game at Boulders Stadium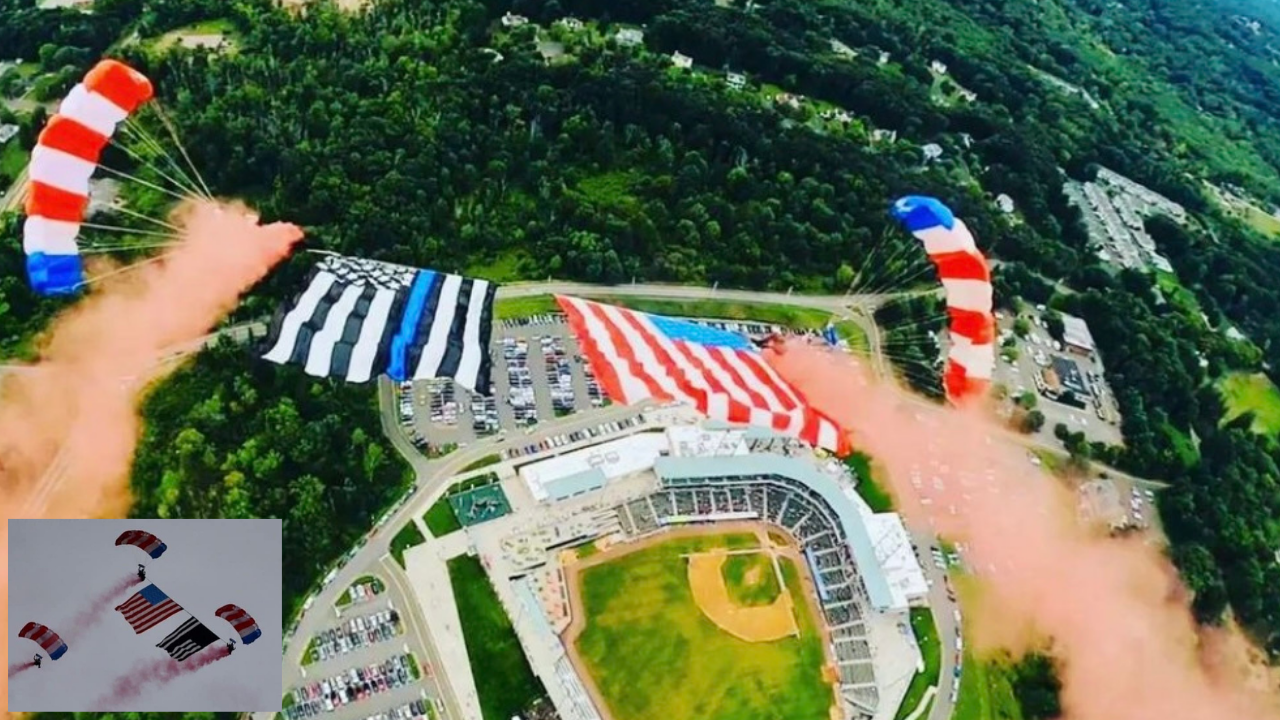 Patriot Parachute Team, who are all veterans, jumped into Boulders stadium during the national anthem of the FDNY vs. NYPD baseball game.
The New York City Fire Department (FDNY) would win the game 16 – 5.
Video credit Mike Joyce.