Assemblyman Zebrowski & West Haverstraw Mayor D'Amelio Unveil New Roller Hockey Rink at Peck's Pond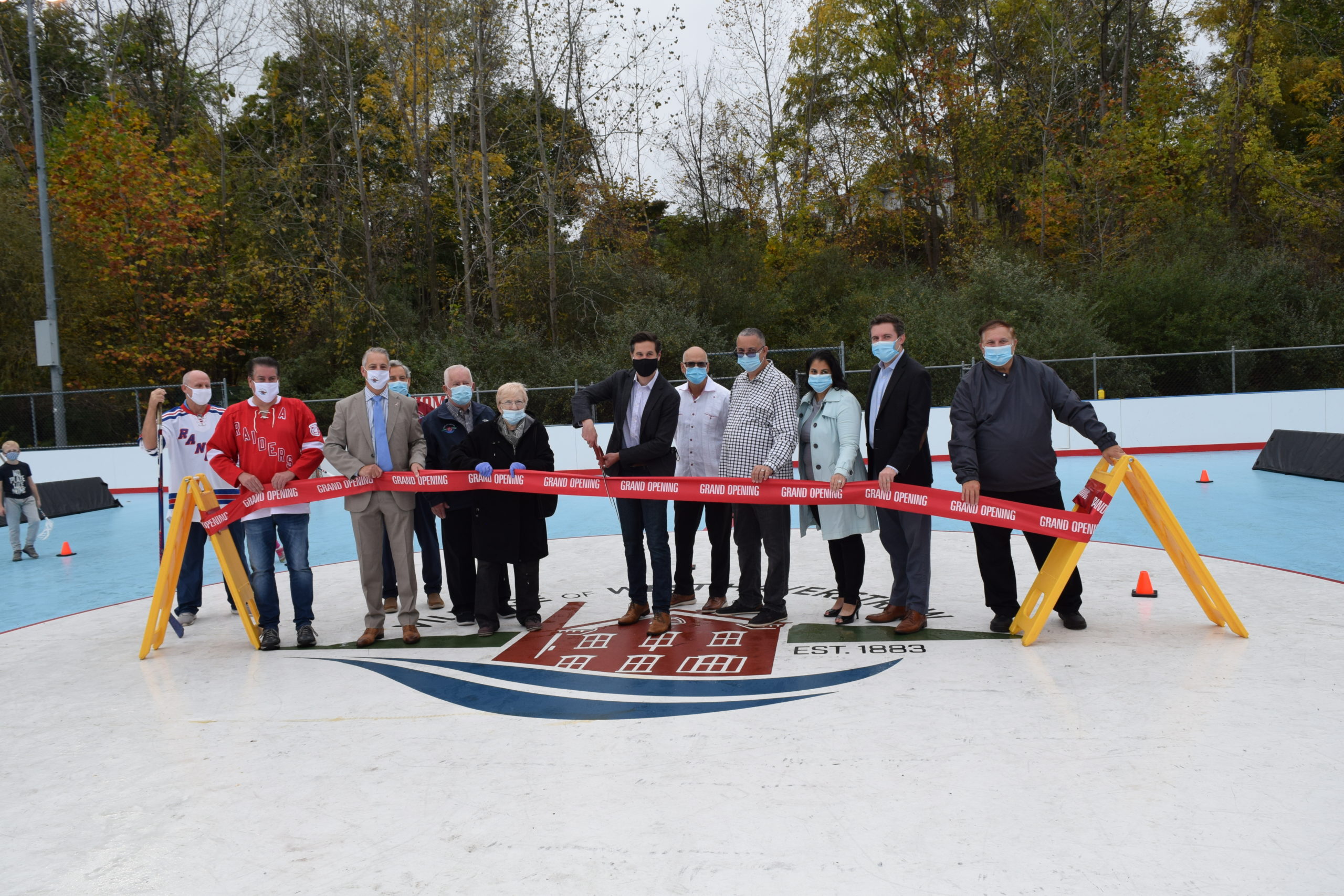 WEST HAVERSTRAW, NY – This past Saturday, Assemblyman Ken Zebrowski joined with the Village of West Haverstraw Mayor Robert D'Amelio and Village Officials for the ribbon cutting of a new roller hockey rink at the Peck's Pond Recreation Facility.
Zebrowski was able to secure $125,000 in state funding for the revitalization project including critical resurfacing and new boards for safety and insulation of the rink during the colder months. The Pecks Pond Rink had been in a state of deterioration and needed these infrastructure upgrades to be operational.
The ribbon cutting of the rink coincided with the New York Rangers "Breaking the Ice" event that promotes youth sports by introducing kids to hockey. The Village of West Haverstraw partnered with the Rangers to provide a free one hour program including instruction from NY Rangers alumni – and are planning more of these events in the future. With the Rangers collaboration, this rink could provide long lasting hockey opportunities for kids in the North Rockland community and beyond.
"Any way in which we can expand opportunities for our kids to get outside and play is a win for the entire community. I am so glad that I was able to secure this funding to revitalize the Peck's Pond Roller Hockey Rink. I'd also like to thank Mayor D'Amelio and the Village for investing in this project, recognizing the importance of recreation not only for kids, but adults too. I look forward to our continued work together on projects that enrich the Village," said Assemblyman Zebrowski.
"This grant allowed the Village to take on the re-surfacing and restoration project all at one time. The Village would not have been in a position to complete the project of this magnitude in one year and our youth and organizations would have suffered. We'd like to thank Assemblymember Zebrowski for his dedication to the youth and wellbeing of our community. The refurbishment couldn't have come at a better time as it has allowed us to partner with the New York Rangers to offer street hockey programs in the future," concluded Mayor D'Amelio.
Village of Suffern 2020 Winter / Holiday Coloring Contest Details Announced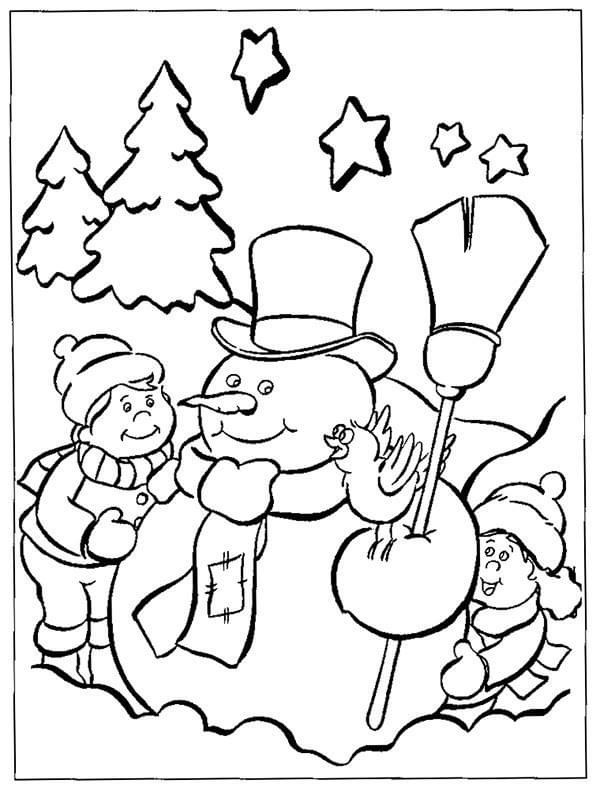 SUFFERN, NY – VILLAGE OF SUFFERN 2020 Winter / Holiday Coloring Contest
Open to Village of Suffern Students, pre-school thru grade 5.
Forms are available at: www.suffernny.gov or the R. P . Connor School electronic back pack.
Submit your entry by scanning and emailing to [email protected] or by mail to: Suffern Village Hall, 61 Washington Ave, Suffern, NY 10901
ATTENTION: RECREATION DEPARTMENT
NO DROPPING OFF (one entry per child please)
Be sure to provide: child's name, age, school, grade and phone number.
Prizes awarded per age group for:
"BEST COLORING" & "MOST CREATIVE".
Deadline Thursday, December 17, 2020. Have Fun!!!
Senator Skoufis Partners with United Way of Rockland for Winter Coat and Toy Drive

HAVERSTRAW, NY – Senator James Skoufis  announced that his office, in partnership with United Way of Rockland County, will be collecting donations at his North Rockland office for a winter coat and toy drive. Due to COVID-19, only new items can be accepted at this time; coats of all sizes, infant to adult, are needed; toys, games, and electronics are needed; and grocery store gift cards are welcome and appreciated.
Donations can be dropped off at Senator Skoufis' North Rockland office during business days, from 9 AM – 5 PM through December 14. Skoufis' office is located in the Garner Arts Center at 55 West Railroad Avenue, Building 24, right across the street from Zugibe's Hardware in Garnerville.
Last year, Senator Skoufis and United Way partnered on the same effort and were able to distribute coats and toys to over 300 children and adults in North Rockland. Senator Skoufis is hopeful that the community can build upon last year's success.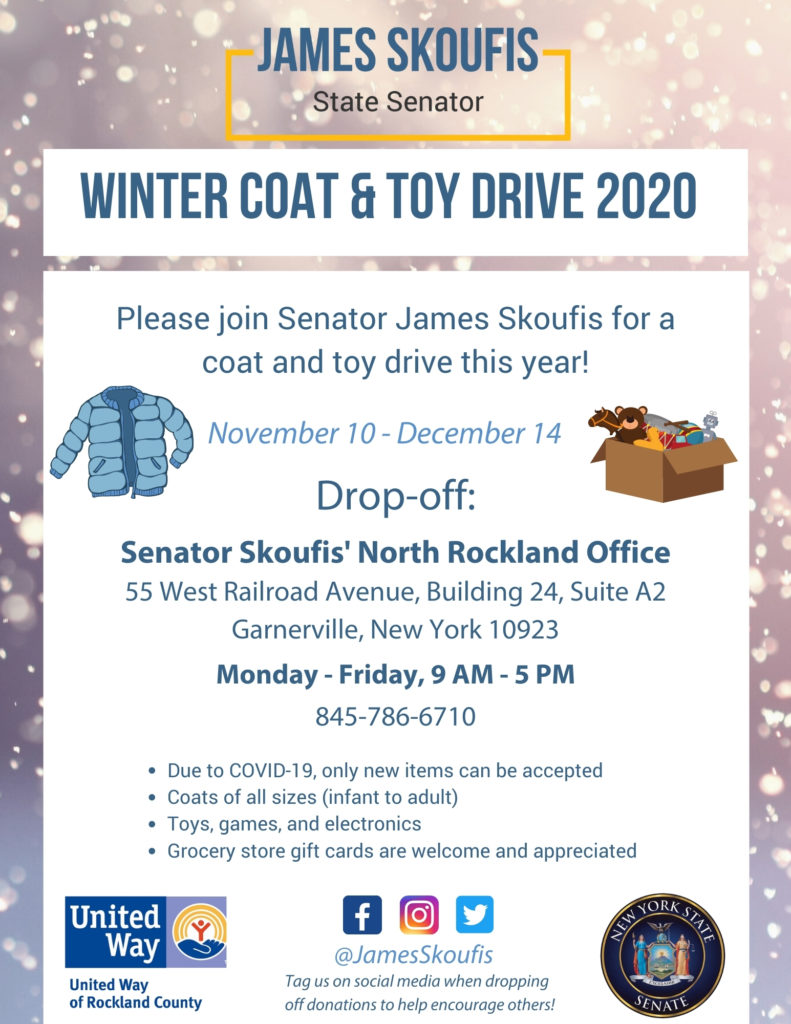 The Coat and Toy Drive is part of United Way's "2020 Hope for the Holidays" Program. According to a recent study, 41% of Rockland households are struggling on a daily basis to meet their basic needs of food, shelter, and clothing.
"We all know that this year has been especially challenging for families across our state. The ongoing public health and economic crises have left many in North Rockland in need of basic items during the holiday season," said Senator Skoufis. "Working with United Way of Rockland, I'm confident that our community, as we have always done, can come together to help bring warm coats for those in need and toys for children to brighten their holiday season."
"We are very grateful to all of the people and groups that joined with us last year in these efforts, and so generously donated new clothing, jackets, shoes/boots, household items, bedding items, electronics, games, and toys," said Dana Treacy, President & CEO of United Way of Rockland. "This is truly a statement of our community Living United and I thank Senator Skoufis for partnering with us again this year to help get residents what they need during this season."
Please see the attached flyer for more information and distribution.