Assemblyman Schmitt Sends Letter to Gov. Cuomo Regarding Restrictions on Gyms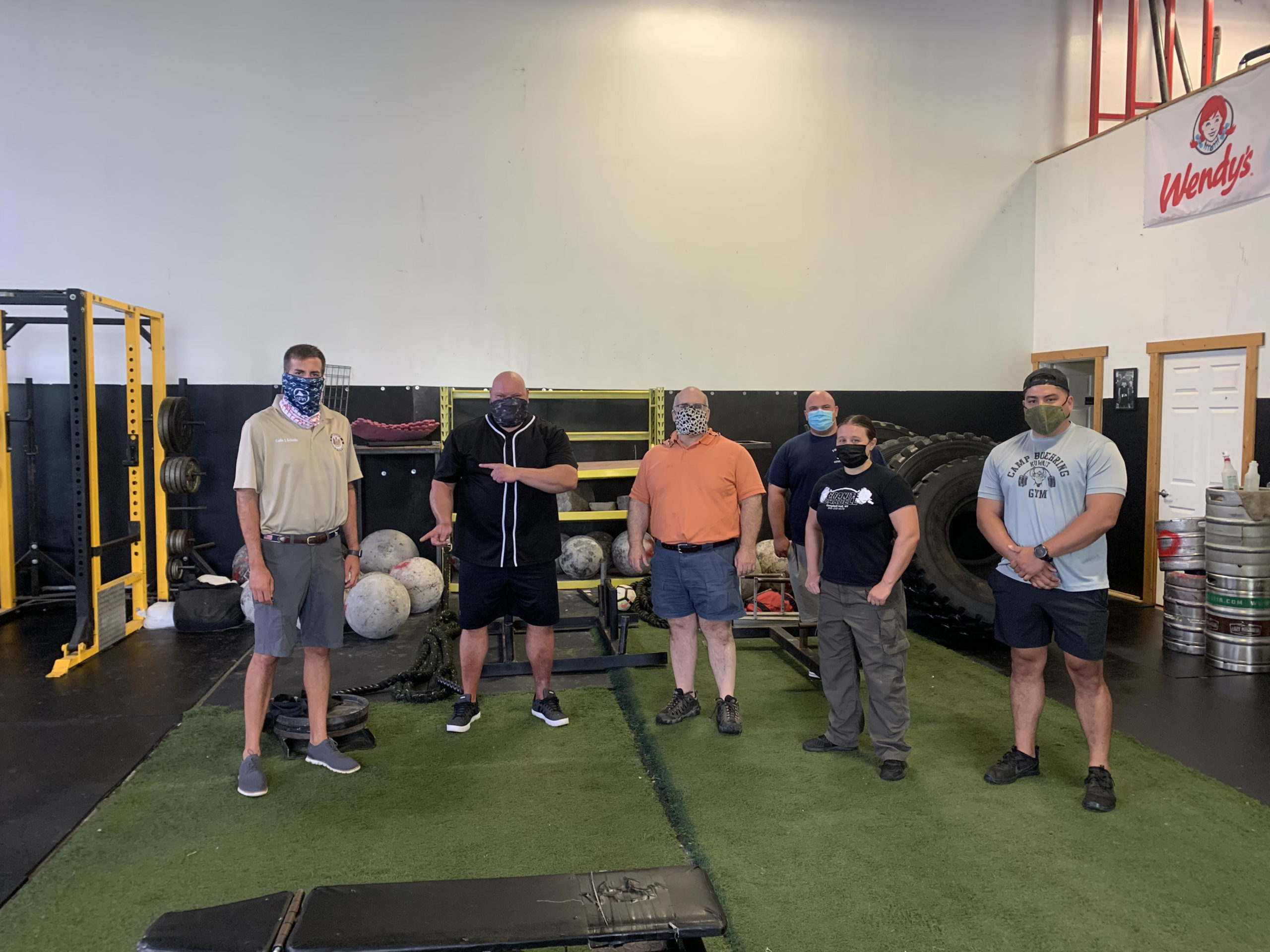 STONY POINT, NY – Assemblyman Colin J. Schmitt (Stony Point) sent a letter to Governor Cuomo regarding the ongoing restrictions on local New York gyms and fitness centers that have been closed due to the COVID-19 pandemic.
In recent weeks there has been a significant uptick in outreach from local gym and fitness center owners, employees and clients to Assemblyman Schmitt's office. They have reached out with grave concerns over the lack of clear guidance or even a potential runway to reopen.
The concerns they raise are not just for the economic viability of their businesses which are true homegrown gym and fitness venues, not big box chain gyms. The concerns are far deeper and speak to the very nature of health and wellbeing that we are all quite focused on right now.
Assemblyman Schmitt recently visited Granite Barbell Gym in Hamptonburgh to inspect the specialized cleaning and sterilization process that can be used by local gyms and fitness centers to reopen with COVID-19 modifications.
Assemblyman Colin J. Schmitt stated, "Our local gyms and fitness venues serve as a place for New Yorkers to focus on their physical, mental and emotional health needs. Many serve local residents who are on strict regiments to ensure physical health to prevent or relieve pain or tackle some other physical ailment.
Many of these venues serve as an outlet for mental health and emotional health stimulation. People who battle PTSD is one example that has raised with me in the last several days. Locally Granite Barbell Gym in Hamptonburgh highlighted to me how they can serve veteran members who follow specific workout regiments as a healthy outlet instead of the use of prescription drugs or other homebrew solutions.
"I believe the long term overall health value of authorizing the reopening of these local gym and fitness centers with some modified restrictions will go a long way in keeping New Yorkers healthy. I urge the Governor to take this into his utmost timely consideration." said Assemblyman Schmitt.
Brett Somerville, Co-Owner, Granite Barbell Gym stated, "I'd like to thank Assemblyman Schmitt for visiting my small gym in Hamptonburgh to see that we can open and operate successfully following safety protocols and social distancing. Gyms serve multiple purposes and are beneficial to not only an individuals physical health but their emotional and mental health as well. Here at Granite Barbell Gym – we are a family and we are there for each other. Not being able to see my clients for over 4 months has been tough for both me and them. We appreciate Assemblyman Schmitt's attention to this issue and we are hopeful that Governor Cuomo will lift some restrictions to allow us to operate safely and start helping people again!"
Assemblyman Schmitt's Letter to Governor Cuomo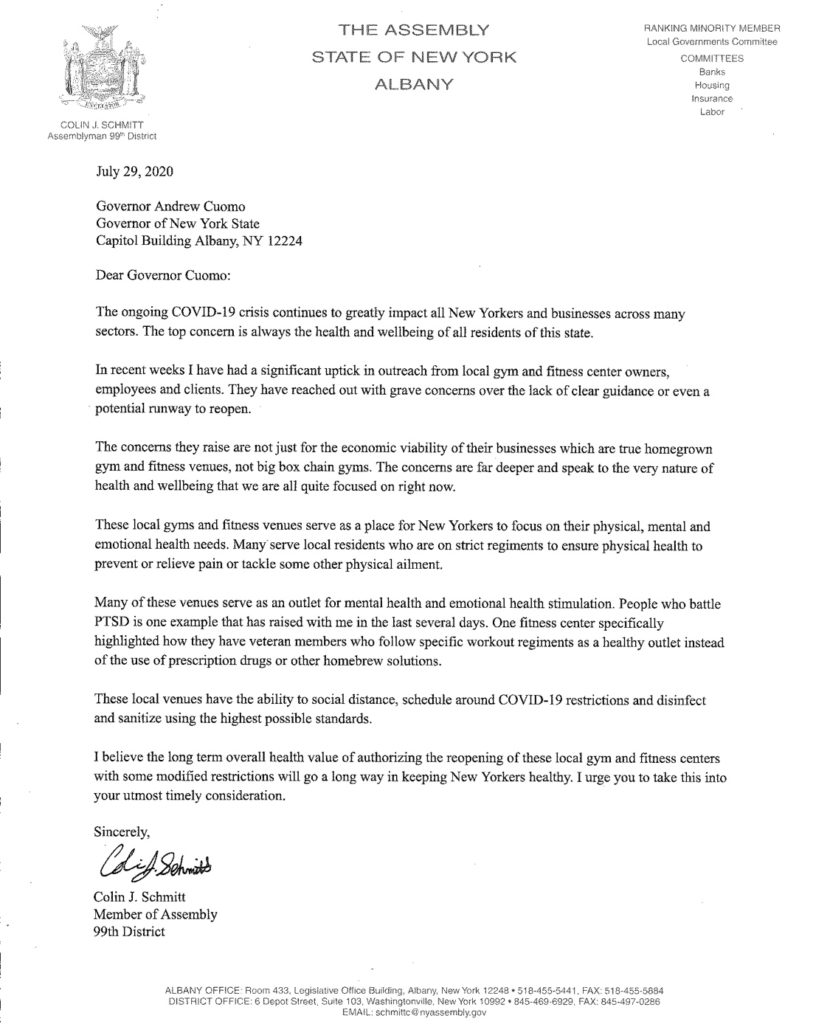 Anthony Esposito, Owner of Anthony Esposito Fitness stated, "Local fitness centers like mine have the ability to provide essential services to New Yorkers focused on their mental health and physical wellbeing during this ongoing crisis. I do appreciate the Assemblyman taking the time to safely visit gyms in his district to learn how we can adapt and operate in a safe environment for our clients and trainers alike. It is critically important to lift some restrictions on the smaller gyms and fitness studios that have the ability to socially distance and follow every standard safety protocol put forth, especially in a private 1 on 1 training situation. Thank you to the Assemblyman for continuing to champion this issue for all gym and studio owners and users at this time!"
"Restaurant Week" By Rockland County Executive Ed Day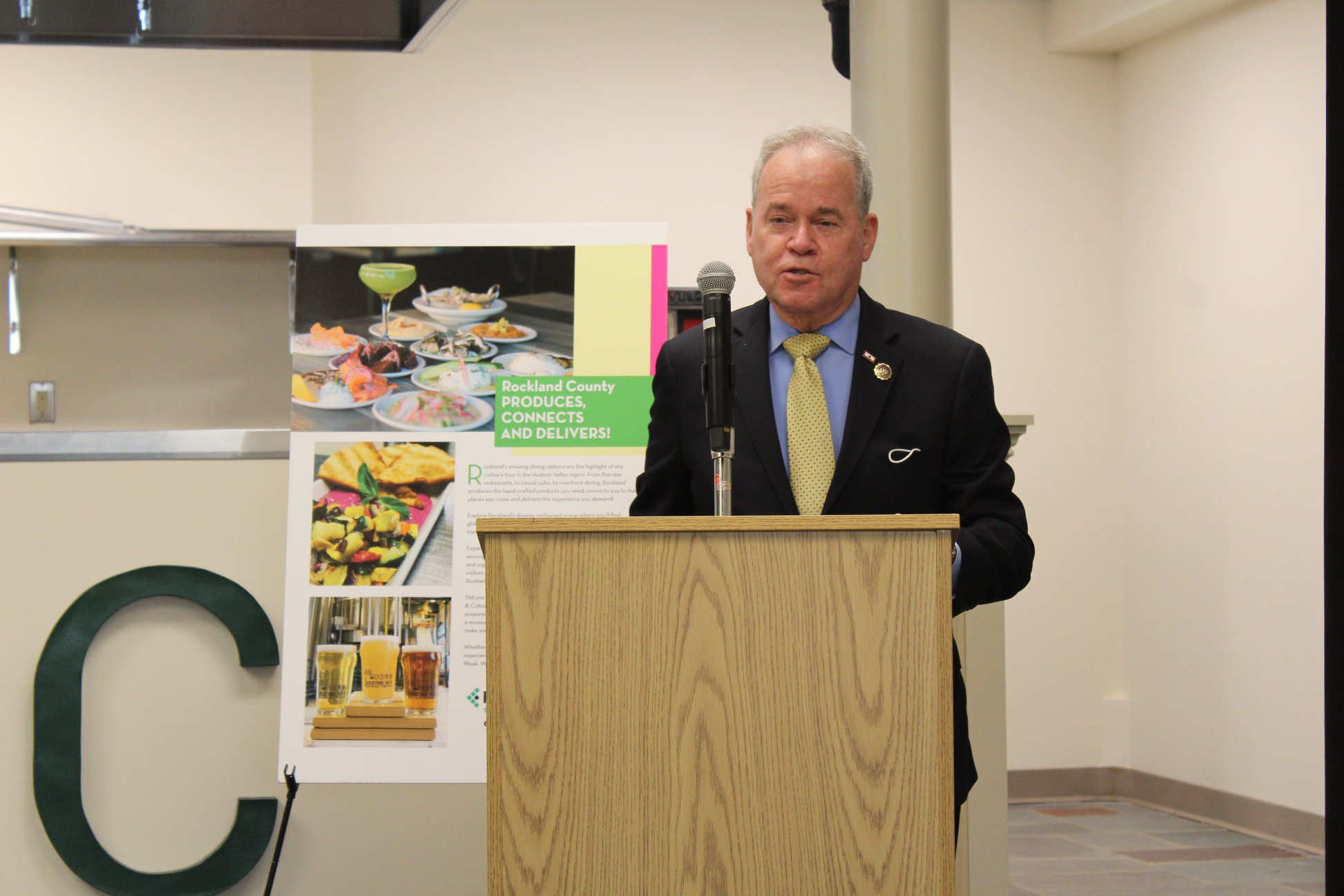 This week we welcome back "Restaurant Week" to Rockland County and the Hudson Valley. I am thrilled to see this event returning as we continue on the road to recovery as it spells very good things for our future.
Running until May 23rd it is a great opportunity to try the food at some of our great local restaurants at a price that won't break the bank. Participating restaurants are offering three-course dinner menus for $35.95 and lunches for $25.95.
And now that restaurants in New York are able to operate at 75% dining capacity and with all capacity restrictions being lifted on May 19th, we are making real progress at getting back to a new normal. I encourage residents to support our local businesses, especially our restaurants, who were all affected by the pandemic.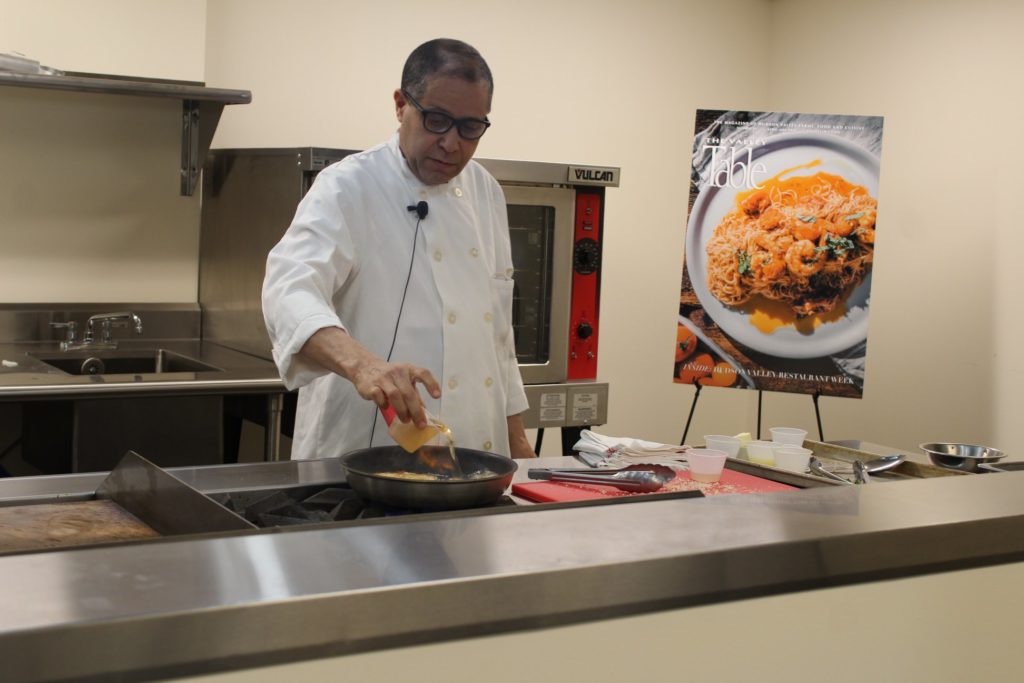 With people now feeling more comfortable getting out and about, Restaurant Week is the perfect time to show our support for the restaurants that have been there for us when we needed them. Dining out will also give our local economy an extra boost as we in government aim to get more folks back to work.
All this should lead to further improvements in the local unemployment rate which stood at 5.6% in March. Down from 6.4% in February and down from a high of 13.4% during the worst of the pandemic last April. Rockland is heading in the right direction and anything we can do to support restaurants will help.
Dining establishments are a key part of our local economy. 763 of these businesses employed more the 7,400 people prior to the pandemic. The number of employees dropped to just over 6,200 in the Fall of 2020, but the number of businesses remained relatively stable.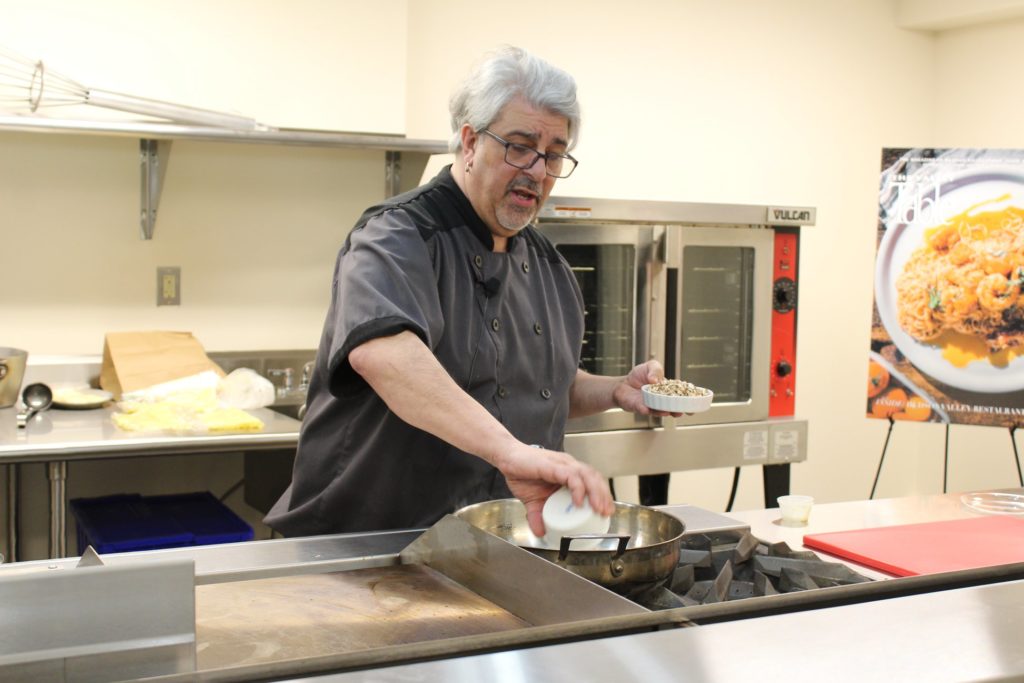 These numbers make it clear to me that this is an area that is primed for a full recovery and I look forward to doing my part to help it along by dining out and enjoying some great local food. And if you are not comfortable dining out just yet, that's okay too, this year many restaurants are also offering takeout options.
You can view participating Rockland restaurants and make your reservation here: https://bit.ly/3sB332Q
I hope to see you there!
*This is a weekly column by Rockland County Executive Ed Day.
Assemblyman Schmitt Presents State Assembly Proclamation to Heroic Stony Point Police Officers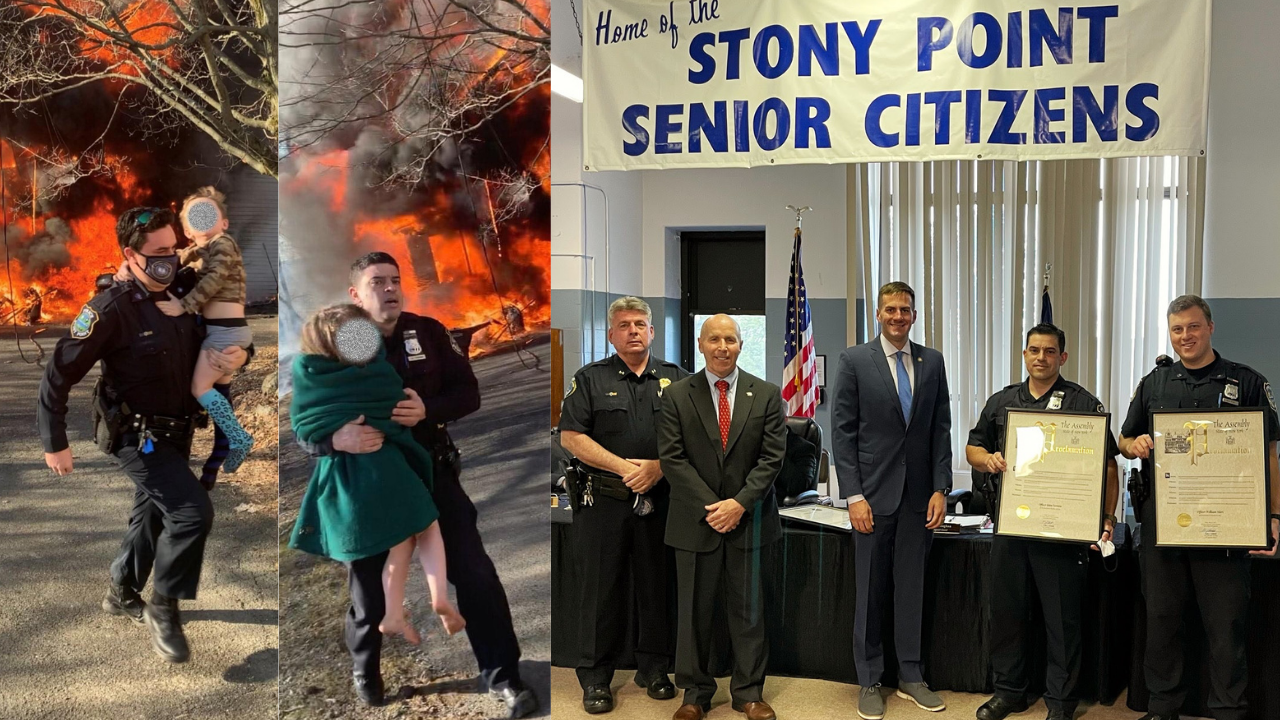 STONY POINT, NY – Assemblyman Colin J. Schmitt (Stony Point) joined by Stony Point Town Supervisor Jim Monaghan recognized three Stony Point Police Officers; Vincent Agovino, John Ferrara, and William Mari.
They were formally presented with a New York State Assembly Proclamation, by Assemblyman Schmitt, for their heroic efforts in March when they ran into a burning house to save the lives of children who were inside. (Photos at the end of the video)
Video of the ceremony below.
Each of these police officers received their own official Proclamations at the Stony Point Town Board meeting on, May 11, 2021, detailing their service of honor, courage, and personal sacrifice.
Supervisor Jim Monaghan, "Officers Vincent Agovino, John Ferrara, and William Mari are heroes. Their actions saved the lives of local residents and represent the very best of our local police department and it is great that Assemblyman Colin Schmitt joined the town board during police week to honor them."
Assemblyman Colin J. Schmitt stated, "Today and every day we should be thanking law enforcement who put their lives on the line to protect our families and communities. Police Officers Vincent Agovino, John Ferrara, and William Mari are prime examples of what the badge stands for; honor. courage, sacrifice, and selfless service. These heroes were just doing their jobs, not looking for recognition, but they deserve this honor today. I am proud to officially recognize the heroes that live amongst us and thank them for their service."
Video via Stony Point Facebook Live Stream – rocklandreport.com