A Tribute to Jerry Donnellan by Kato Hatch
Jerry Donnellan (28 Dec 1946 – 23 Mar 2018) (aged 71)
Gerald T. Donnellan, a lifelong resident of Rockland County, was born in Nyack, the youngest of 5 siblings, Jerry grew up with the fishermen on Piermont Ave just 2 doors down from the American Legion. He attended St. Anne's school in Nyack and went on to be the 1st graduating class of the brand new Albertus Magnus High School. Jerry attended Rockland Community College and studied theater and stage management. He continued his studies at Texas A&M until he was drafted into the Army in 1968.
While Jerry jokes that he is "Rockland County's least successful draft dodger", he was quite successful in completing extensive and grueling training and became a Sergeant with the US Army Rangers. While in Vietnam, Jerry and his patrol were ambushed. After being wounded several times in the arm and leg, Jerry was at least happy to be alive. Soon after, however, the enemy threw a grenade into his foxhole. While the rest of his patrol was able to scramble Jerry was too badly injured to move. He threw his pack on top of the bomb. The explosion threw him completely out of the foxhole. Jerry's left arm and leg were badly torn apart while his right arm sustained a compound fracture and his right leg below the knee was completely missing. They had to wait for the night to pass before the helicopters could come in safely. Jerry always said that the sound of the rotors at dawn that morning was the sweetest thing he ever heard.
After many surgeries and endless physical therapy at Valley Forge Hospital, Jerry was able to finally move home to be with his wife and young son, Sean. In 1970, a day after he returned home, Jerry began to work for Rockland Community College as their stage manager. In 1973, Jerry became stage manager at the Theater Go Round in Nanuet which ultimately led him to becoming a stage manager at the Westchester Premier Theater. This is where he met Frank Sinatra. And so began an 11 year career as Frank Sinatra's stage manager where Jerry traveled around the world and met many wonderful actors and entertainers.
In 1986 Jerry decided to take a different career path. He had just recently learned that more soldiers had committed suicide than had died in the Vietnam War. He was hired by then County Executive John Grant as an entry level Veterans Counselor and began to work in the county's Veterans Agency Office. In 1992, Jerry was appointed Commissioner of Veterans Affairs and held that position until this past January, 2018 when he retired after 30 years of service to our Veterans and their families.
During his tenure as Veterans Director, his many accomplishments include creating the local chapter 333 of the Vietnam Veterans of America , opening the 1st Rockland County Veterans Homeless Shelter, creating the Camp Shanks Museum, and opening the 1st VA clinic in the United States. Jerry was also the creator of the annual Memorial Day "Watch Fires". Each year on Memorial Day, 3 separate fires are lit around the county. These fires were fashioned after those lit by General George Washington's army during the Revolutionary War. Jerry served on numerous boards throughout Rockland including the Salvation Army, Rockland Community College Foundation, the United Way, Dominican college, to name just a few. He was also the recipient of countless awards and medals of honor for his many years of faithful service.
Jerry Donnellan will best be remembered by his strong yet eloquent voice and speeches, his poignant and thought provoking writing, and his unending love, loyalty and devotion for his friends, family and fellow Veterans.
Jerry is survived by his Wife MariEllyn Dykstra Thurston Donnellan and 2 sons Sean Donnellan (Candice) of Los Angelas and James Thurston (Angela) of Valley Cottage. Jerry is predeceased by his sister Ellie Yule, sister in law Madge Donnellan and Sean's Mother Deborah Partridge. He is survived by his brothers Donald Donnellan, Jim (Sue) Donnellan and sister Kathleen Donnellan.
Remembered on this day. Interred at the Frederick Loescher Veterans Memorial Cemetery.
https://www.findagrave.com/mem…/188257352/gerald-t-donnellan
Assemblyman Lawler, Senator Reichlin-Melnick, Historians, and Piermont FD Look to Honor Thomas "Pomp" Pomplin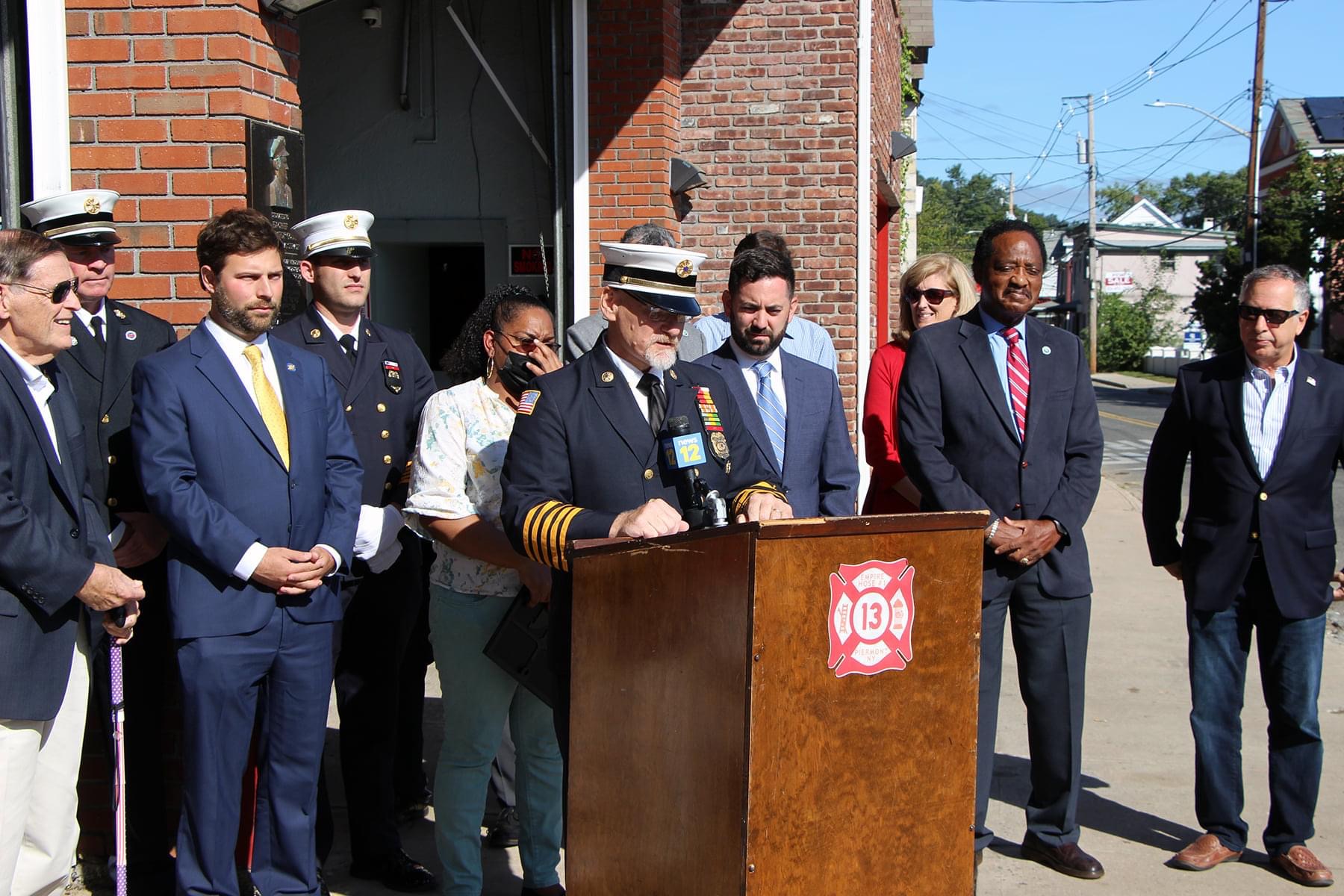 Assemblyman Mike Lawler, members of the Piermont Fire Department, ex-Chief Dan Goswick, State Senator Elijah Reichlin-Melnick, Supervisor Teresa Kenny, Piermont Mayor Bruce Tucker, County Legislator James Foley, NYACK NAACP President Nikki Hines, Bill Batson, and other historians and activists held a press conference announcing their intention to honor Thomas "Pomp" Pomplin, a black Piermont resident and firefighter, as the first line of duty death in Rockland County.
In 1854, Pomp and the other members of the Piermont Fire Department were called to Nyack to help put out a massive factory fire. They pushed their fire truck from Piermont all the way to Nyack and helped battle the blaze. Unfortunately, Pomp passed away a few days later from heat exhaustion and other injuries. There is a direct connection between Pomp and all of the other heroic firefighters who have given their lives in service of keeping our communities safe. May he and all other fallen firefighters rest in peace, and may we never cease to thank, honor, and memorialize them for their sacrifice.
The goal is to raise $10,000 to help the Village of Piermont and the Piermont Fire Department build a proper memorial for his heroic sacrifice, which would be located in the village. Please consider donating at this link:
https://www.gofundme.com/f/thomas-pomplin-lodd-memorial?utm_source=customer&utm_medium=copy_link&utm_campaign=p_cf+share-flow-1&fbclid=IwAR1lmpGERbqtmRgW0LJ-vMeqRkJiLB9jXL-mPcaNFS6yVLAenhhcEck3QJo
Watch the Press Conference Below 
Rockland Community College Receives National Award for Excellence in Diversity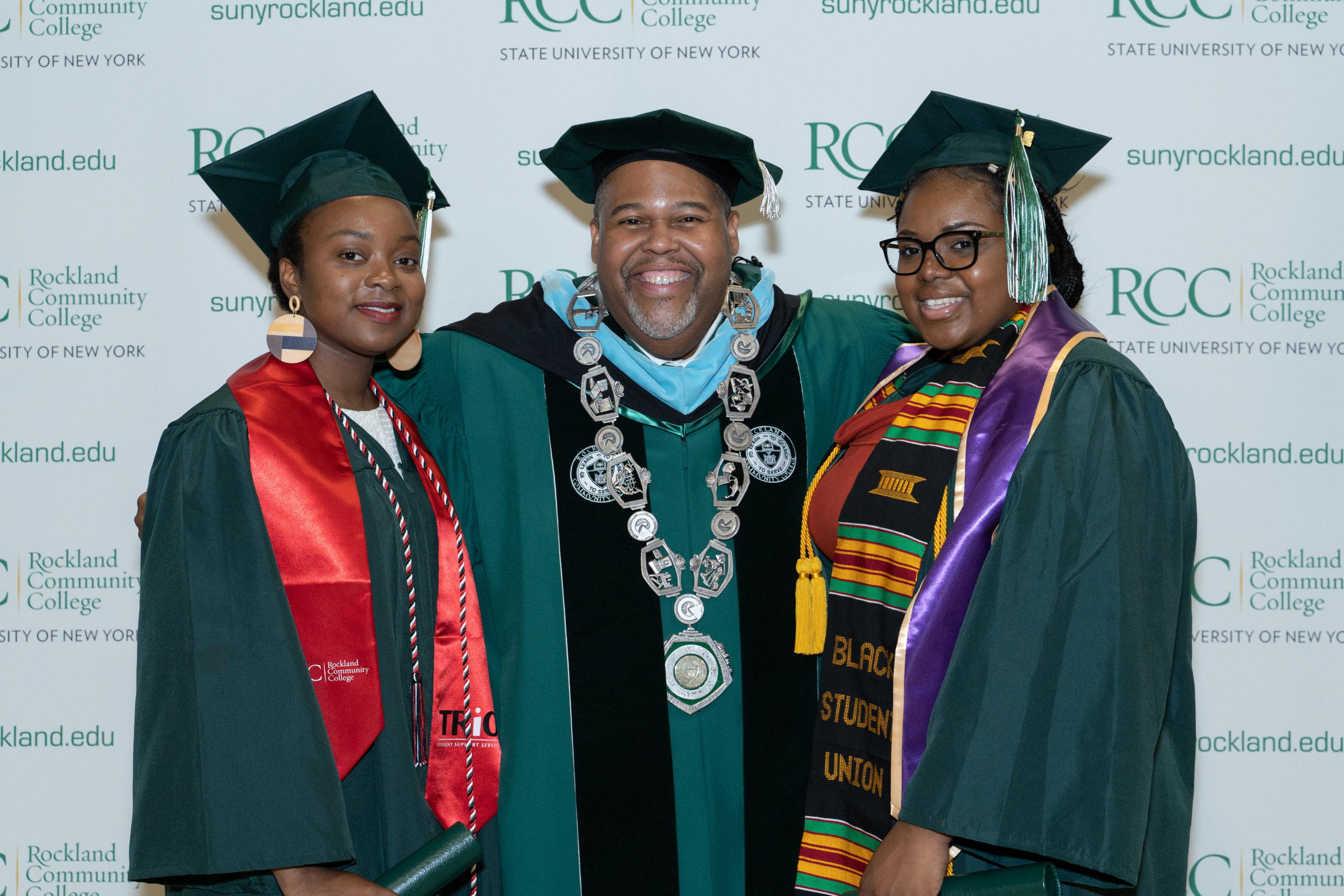 SUFFERN, NY – Rockland Community College has been selected as a 2021 Higher Education Excellence in Diversity (HEED) Award winner from INSIGHT Into Diversity magazine, the nation's oldest and largest diversity-focused publication in higher education. This national honor recognizes US colleges and universities that demonstrate an outstanding commitment to diversity and inclusion. RCC will be featured, along with 100 other recipients, in the November 2021 issue of INSIGHT Into Diversity magazine. This is the first time RCC has been named as a HEED Award recipient.
"Diversity reflects an appreciation and respect for the unique gifts and talents in all of us," said RCC President Dr. Michael A. Baston. "To close equity gaps, community colleges must first offer a safe and welcoming environment. Then we can create strategic partnerships between the college and the community and take advantage of our organizational resources and collaborative leadership to ensure equitable opportunities and outcomes for all our students."
"Last year RCC started developing an actionable plan by establishing a working group to review the legacy of diversity efforts led by the College's former Diversity Council and to build on their outcomes to reflect current realities. We are now developing a new college-wide plan that incorporates those recommendations with recommendations from all areas of the College. The new plan will include specific outcomes that are measurable using key performance indicators to be reported on an equity
scorecard," stated Melissa L. Roy, Chief Diversity Officer for RCC.
"The HEED Award process consists of a comprehensive and rigorous application that includes questions relating to the recruitment and retention of students and employees — and best practices for both — continued leadership support for diversity, and other aspects of campus diversity and inclusion," said Lenore Pearlstein, publisher of INSIGHT Into Diversity magazine. "We take a detailed approach to reviewing each application in deciding who will be named a HEED Award recipient. Our standards are high, and we look for institutions where diversity and inclusion are woven into the work being done
every day across their campus."